Old School Labs is a sports nutrition brand founded in the birthplace of the Golden Era of bodybuilding – southern California.
Ever since the brand launched in 2013, Old School Labs has consistently gone from strength to strength.
Along the way, it has grown its supplement line-up considerably, offering a selection of products such as a protein powder, pre-workout, and testosterone booster.
It has even reportedly sold over 1 million bottles, a marker of the brand's remarkable resonance with fitness enthusiasts from all around the world.
Continue reading below for a complete overview of the brand, its most popular products, and a closer look at some of Old School Labs' brand ambassadors.
Number of Staff -N/A
Founder – Tarek Sidani
Parent Company – COSIDLA, Inc.
Head Office – Muscle Beach, California
Website – https://www.oldschoollabs.com/
Old School Labs Popular Products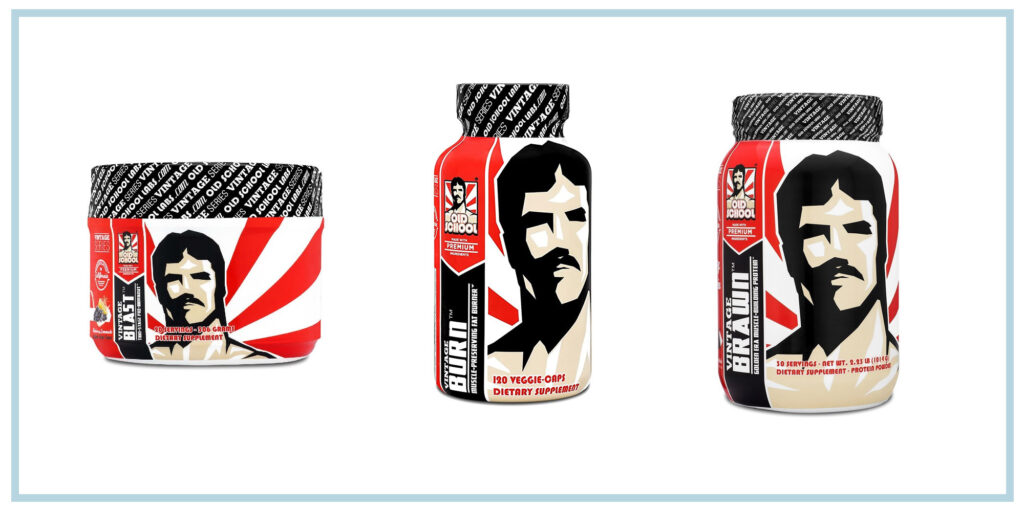 Old School Labs has a wide range of supplements that help you to reach your fitness goals more effectively and efficiently.
Its range includes a series of products both for men and women who have their sights set on improving their physique.
Many of the supplements in the Old School Labs line-up can be stacked according to your fitness goals.
Below is an overview of some of the brand's best-selling products.
Old School Labs Vintage Burn
Ingredients
Green Tea Leaf Extract
Green Coffee Bean Extract
Raspberry Ketones
Olive Leaf Extract
Caffeine (150mg)
Bacopa Leaf Extract
Garcinia Fruit Extract
Chrysin
Forskohlii Root Extract
Why Choose Old School Labs Vintage Burn?
Even those who are following a healthy, well-balanced diet and following a regular exercise routine struggle when it comes to fat loss.
Thankfully, there are various solutions to this problem, one of which could be Vintage Burn from Old School Labs.
Designed to speed up your metabolism and convert stored fat into energy, this supplement is marketed as a highly-effective thermogenic fat burner.
Released in 2014, Vintage Burn is available to buy from Amazon.com and comes in a 120 capsule container which equates to a total of 60 servings.
It is manufactured in the United States and includes no GMOs or artificial ingredients.
Compounds such as Green Tea Leaf Extract and Caffeine help to boost your fat loss potential and provides you with a boost of energy – essential for when you're in a calorie deficit.
Old School Labs Vintage Blast Pre-Workout
Ingredients
L-Citrulline Malate (5000mg)
Beta-Alanine (1000mg)
L-Arginine AKG (1000mg)
L-Carnitine Tartrate (250mg)
Caffeine Anhydrous (150mg)
D-Aspartic Acid (2000mg)
N-Acetyl-L-Tyrosine (250mg)
Micro Encapsulated Caffeine (100 mg)
Why Choose Old School Labs Vintage Blast Pre-Workout?
Containing a selection of science-backed ingredients including Caffeine, L-Citrulline, and D-Aspartic Acid, Old School Labs' Vintage Blast is designed for those looking to increase their strength and endurance during tough workouts.
Delivering steady hydration and energy, this pre-workout supplement contains everything you need to enjoy a powerful workout from beginning to end.
Vintage Blast is a two-stage pre-workout for both men and women alike. It ensures a steady delivery rate so that you can make the most out of your workouts every time.
You can buy Old School Labs Vintage Blast from Amazon.com with a 100% money-back guarantee. This comes in one flavor only – Blueberry Lemonade.
Old School Labs Vintage Build
Ingredients
Main Ingredients: L-Leucine (2500mg), L-Isoleucine (1250mg), L-Valine (1250mg), Creatine (3000mg), and L-Glutamine (2000mg). Other Ingredients: Sodium Chloride, Silicon Dioxide.
Why Choose Old School Labs Vintage Build?
Containing an effective blend of proven muscle-building ingredients, Vintage Build is the ideal muscle-building solution for fitness enthusiasts looking to improve strength and recovery.
Featuring BCAAs, Creatine Monohydrate, and L-Glutamine, this particular supplement helps you to power through workouts at a higher intensity. As a result, you're able to effectively fuel muscle growth and development.
Vintage Build works best when consumed within 30 minutes of a workout. Users can then have a second serving between meals. On rest days, it can be taken at any time of the day.
Vintage Build is available in three different editions – Lemon Lime, Fresh Berries, or Unflavored. You can buy each version from Amazon.com.
Old School Labs Brand Ambassadors
Old School Labs boasts an affiliation with several big names in the fitness industry. This includes legends from the Golden Era of bodybuilding, as well as those currently making a name for themselves in the present day.
Samir Bannout
Born: November 7, 1955
Home Country: Lebanon
Profession: Former IFBB Professional Bodybuilder, Mr. Olympia 1983
Widely considered to be one of the greatest figures the sport of bodybuilding has ever known, Samir Bannout is undoubtedly one of the most influential bodybuilders of the Golden Era.
Earning his first title in the 1974 Teenage Mr.Universe competition, Samir then moved to the US to join the bodybuilding elite and eventually went on to earn a spot in the IFBB Hall of Fame in 2002.
Nowadays, Samir lives in Los Angeles, California with his wife Randa and their three children and continues to be a source of inspiration for many people around the world.
Ric Drasin
Born: July 12, 1944
Home Country: United States
Profession: Bodybuilder, Personal Trainer, Actor, Stuntman, Author, Former Professional Wrestler
A former training partner of Arnold Schwarzenegger, Lou Ferrigno, and Franco Columbo, Ric Drasin is another hugely popular and influential figure in the bodybuilding and wrestling scene.
Born and raised in Bakersfield, California, Ric wrestled professionally for a total of 36 years and became one of the greatest ever names in the sport thanks to his passion, hard work, and dedication.
Ric established a passion for fitness and bodybuilding from an early age, with his interest in the sport born during his days in junior high school.
His career in the fitness industry began in 1962, which is when he started teaching nutrition and exercise classes at Bakersfield YMCA.
In more recent years, Ric became the first recipient of the Joe Gold Lifetime Achievement Award in 2012 during the World Gym International Convention in the same year.
Ric continues to inspire people to reach their fitness goals and shares his years of expertise via his popular YouTube channel known as Ric's Corner.
Other Notable Old School Labs Ambassadors
Breon Ansley
Tim Harrell
Tim Mennecke
Benny Cunningham
Rebecca Stowe