Established by Justin Smith, Primeval Labs is one of the most widely-known supplement brands in the world.
Justin founded the brand with transparency and innovation in mind, with each of these being crucial to the day-to-day running of the business.
Fast forward to the present day, and the brand continues to go from strength to strength. As a marker of its success, it is now affiliated with several well-known athletes and has a large offering of high-quality supplements.
Number of Staff – N//A
Founder – Justin Smith
Parent Company – N/A
Head Office – Batesville, Arkansas
Website – https://primevallabs.com/
Primeval Labs Popular Products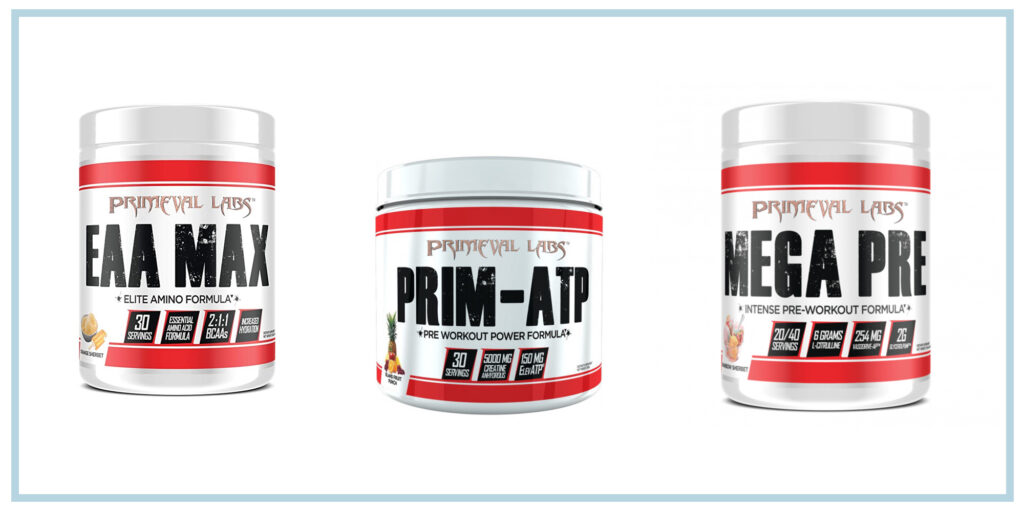 Primeval Labs is a supplement company which boasts a wide range of high-quality products that are designed to accelerate your fitness journey.
The brand covers all major categories of supplements as you would expect from a well-established supplement company.
So, whether you're searching for protein powder, a pre-workout or otherwise, Primeval Labs has you covered.
Continue reading as we take a closer look at some of the brand's most popular supplements.
Primeval Labs EAA Max
Ingredients
Magnesium (17mg), Sodium (39mg), Potassium (52mg), L-Leucine (2,500mg), L-Isoleucine (1,250mg), L-Valine (1,250mg), L-Lysine HCl (300mg), L-Threonine (225mg), L-Phenylalanine (200mg), L-Tryptophan (50mg), L-Histidine (25mg), L-Methionine (20mg), Cluster Dextrin®(2,000mg), D-Ribose (500mg).
Why Choose Primeval Labs EAA Max?
Complete with a full 5g dose of 2:1:1 BCAAs, EAA Max is ideal for anyone looking to boost muscle recovery, growth, and repair.
It is designed to be taken during exercise on your training days, while it can also be enjoyed on rest days in order to enhance the recovery process.
Most amino acid supplements only contain the three branched-chain amino acids (BCAAs).
However, EAA Max goes a step further by including the essential amino acids you need to stimulate protein synthesis. This includes L-Threonine, L-Lysine HCI, and L-Phenylalanine.
EAA Max can be purchased directly from the Primeval Labs website with a selection of flavors to choose from, such as:
Orange Sherbet
Smashberry
Jungle Juice
Strawberry Mango
Sweet Tea
Primeval Labs Mega Pre
Ingredients
L-Citrulline (6g)
Betaine Anhydrous (3g)
L-Norvaline (300mg)
VasoDrive-AP™ (254mg)
elevATP® (150mg)
Huperzine A 1% (100mcg)
Why Choose Primeval Labs Mega Pre?
Featuring a total of 8 science-backed ingredients, Mega Pre is ideal for those looking to perform at their best during their workouts.
L-Citrulline, for instance, can give you massive muscle pumps, considerably boost your performance, as well as promoting blood flow.
And with no stimulants included in Mega Pre, it's an ideal choice for those who are sensitive to stimulants or would like to work out late at night.
If you need an additional boost, you can always opt to stack Mega Pre with another supplement in the Primeval Labs lineup.
Alternatively, you can pair it with a cup of coffee or another suitable stimulant.
You can buy Mega Pre directly from the manufacturer's website, with four different flavors to choose from:
Smashberry
Orangutan Juice
Mango Pineapple
Rainbow Sherbet
Primeval Labs Intracell 7 Black
Ingredients
Essential Amino Acids (Including 5g 2:1:1 BCAA)
Carb10™
Palatinose™
ModCarb®
Cluster Dextrin®
L-Taurine
GlycerPump™
VasoDrive-AP™
Why Choose Primeval Labs Intracell 7 Black?
Containing a unique quad carb blend with ingredients such as ModCarb, Carb10™, Cluster Dextrin, and Palatinose, you can count on Intracell 7 Black to help you avoid fatigue and aid performance during your workouts.
Carb10™, for example, is a substance derived from pea starch which provides users with a clean, sustained source of energy.
As the name suggests, Intracell 7 Black is an intra-workout supplement. As well as the carb blend, it also includes essential amino acids, electrolytes, and cell volumizers to ensure you get the most out of your training sessions.
Intracell 7 Black from Primeval Labs is available to buy direct from the manufacturer's website, with each container providing you with up to 40 servings depending on how many scoops you take.
The following five flavors are available to select from:
Orange Sherbet
Gummy Bear
Cherry Limeade
Rainbow Sherbet
Smashberry
Primeval Labs Sponsored Athletes
When it comes to the associates of Primeval Labs, it's safe to say that the brand works with several well-established athletes from around the world.
Continue reading for a closer look at athletes that are sponsored by Primeval Labs.
Regan Grimes
• Born: June 26, 1983
• Home Country: Canada
• Profession: Bodybuilder, Entrepreneur
Ever since he began training in the gym at the age of 17, Regan Grimes has undoubtedly gone from strength to strength in his fitness career. Initially, his main focus was to get bigger and stronger for motocross races.
However, just a year after he began lifting, Regan decided to pursue a career on the bodybuilding stage. Thanks to his hard work, consistency, and dedication, he quickly found success and went on to become an IFBB Pro bodybuilder later in his career.
Nowadays, Regan continues to inspire others to achieve their fitness goals and continually sets his sights on reaching new heights in his professional bodybuilding career – regularly updating his fans via social media.
As well as this, Regan has also established his own online clothing line business and even opened up his own gym – FlexPlex in London, Ontario.
Stephanie Sanzo
• Born: April 2, 1987
• Home Country: Australia
• Profession: Trainer, Social Media Influencer, Fitness Model
Otherwise known as 'StephFitMum', Stephanie Sanzo is a personal trainer and fitness celebrity hailing from Australia. Throughout her youth, she had no interest in exercise and nutrition.
But after she gained around 25 kg in weight after the birth of her children, Stephanie soon decided it was time to make a change. It was at this point, Stephanie made a solid effort to get in shape, and eventually set her sights on becoming a personal trainer.
Soon enough, weight training become a regular part of Stephanie's life. And despite suffering from a pelvic prolapse after the birth of her second child, she didn't want to give up on her fitness journey.
Fast forward to the present day, and Stephanie has made a name for herself as a fitness competitor, certified personal trainer, and has become a source of inspiration for many people around the world.
Other Notable Primeval Labs Athletes:
KC Mitchell / That1LegMonster