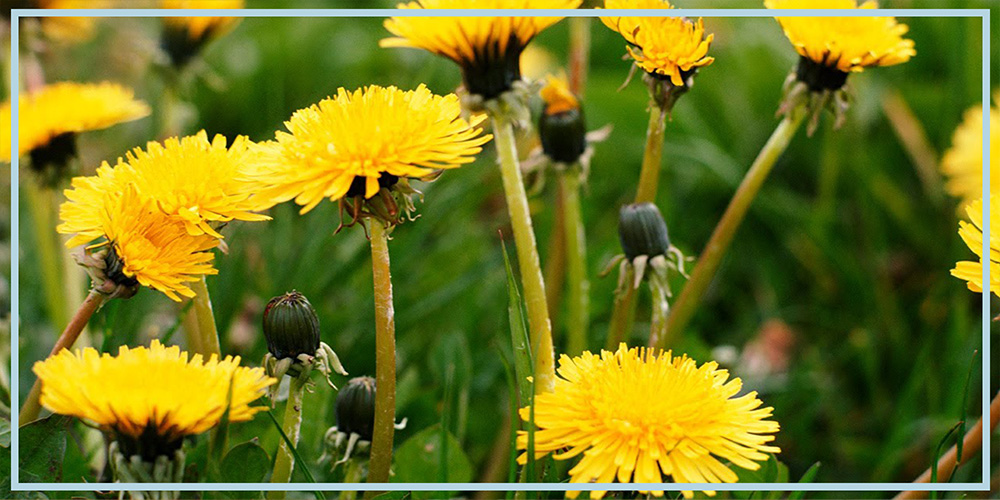 Dandelion is often recognised for its distinct yellow flowers and blow-balls that disperse in the wind, less so for its miracle ability to 'regenerate the body from the inside out'. Somewhat surprisingly, the dandelion root is loaded with nutrients and vitamins that boast impressive health benefits.
The dandelion is one of the most widespread flowering plants in world. In folk medicine, it the root was referred to as the elixir of life due to its ability to purify the body of residues and negative energies.
For centuries, it has been used to treat a myriad of ailments: from cancer, to acne, to liver disease. In modern medicine, it's more commonly found its grounding as a detoxifying agent, gaining popularity as a detox tea. It enhances the livers metabolic and detoxification ability and is an outstanding natural diuretic.
It almost sounds too good to be true.
A pesky garden weed that can be used to treat cancer, liver disease, clear our skin while aiding weight loss? Clinical human research is early, but promising. We wouldn't clear your garden of the miracle weed just yet.
Reported Effects of Dandelion Root
1. Improve Liver Health
Long held as a liver "tonic" in folk medicine, early research suggests this may be due to its natural ability to increase the flow of bile, remove toxins and replenish lost electrolytes.
Dandelion extract has potent antioxidant activity that can reduce the oxidative stress known to play a critical role in liver disorders [1]. Compounds in dandelion root also have anti-inflammatory effects that can help to protect the liver.
Animal studies do support dandelion's liver-protective effects, with evidence of reduced liver enzyme levels, and protection against both liver conditions, fibrosis and non-alcoholic steatohepatitis in particular [2][3]. However, there are currently very few human studies that use dandelion root for liver concerns.
While the research is promising, it's very early.
2. Aid Weight Loss
Early research indicates that the bioactive components found in dandelion root may support weight loss. Some researchers theorize that dandelion's ability to improve carbohydrate metabolism and reduce fat absorption may lead to weight loss [4][5]
A study in obese mice revealed that chlorogenic acid, a compound found in dandelion root, was able to significantly reduce body weight and levels of some fat-storage hormones [6].
3. Skin Damage
As previously mentioned, dandelion root contains compounds with 'detoxifying' and antioxidant purposes. These components are extremely effective against common skin problems such as acne, psoriasis, and eczema.
Dandelions contributions to the liver also aids in keeping our skin's elasticity and shine.
4. Anti-Cancer Properties
Easily the most intriguing health claim of dandelion root is the potential to combat the growth of cancerous cells across different organ systems.
Not a claim made lightly, the root extract has been shown in studies to be a powerful treatment for leukaemia and breast cancer – inducing apoptosis in leukaemia cells, while not affecting healthy cells [7]
A 2011 study showed that skin cancer cells treated with dandelion root extract began showing significant improvements within just two days of treatment [8]. This slow in growth of cancer cells has been mirrored in other test-tube studies across the liver, colon and pancreatic tissue [9][10].
Dandelion root is not a cure for cancer, we'll say that now. The results are encouraging, but not yet applied to humans. It shows promise in the test-tube for reducing the growth of cancer cells, more research is now required to draw conclusions about preventing or treating cancer in humans.
Common Supplements That Contain Dandelion Root
Dandelion root can be found in various forms. It can be dried, ground and consumed as a tea, or most notably, can be found in stand-alone capsules, commonly marketed for their detoxing abilities.
Similarly, dandelion root extract is also highly prevalent in "detox" teas. These are becoming more popular and contain different vitamins and herbal extracts which have are rich in antioxidants and purifying properties. These will often contain other powerhouse ingredients such as green tea extract, ginger and milk thistle.
Side Effects of Dandelion Root Supplementation
There are little to no known side effects to dandelion root supplementation for healthy adults. With low toxicity for most, it should pose no risks.
It can cause allergic reactions in some, particularly for those with allergies to related plants such as ragweed.
Dandelion root may interact unfavourably with certain medications, particularly diuretics and antibiotics.
Dandelion Root Dosage
Currently, there are no set recommended dosages for dandelion root.
Most standalone dandelion supplements provide 1200-2000mg per dosage, while multi-ingredient supplements contain a much smaller dandelion dosage of around 50mg.
Due to the low toxicity, there has been no adverse side effects reported from consuming root extract in medium to higher dosages; it has been suggested that 3-4000mg of the root twice a day is safe.
References
Hu C, Kitts DD. Antioxidant, prooxidant, and cytotoxic activities of solvent-fractionated dandelion (Taraxacum officinale) flower extracts in vitro. J Agric Food Chem.
Liangliang Cai et al. Purification, Preliminary Characterization and Hepatoprotective Effects of Polysaccharides from Dandelion Root. Molecules 2017, 22(9), 1409.
You Y et al. In vitro and in vivo hepatoprotective effects of the aqueous extract from Taraxacum officinale (dandelion) root against alcohol-induced oxidative stress. Food Chem Toxicol. 2010 Jun;48(6):1632-7.
Davaatseren M, Hur HJ, Yang HJ, et al. Taraxacum official (dandelion) leaf extract alleviates high-fat diet-induced nonalcoholic fatty liver. Food Chem Toxicol. 2013;58:30‐36.
Gamboa-Gómez CI, Rocha-Guzmán NE, Gallegos-Infante JA, Moreno-Jiménez MR, Vázquez-Cabral BD, González-Laredo RF. Plants with potential use on obesity and its complications. EXCLI J. 2015;14:809‐831. Published 2015 Jul 9.
Cho AS, Jeon SM, Kim MJ, et al. Chlorogenic acid exhibits anti-obesity property and improves lipid metabolism in high-fat diet-induced-obese mice. Food Chem Toxicol. 2010;48(3):937‐943.
Ovadje P, Hamm C, Pandey S. Efficient induction of extrinsic cell death by dandelion root extract in human chronic myelomonocytic leukemia (CMML) cells. PLoS One. 2012;7(2):e30604. doi:10.1371/journal.pone.0030604
Chatterjee SJ, Ovadje P, Mousa M, Hamm C, Pandey S. The efficacy of dandelion root extract in inducing apoptosis in drug-resistant human melanoma cells. Evid Based Complement Alternat Med. 2011;2011:129045.
Rehman G, Hamayun M, Iqbal A, et al. Effect of Methanolic Extract of Dandelion Roots on Cancer Cell Lines and AMP-Activated Protein Kinase Pathway. Front Pharmacol. 2017;8:875. Published 2017 Nov 28.
Ovadje P, Chochkeh M, Akbari-Asl P, Hamm C, Pandey S. Selective induction of apoptosis and autophagy through treatment with dandelion root extract in human pancreatic cancer cells. Pancreas. 2012;41(7):1039‐1047.