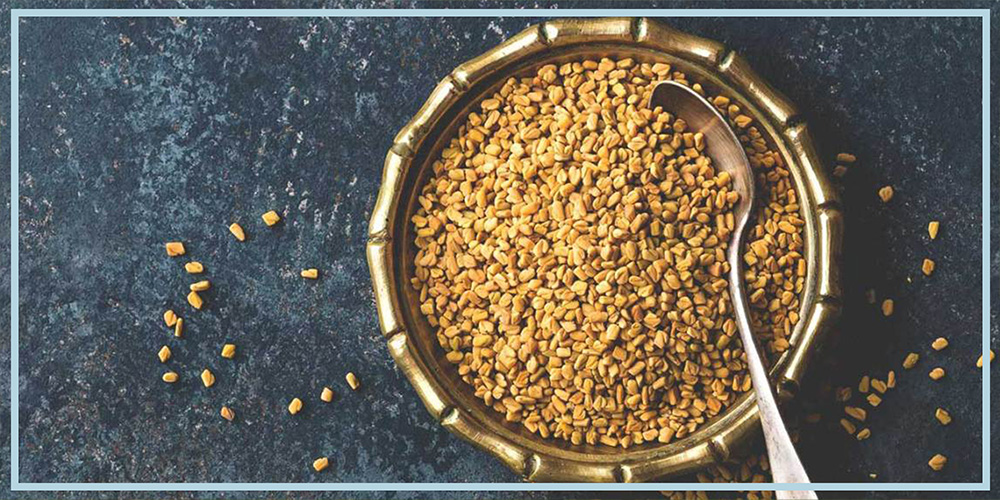 Fenugreek: a small herb with impressive health benefits.
Commonly used as an ingredient in many of your favourite Indian dishes, the plant has more to offer than just distinct flavouring. Known historically for its ability to treat digestive problems, skin conditions and many other diseases, it's been used for thousands of years in alternative and Chinese medicine. Aromatic with a complex taste, the plant contains powerful compounds such as saponins and coumarins, chemicals known for reducing blood sugar and cholesterol levels [1].
More recently, it's gathered momentum in the fitness industry for its potential effects on testosterone levels, exercise performance and body composition. Understandably, with so many reported uses, it's hard to believe that it could live up to the hype. Below, we've examined the evidence to determine whether or not there is any truth to the claims.
Reported Effects of Fenugreek
1. Boost Testosterone
Fenugreek is often used as a natural alternative to increase testosterone levels.
Testosterone is a sex hormone in both male and females that can affect sexual function, energy levels, bone health, mood and more. The saponins found in Fenugreek are believed to increase the production of this hormone, therefore positioning the herb as a great natural alternative.
Most studies consistently find that supplementing with Fenugreek can improve testosterone levels and reduce symptoms related to low testosterone, such as low libido [2]. When supplementing with a daily dose of 500-mg of Fenugreek over 12 weeks, men saw a 46% increase in free testosterone levels. The same study found improvements in mood alleviation and mental alertness over the same period [3] A win, win.
It's important to note that not all research has shown a rise in testosterone following supplementation [4]. Although most of the evidence is promising, it's early, and additional research is needed to really deep dive into the effects.
2. Improved Exercise Performance
Supplementing with fenugreek has been shown to increase upper and lower body strength over an extended period of time [4]. The same study also pointed towards a significant reduction in body fat and improved total body composition compared to the placebo group in the trial. Similarly, the research has indicated that it can significantly improve muscle performance and endurance over and above that of calisthenic exercise alone [2][5].
Dare we say it, it almost sounds too good to be true.
It's important to note that many of the studies evidencing increasing testosterone and exercise performance improvements were linked in some way to companies with financial investment in Fenugreek products. Additional independent studies are needed to confirm the benefits across the population.
3. Control Blood Sugar Levels
Fenugreek is one of the most research-backed herbal remedies for controlling blood sugar. It does this in two main ways:
Reducing glucose absorption
Fenugreek contains active ingredients such as fiber, that slow the digestion and absorption of carbohydrates. This reduces the amount of sugar in the blood after eating, thereby helping to regulate sugar levels.
Promoting insulin activity
It has also been found to stimulate insulin, the key hormone for maintaining a healthy blood sugar range.
Human studies consistently show reduction of blood sugar levels in type 2 diabetics, as well as reduced insulin resistance and an overall improvement of blood sugar control [6][7].
4. Appetite Control
Fenugreek may suppress appetite and increase feelings of fullness, which could potentially reduce overeating and lead to weight loss. Those who drink fenugreek tea report feeling less hungry and more full [8].
This may be due to the high fiber content of Fenugreek, which can lead to a feeling of satiety. Various studies have found that extracts of the fenugreek fiber alone can reduce appetite [9].
Common Supplements that Contain Fenugreek
Fenugreek can be found in various supplements. Most notably, it can be found in stand alone capsules, which are most commonly marketed for their testosterone boosting purposes.
Fenugreek extract is also prevalent in "fat burner" formulas and male multi-use tablets. Fat burners contain different vitamins and herbal extracts which have been shown to positively influence weight loss.
Side Effects of Fenugreek Supplementation
There are little to no known side effects to fenugreek supplementation for healthy adults when consumed in moderate amounts. For most, it should pose no risks. Common minor unwanted side effects can include:
Diarrhea
Stomach upset
Urine or sweat taking on an odd odour
Dizziness
Headaches
Fenugreek should be avoided by women who are pregnant as it contains compounds which stimulate contractions. It doesn't negatively impact with many drugs, but as some of the herb's compounds perform similar functions as medications, taking both should be avoided.
As with any medicinal food or supplement, it should be added to your regime at a slow, steady rate.
Fenugreek Dosage
There is no set recommended dosage of for fenugreek, this will depend on weight, age, health status and your reasons for supplementing. As standard, a daily dose of 5-30g was considered safe.
References
Nafiu MO, Ashafa AOT. Antioxidant and Inhibitory Effects of Saponin Extracts from Dianthus basuticus Burtt Davy on Key Enzymes Implicated in Type 2 Diabetes In vitro. Pharmacogn Mag. 2017;13(52):576‐582.
Rao A, Steels E, Inder WJ, Abraham S, Vitetta L. Testofen, a specialised Trigonella foenum-graecum seed extract reduces age-related symptoms of androgen decrease, increases testosterone levels and improves sexual function in healthy aging males in a double-blind randomised clinical study. Aging Male. 2016;19(2):134‐142.
Maheshwari A, Verma N, Swaroop A, et al. Efficacy of FurosapTM, a novel Trigonella foenum-graecum seed extract, in Enhancing Testosterone Level and Improving Sperm Profile in Male Volunteers. Int J Med Sci. 2017;14(1):58‐66.
Poole C, Bushey B, Foster C, et al. The effects of a commercially available botanical supplement on strength, body composition, power output, and hormonal profiles in resistance-trained males. J Int Soc Sports Nutr. 2010;7:34
Wankhede S, Mohan V, Thakurdesai P. Beneficial effects of fenugreek glycoside supplementation in male subjects during resistance training: A randomized controlled pilot study. J Sport Health Sci. 2016 Jun;5(2):176-182. doi: 10.1016/j.jshs.2014.09.005. Epub 2015 Mar 7. Erratum in: J Sport Health Sci. 2018 Apr;7(2):251.
Lu FR, Shen L, Qin Y, Gao L, Li H, Dai Y. Clinical observation on trigonella foenum-graecum L. total saponins in combination with sulfonylureas in the treatment of type 2 diabetes mellitus. Chin J Integr Med. 2008;14(1):56‐60. doi:10.1007/s11655-007-9005-3
Gupta A, Gupta R, Lal B. Effect of Trigonella foenum-graecum (fenugreek) seeds on glycaemic control and insulin resistance in type 2 diabetes mellitus: a double blind placebo controlled study. J Assoc Physicians India. 2001;49:1057‐1061.
Bae J, Kim J, Choue R, Lim H. Fennel (Foeniculum vulgare) and Fenugreek (Trigonella foenum-graecum) Tea Drinking Suppresses Subjective Short-term Appetite in Overweight Women. Clin Nutr Res. 2015;4(3):168‐174.
Mathern JR, Raatz SK, Thomas W, Slavin JL. Effect of fenugreek fiber on satiety, blood glucose and insulin response and energy intake in obese subjects. Phytother Res. 2009;23(11):1543‐1548.