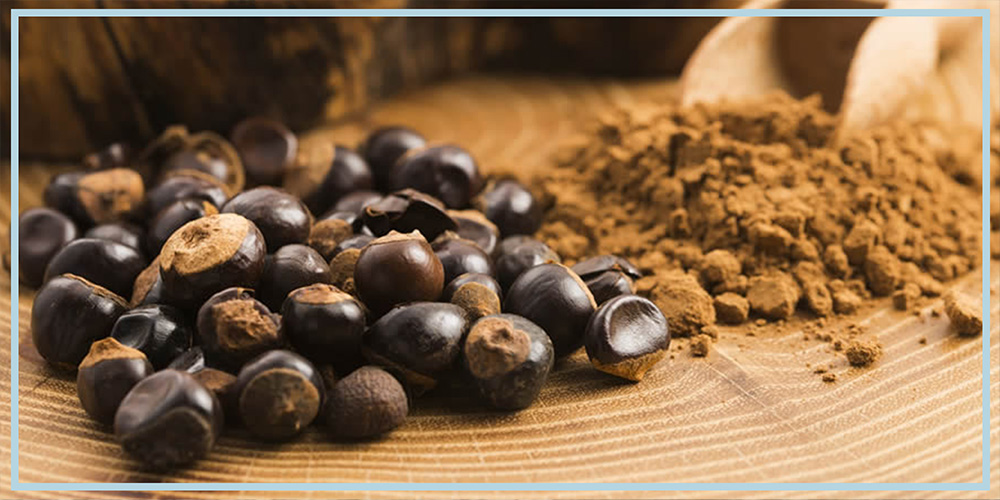 You may not have heard of guarana, but you've almost certainly consumed the energising superfood. Found in Red Bull, Rockstar and Monster, the herbal supplement is a key player in the energy drinks industry. But what is guarana, or more importantly, what can it do for you?
Also known as paullinia cupana, guarana is a Brazilian plant native to the Amazon rainforest. It contains an impressive range of stimulants, such as caffeine, theophylline and theobromine.
When it comes to its antioxidant profile, it's almost like for-like with green tea, rich in tannins, saponins and catechins [1]. Natural antioxidants with powerful medicinal properties, studies have shown that these antioxidants exhibit a wide range of therapeutic properties that can play a role in treating cardiovascular and metabolic diseases. [2].
What makes guarana special, is its natural caffeine content. Up to 6% of the bean contains caffeine, and it's up to 6 times more potent than coffee beans. It's a natural energy booster, slower-releasing and longer-lasting than coffee. Or, so they say.
Reported Effects of Guarana
1. Reduce Fatigue and Improve Focus
You may have heard energy drink enthusiasts claim that they keep them alert and focused. There is some scientific grounding in this, the key reason being the caffeine content; a known stimulant. Guarana is an excellent natural source of caffeine, with a single bean containing anywhere between four to six times more caffeine than a regular coffee bean [3]. Caffeine blocks adenosine, an inhibitory neurotransmitter. By doing so, it increases the firing of neurons and the concentration of neurotransmitters such as dopamine and norepinephrine [4]. Research has consistently shown that optimal amounts of caffeine can improve brain function, including memory, reaction time and mood [5].
Supplementing with low doses of guarana can reduce fatigue and allow individuals to pay greater attention to tasks.
2. Promote Weight Loss
Interestingly, guarana may have properties that can help to promote weight loss. Once again, the high caffeine concentration is a key player, as it has been suggested to boost metabolism by 3-11% over 12 hours. In theory, a faster metabolism means your body can burn more calories at rest.
What's more, studies have found that guarana can suppress genes that aid fat cell production and promote genes that can slow it down [6] It's certainly no quick fix for weight loss, but these early findings are promising.
3. Improve Skin Appearance
Due to its strong antioxidant properties, guarana is popular in the cosmetics industry as an ingredient in anti-aging creams, lotions, soaps and hair products.
The antioxidants in guarana, namely the saponins and tannins, can significantly reduce age-related skin damage. What's more, it's been touted to reduce sagging in cheeks, improve skin tightness and minimise wrinkles [7].
4. Anti Cancer Properties
Cancer is a disease characterized by the uncontrolled growth of cells.
Animal and test-tube studies suggest that guarana may protect against DNA damage, suppress cancer cell growth and even trigger cancer cell death [8][9].
One study found that mice who were fed guarana had 58% fewer cancer cells and nearly a five-fold increase in cancer cell death, compared to mice that did not receive guarana [10].
With this said, though the results of test-tube and animal studies are promising, more human-based research is needed.
Common Supplements that Contain Guarana
Guarana can be found in various supplements. As mentioned, it can be found in most energy drinks on the market, and more recently has become prevalent in pre-workout formulas, more often than not as an additional source of caffeine.
Guarana is also common in "fat burner" and "nootropic" supplements. Fat burners are supplements which contain different vitamins and herbal extracts which have been shown to positively influence weight loss. Nootropics, on the other hand, are an increasingly popular form of supplement used to naturally enhance mood and cognitive function.
Side Effects of Guarana Supplementation
There are little to no known side effects to guarana for healthy adults when consumed in moderate amounts. For most, it should pose no risks.
Consideration should be given to the caffeine content of guarana, which itself has been associated with side effects such as:
Anxiety
Increased heart rate
Increased blood pressure
Dizziness
Heart palpitations
Upset stomach
It's also worth noting that caffeine can be addictive and can lead to high dependency in high doses.
Guarana should be avoided during pregnancy, as caffeine can cross the placenta. This can cause growth abnormalities or increase the risk of miscarriage.
Guarana Dosage
Guarana has no recommended dosage, but most research has found doses between 50-75mg is sufficient to provide health benefits.
Doses of more than 150mg have been suggested to give no additional health benefits, but will increase the occurrence of mild, unwanted symptoms.
References
Bittencourt LS, Machado DC, Machado MM, et al. The protective effects of guaraná extract (Paullinia cupana) on fibroblast NIH-3T3 cells exposed to sodium nitroprusside. Food Chem Toxicol. 2013;53:119‐125.
Eng QY, Thanikachalam PV, Ramamurthy S. Molecular understanding of Epigallocatechin gallate (EGCG) in cardiovascular and metabolic diseases. J Ethnopharmacol. 2018;210:296‐310.
da Silva GS, Canuto KM, Ribeiro PRV, et al. Chemical profiling of guarana seeds (Paullinia cupana) from different geographical origins using UPLC-QTOF-MS combined with chemometrics. Food Res Int. 2017;102:700‐709.
Nehlig A, Daval JL, Debry G. Caffeine and the central nervous system: mechanisms of action, biochemical, metabolic and psychostimulant effects. Brain Res Brain Res Rev. 1992;17(2):139‐170.
Ruxton, C.. (2008). The impact of caffeine on mood, cognitive function, performance and hydration: A review of benefits and risks. Nutrition Bulletin. 33. 15 – 25. 10.1111/j.1467-3010.2007.00665.x.
Lima NDS, Numata EP, Mesquita LMS, et al. Modulatory Effects of Guarana (Paullinia cupana) on Adipogenesis. Nutrients. 2017;9(6):635.
Peirano RI, Achterberg V, Düsing HJ, et al. Dermal penetration of creatine from a face-care formulation containing creatine, guarana and glycerol is linked to effective antiwrinkle and antisagging efficacy in male subjects. J Cosmet Dermatol. 2011;10(4):273‐281.
Fukumasu H, Avanzo JL, Heidor R, et al. Protective effects of guarana (Paullinia cupana Mart. var. Sorbilis) against DEN-induced DNA damage on mouse liver. Food Chem Toxicol. 2006;44(6):862‐867.
Fukumasu H, Latorre AO, Zaidan-Dagli ML. Paullinia cupana Mart. var. sorbilis, guarana, increases survival of Ehrlich ascites carcinoma (EAC) bearing mice by decreasing cyclin-D1 expression and inducing a G0/G1 cell cycle arrest in EAC cells. Phytother Res. 2011;25(1):11‐16.
Fukumasu H, Avanzo JL, Nagamine MK, Barbuto JA, Rao KV, Dagli ML. Paullinia cupana Mart var. sorbilis, guaraná, reduces cell proliferation and increases apoptosis of B16/F10 melanoma lung metastases in mice. Braz J Med Biol Res. 2008;41(4):305‐310.