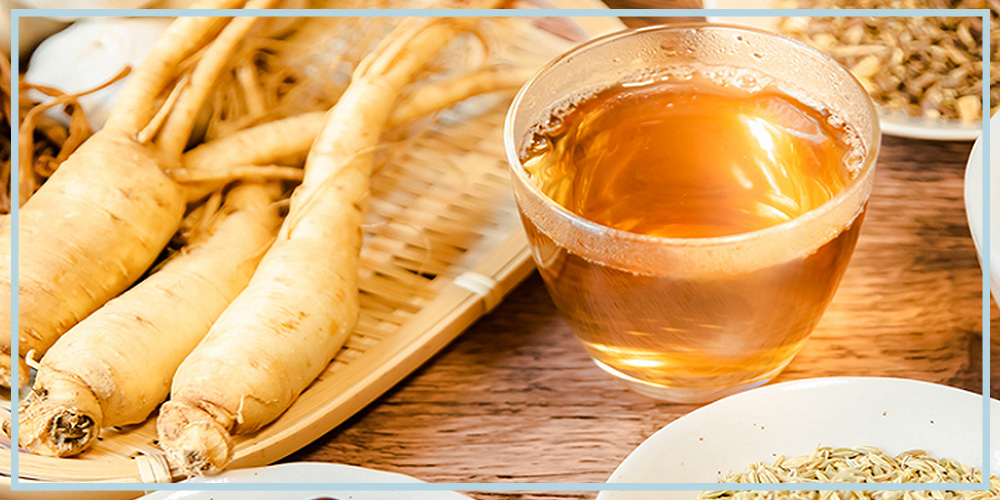 Korean ginseng has been used as a traditional herbal medicine for over 2000 years. Also called Asian ginseng, ginseng root, and ginseng, the oval-shaped root is one of the most popular remedies in herbal benefits. Its reported benefits range widely and include boosting energy and libido, lowering blood sugar and stress, and improving cognition as well as the immune system.
While some of these claims hold up under scientific investigation, many do not. With the increasing popularity of herbal remedies, nootropics, and biohacking, we're seeing more and more time and resources being spent identifying the true benefits of natural supplements like Korean ginseng.
Ginseng is recorded to have antianxiety, antidepressant, and cognition-enhancing properties. This is due mainly to one of its active ingredients, ginsenoside, which shows real promise when it comes to its therapeutic effects on neurodegeneration and other neurological diseases [1].
Reported Effects of Korean Ginseng
1. Immune booster
You often see Korean ginseng supplements as an immunity booster, and there have been plenty of studies into its specific effects on the immune system. One study on the effects of ginseng on animals' immune systems concluded that ginseng was able to adapt and enhance innate immune responses in mice. [2] The results showed that the immuno-modulating activity of ginseng might be due to increased number, supple, and activity of key immune cells such as NK cells and T cells.
The effects of ginseng on human immune systems are a little less clear, though still promising. One study from 2008 on the effects of ginseng on humans concluded that ginseng supplementation had a limited effect on the immune response to the study's specific exercise protocol. [3] However, a literature review from 2012 describes how ginseng exhibits beneficial effects on the human immune system by controlling inflammatory diseases and microbial infections, as well as regulating a raft of immune cells including macrophages, natural killer cells, dendritic cells, T cells, and B cells. [4]
2. Brain health
Ginseng has also gained a reputation for being its potential benefits in boosting brain function. One study from 2018 looked at ginseng's therapeutic potential for preventing and reversing cognitive impairment. [5]
The study refers to ginseng's benefits for the brain, particularly its ginsenosides, gintonin, and compound K, all active components and linked to enhancing cognition and attenuating impairment.
Another study from 2012 into the effect of ginseng on cognitive performance in humans found improved cognitive function, though recommended further studies with higher doses and larger sample sizes. [6]
3. Boost energy levels
Ginseng is also associated with increased energy is regularly found in the ingredients of many popular energy drinks.
A 4-week study from 2013 found evidence of antifatigue effects in ginseng. [7] It went on to suggest that these effects were caused by the antioxidant properties of ginseng.
A meta-analysis from 2016 looked into the efficacy of ginseng supplements on fatigue reduction and physical performance [8]. While it did find statistically significant reductions in fatigue after ginseng supplementation, it concluded that insufficient clinical evidence exists because not enough trials have been done with large enough sample sizes.
However, the initial findings do show promise when it comes to ginseng's ability to increase energy, and its popularity is only increasing.
Common Supplements that Contain Korean Ginseng
Ginseng is a naturally occurring root that grows in many places across the world. It's readily available as loose-form tea or in root form. You can peel and chew the root raw or boil it to make tea. There are plenty of herbal teas that contain Korean ginseng.
Ginseng is also an ingredient of many energy drinks, powders, and capsules. It's often combined with caffeine and guarana. You'll also find it in many immune system-support supplements and multivitamins. You can also get pure ginseng tablets.
Side Effects of Korean Ginseng Supplementation
Korean ginseng is easy for most people to digest, making it one of the most popular herbal supplements. Korean ginseng is generally well tolerated and is safe in recommended doses for most healthy adults.
While most people don't experience any adverse side effects from ginseng, some people report:
Insomnia
Jitteriness
Headaches
Nausea
Ginseng has been found to be possibly unsafe during pregnancy and breastfeeding as it contains a chemical that's potentially harmful to a developing embryo. Do not use ginseng if you are pregnant or breastfeeding.
Korean Ginseng Dosage
The doses of ginseng in clinical trials range from 100mg to 6,000mg for 6 months. Most of the studies used doses between 1,000 to 2,500 mg of ginseng divided into 2 or 3 doses per day for 12 weeks.
While ginseng is safe in relatively large doses in the short term, there's some concern that taking ginseng long term can negatively affect the hormone levels in the body and isn't recommended.