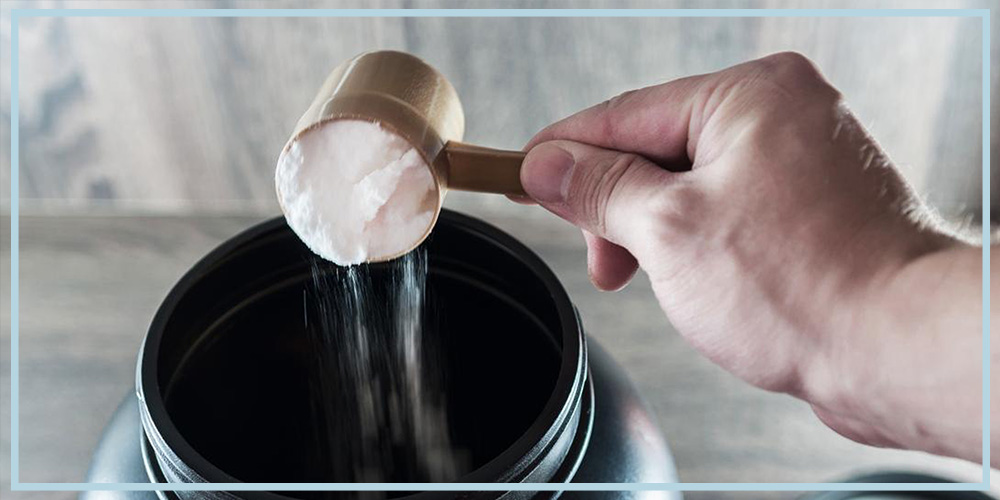 L-glutamine is the most abundant and versatile amino acid in our body and it plays an key role in many of your body's functions, including immunity and your gut biome's health. L-glutamine is naturally found in foods and there are plenty of L-glutamine-based nutritional supplements on the market, but are they worth it?
Because L-glutamine is present in many common foods, especially protein, particularly animal-based proteins, many people get enough of the essential amino acid in their diet. However, for those recovering from illness or injury, or if you're on a plant-based diet, supplementing L-glutamine intake can help boost immunity as well as help recovery.
With so much interest in health and wellbeing these days, there has been a mass of research into L-glutamine and its potential beneficial effects on the body. L-glutamine is regularly part of clinical nutritional studies and is often recommended for immune-suppressed individuals. [1]
There are still questions to ask, like when is best to use L-glutamine supplements, but it's definitely showing promise, especially for people who are ill, in post-trauma, or exhausted athletes.
Reported Effects of L-Glutamine
1. Boost Immunity
We know that L-glutamine is used by the cells in our bodies' immune systems.
It helps support building lymphocytes and increases the production of cytokines by lymphocytes and macrophages. These play a vital role in the immune system, helping your body to fight off infection [2]. Conditions like sepsis, injuries, burns, surgeries, and endurance exercise can all lower the body's natural levels of L-glutamine, most likely because of an increased demand by the immune system. [3]
There have also been successful studies using animals that show L-glutamine can help increase survival to bacterial challenge [4]. The research is early but promising and points towards potentially helping people resist and recover from bacterial infections by strengthening their immune system.
2. Improve Gut Health
You've probably heard a lot about the importance of maintaining your gut health, or microbiome, especially when it comes to having a strong and stable immune system. The trillions of bacteria in our guts can be affected by minute changes in our environment and what we take into our bodies.
L-glutamine affects the gut biome through a few different mechanisms.
It can affect the actual bacteria in your gut and the ratio between bacteria, it can activate and deactivate pathways, reduce intestinal colonization (which, in turn, reduces the chance of lesions), as well as increase the production of antibodies in the intestine [5]. The effects of L-glutamine can help manage obesity, bacterial translocation, cytokine profiles, and the side effects of chemotherapy [6].
3. Enhance Athletic Performance
You often see L-glutamine used in sports nutrition and there is plenty of talk on the internet about muscle gain and boosting athletic performance. However, most of this is anecdotal and the empirical science doesn't back up many, if any, of the claims.
One area regarding L-glutamine's effects on athletic performance that is backed up by scientific evidence is its anti-fatigue properties.
One report investigated the impact of L-glutamine on fatigue markers and athletic performance. In a meta-analysis, the majority of fifty-five studies showed some fatigue markers were improved [7]. For example, there was increased glycogen synthesis and reduced ammonia accumulation. However, while some fatigue parameters did improve, it's important to note that it's still unclear whether or not L-glutamine improves athletic performance, and more studies are needed in that area.
While L-glutamine supplementation hasn't shown many effects on athletes' aerobic performances, according to one systematic review and meta-analysis of clinical trials, supplementing glutamine resulted in greater weight reduction [8]. If you're goal is to lose weight through exercise, it could be a good supplement to compliment a balanced diet and exercise regime.
Common Supplements that Contain L-Glutamine
L-glutamine can be found in various foods, particularly protein-rich foods and especially, though not exclusively, animal-based protein. Substantial amounts is found in chicken, fish, cabbage, spinach, dairy, and tofu.
You can also get L-glutamine as a food supplement, either in powder or capsule form.
While pre-mixed powders may vary, pure L-glutamine supplements are kosher, vegetarian, vegan, gluten-free, and dairy-free.
Side Effects of L-Glutamine Supplementation
L-glutamine is naturally made in your body, so there aren't many adverse side effects to L-glutamine supplementation for healthy adults.
For some people, long-term side effects are generally mild and have been known to include:
Dizziness
Heartburn
Stomach pain
There still isn't enough data concerning L-glutamine supplementation while pregnant or breastfeeding. However, like most under-researched supplements, it's best to err on the side of caution and avoid them while pregnant or breastfeeding.
L-Glutamine Dosage
In general, you probably already get somewhere between 3 and 6 grams of L-glutamine in the foods you eat.
However, if you're going to start supplementing your L-glutamine intake, it's best to start low and slow when it comes to dosage, somewhere around 5 grams per day.
A Regulatory Toxicology and Pharmacology report states that the observed safe level for supplemental L-glutamine in healthy adults is 14 grams per day [9].
References
Cruzat V, Macedo Rogero M, Noel Keane K, Curi R, Newsholme P. Glutamine: Metabolism and Immune Function, Supplementation and Clinical Translation. Nutrients. 2018;10(11):1564.
Calder PC, Yaqoob P. Glutamine and the immune system. Amino Acids. 1999;17(3):227‐241.
Kim H. Glutamine as an immunonutrient. Yonsei Med J. 2011;52(6):892‐897.
Adjei, A.A., Matsumoto, Y., Oku, T., Hiroi, Y., & Yamamoto, S. (1994). Dietary agrinine and glutamine combination improves survival in septic mice.
Perna S, Alalwan TA, Alaali Z, et al. The Role of Glutamine in the Complex Interaction between Gut Microbiota and Health: A Narrative Review. Int J Mol Sci. 2019;20(20):5232. Published 2019 Oct 22.
Perna S, Alalwan TA, Alaali Z, et al. The Role of Glutamine in the Complex Interaction between Gut Microbiota and Health: A Narrative Review. Int J Mol Sci. 2019;20(20):5232. Published 2019 Oct 22.
Coqueiro AY, Rogero MM, Tirapegui J. Glutamine as an Anti-Fatigue Amino Acid in Sports Nutrition. Nutrients. 2019;11(4):863. Published 2019 Apr 17.
Ramezani Ahmadi A, Rayyani E, Bahreini M, Mansoori A. The effect of glutamine supplementation on athletic performance, body composition, and immune function: A systematic review and a meta-analysis of clinical trials. Clin Nutr. 2019;38(3):1076‐1091.
Shao A, Hathcock JN. Risk assessment for the amino acids taurine, Glutamine and L-arginine. Regul Toxicol Pharmacol. 2008;50(3):376‐399.