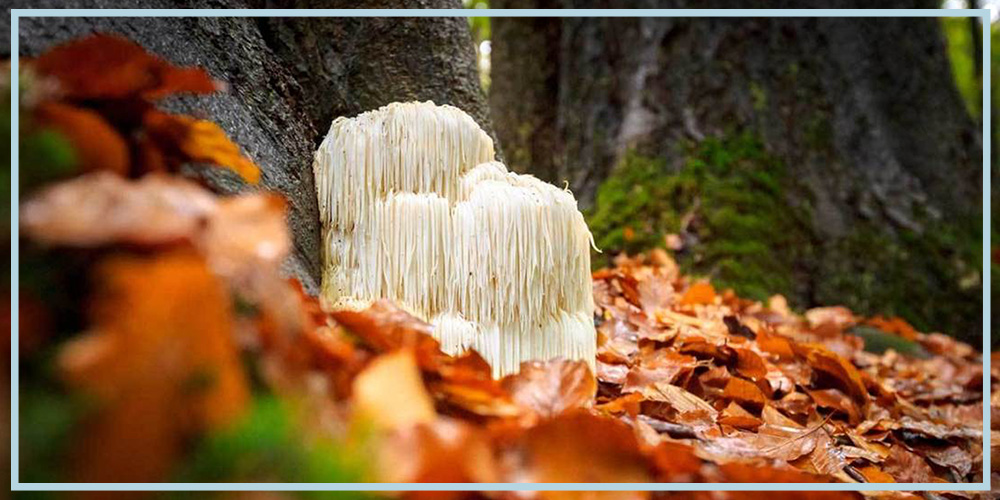 Lion's mane mushroom – Hericium erinaceus – is a culinary and medicinal mushroom native to Asia, Europe and North America. The mushroom physically looks like the mane of lion—long, white and shaggy—with tentacle-like dreadlocks. Often referred to as 'nature's nutrient for the neurons', has rapidly grown a reputation across the world for its brain-health benefits and cognitive-boosting properties.
Known historically for its anti-inflammatory and antioxidant properties, Lion's Mane been used for thousands of years in alternative and Chinese medicine [1]. But can this powerhouse fungi really do everything from protect your brain against cognitive decline, boost memory and support immunity?
While there are more studies needed in humans to truly establish any effects, there has been fairly extensive research in animal models that are showing some promising results.
Reported Effects of Lion's Mane Mushroom
1. Boost Brain Function
One of the most widely studied benefits of Lion's Mane is its ability to act as a 'brain booster'. A prominent ingredient in nootropic supplements, lion's mane has been suggested to be able to improve cognitive function, recognition and memory [2].
These brain-boosting effects are due to the two main active compounds in lion's mane: hericenones and diterpenoid erinacines. Both have properties that increase levels of Nerve Growth Factor (NGF) in the brain.
NGF plays a key role in stimulating the growth and regeneration of neurons and helps the brain to form new neural pathways [3], allowing it to significantly improve cognitive function, particularly in older adults [4].
NGF also improves what's known synapse potentiation – this is process in which neural pathways become stronger each time you use them, a process essential for learning and memory. Practice makes perfect? That's just synapse potentiation at work.
The research backs up the theory here: lion's mane mushroom and its extracts have been shown to reduce symptoms of memory loss in mice, as well as prevent neuronal damage caused by amyloid-beta plaques, which accumulate in the brain during Alzheimer's disease [5].
2. Relieve Mild Symptoms of Depression and Anxiety
It's also that Lion's Mane can help to relieve the symptoms of depression and anxiety, although the mechanisms by which it does so are not yet understood. In one of the few human studies in this area, women who took an extract of lion's mane reported lower anxiety and irritation levels [6].
Animal studies have suggested that this effect may be due to the anti-inflammatory effects of lion's mane, while others hypothesise that it could be due to changes induced in the hippocampus [7]. This is the area of the brain responsible for processing emotional responses, and it's believed that dysfunction here is connected to mood disorders. Lion's Mane may potentially regenerate cells in this region and improve its function.
While animal studies are promising, there is very little research thus yet in humans.
3. Boost the Immune System
Lion's mane mushroom can boost immunity by increasing the activity of the intestinal immune system, which protects the body from pathogens that enter the gut through the mouth or nose.
These effects may be due to beneficial changes in gut bacteria that stimulate the immune system. In animal studies, the benefits have been profound: a daily supplement of lion's mane extract quadrupled the lifespan of mice injected with a lethal dose of salmonella bacteria [8].
Realistically, it's hard to apply these findings directly to humans. Unsurprisingly, we've not yet came across a human study that followed a lethal dose of salmonella. So while the immune-boosting effects of lion's mane mushrooms are very promising, this area of research is still developing.
4. Reduces Inflammation and Oxidative Stress
Inflammation is a very normal part of the body's immune response. Chronic inflammation, less so. Chronic inflammation and oxidative stress are believed to be at the root of many modern illnesses such as heart disease, autoimmune disorder and cancer.
Research shows that lion's mane mushrooms contain powerful anti-inflammatory and antioxidant compounds that may help reduce the impact of these illnesses.
A study examining the antioxidant abilities of 14 different mushroom species found that lion's mane had the fourth highest antioxidant activity and recommended it be considered a good dietary source of daily antioxidants [9].
Common Supplements that Contain Lion's Mane Mushroom
Lions mane mushroom can be found in various supplements. Most notably, the extract can be found in stand-alone capsules and powder, which are most commonly marketed for their brain-boosting abilities.
Lions mane extract is also prevalent in "nootropic" supplements. Nootropics are an increasingly popular form of supplement used to naturally enhance mood and cognitive function.
Side Effects of Lion's Mane Supplementation
Lion's mane is an edible mushroom, which is considered relatively safe when consumed moderately.
There have been no human studies conducted that examine the side effects of lion's mane mushroom or its extract, but both appear to be very safe.
No adverse effects have been seen in animal studies, even at extremely high doses.
There have been documented cases of people experiencing difficulty breathing or skin rashes after exposure to lion's mane mushrooms, most likely related to allergies. Anyone who is sensitive to mushrooms should avoid lion's mane, as it is a species of mushroom.
Lion's Mane Dosage
There is no set recommended dosage of for lion's mane mushroom, as this will depend on weight, age, health status and your reasons for supplementing.
As standard, a daily dose of 500-3000mg per day is considered safe.
References
Friedman M. Chemistry, Nutrition, and Health-Promoting Properties of Hericium erinaceus (Lion's Mane) Mushroom Fruiting Bodies and Mycelia and Their Bioactive Compounds. J Agric Food Chem. 2015;63(32):7108‐7123.
Brandalise F, Cesaroni V, Gregori A, et al. Dietary Supplementation of Hericium erinaceus Increases Mossy Fiber-CA3 Hippocampal Neurotransmission and Recognition Memory in Wild-Type Mice. Evid Based Complement Alternat Med. 2017;2017:3864340.
Sabaratnam V, Kah-Hui W, Naidu M, Rosie David P. Neuronal health – can culinary and medicinal mushrooms help?. J Tradit Complement Med. 2013;3(1):62‐68.
Mori K, Inatomi S, Ouchi K, Azumi Y, Tuchida T. Improving effects of the mushroom Yamabushitake (Hericium erinaceus) on mild cognitive impairment: a double-blind placebo-controlled clinical trial. Phytother Res. 2009;23(3):367‐372.
Tsai-Teng T, Chin-Chu C, Li-Ya L, et al. Erinacine A-enriched Hericium erinaceus mycelium ameliorates Alzheimer's disease-related pathologies in APPswe/PS1dE9 transgenic mice. J Biomed Sci. 2016;23(1):49. Published 2016 Jun 27.
Nagano M, Shimizu K, Kondo R, et al. Reduction of depression and anxiety by 4 weeks Hericium erinaceus intake. Biomed Res. 2010;31(4):231‐237.
Ryu S, Kim HG, Kim JY, Kim SY, Cho KO. Hericium erinaceus Extract Reduces Anxiety and Depressive Behaviors by Promoting Hippocampal Neurogenesis in the Adult Mouse Brain. J Med Food. 2018;21(2):174‐180.
Kim SP, Moon E, Nam SH, Friedman M. Hericium erinaceus mushroom extracts protect infected mice against Salmonella Typhimurium-Induced liver damage and mortality by stimulation of innate immune cells. J Agric Food Chem. 2012;60(22):5590‐5596.
Hou Y, Ding X, Hou W. Composition and antioxidant activity of water-soluble oligosaccharides from Hericium erinaceus. Mol Med Rep. 2015;11(5):3794‐3799.