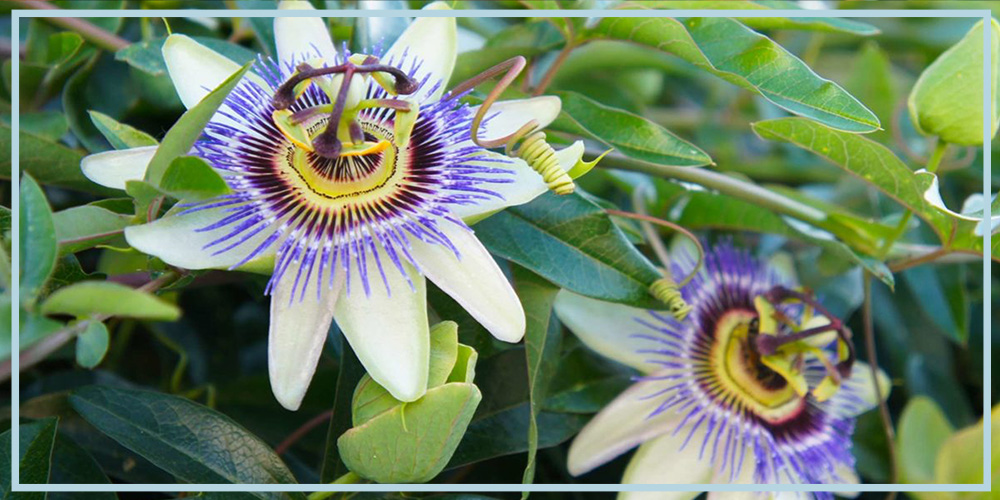 Passionflower is a tropical looking vine that's been said to help with insomnia, anxiety, hot flashes and pain among other ailments. Known also as Passiflora, it has been used since the early 16th century for its medicinal purposes, and with over 450 known species of the plant, there's a lot of benefits to go around.
In 1569, Spanish explorers first discovered passionflower in Peru and named the plant after its canny resemblance to a crucifix. The 'passion' is a term used to describe the final period of Jesus Christ's life in Christianity. Today, it is known for its calming, sleep-inducing and muscle spasm relieving effects.
These effects may be attributed to various mechanisms. First and foremost is the high concentration of flavonoids found in the plant. These are plant metabolites said to combat inflammation and free-radical damage, prevent cell mutations and block pain signals [1].Studies also suggest that many of the benefits are due to its ability to increase gamma-aminobutyric acid (GABA) in the brain. GABA is a naturally occurring amino acid that inhibits activity in the central nervous system. This results in relaxation, enhanced mood, better sleep, and pain relief.
Indole alkaloids may also boost crucial neurotransmitters such as dopamine, noradrenaline and serotonin. This effect may protect against depression and other mental disorders [2].
Thanks to a unique blend of these mechanisms, passionflower has been touted to relax the mind, soothe the lungs, boost the metabolism and promote a healthy heart.
Wonderful claims, but does the evidence support them? We take an unbiased look at this powerful drug below.
Reported Effects of Passionflower
1. Improve Anxiety
Up to 18% of adults in the US alone suffer from anxiety, making it one of the most common mental disorders. It can be debilitating, and conventional treatment can come with challenges, such as drug dependence. Passionflower is cited to relieve the symptoms of anxiety by increasing GABA in the brain. Gaba receptors generally promote relaxation, sedation and anti-anxiety.
In clinical trials, passionflower has been found to be as effective as oxazepam, a traditionally prescribed anti-anxiety drug [3]. This was mirrored in a larger clinical trial in which an herbal mixture with passionflower relieved anxiety in 43% of the patients. Whilst the other herbs will have likely contributed to the results, it's still promising [4].
One of the areas often said to benefit is for treating pre-surgery or dental procedure anxiety. A short-term course of passionflower extract consistently reduces anxiety in such cases [5]
2. Menopausal Symptoms
Caused by the decreased production of oestrogen in the ovaries, the onset menopause is often accompanied by a range of unpleasant symptoms due to hormonal changes. Known as the change of life, it's not always smooth, and symptoms range from flushes, to headaches, to mood changes and in severe cases depression.
Various studies have concluded that purple passionflower (Passiflora incarnata) may ease the common menopausal symptoms. In a clinical trial of 59 menopausal women, supplementing with passionflower extract relieved hot flushes, insomnia, and mood changes [6].
The mechanisms by which passionflower helps with menopause are not entirely understood, but the research thus far is promising.
3. Improve Sleep
Anxiety and insomnia often go hand in hand: sleep problems affect more than 50 percent of adults diagnosed with generalised anxiety disorder [7].
At the moment, the scientific results aren't entirely conclusive. While studies suggest that passionflower can help with restlessness and insomnia, most research used combinations with other calming herbs, which likely contributed to positive results.
In a clinical trial a herbal product with passionflower extract boosted both sleep quality and duration. It was just as effective as zolpidem, a common over-the-counter remedy for insomnia. This herbal product also contained valerian root and hops extracts, two ingredients recognised for their sedative properties [8].
Scientists have noticed sedative effects of passionflower in animal trials, reducing irritability and increasing sleep duration [9]. All promising, but we need more human research looking at the effects of isolated passionflower to determine its application for future treatments.
4. Reducing Depression
Passionflower contains indole alkaloids, which are known for their ability to boost the levels of essential neurotransmitters in the brain, such as dopamine, serotonin, and noradrenaline. These three substances are fundamental to normal brain function and are known as the happy hormones.
The happy hormones are a key area of focus in the development of new antidepressants, and therefore scientists have been interested in the ability of passionflower to treat symptoms.
In animal studies, so far, so good.
A type of passionflower, P. edulis, relieved the symptoms of depression in mice by raising the levels of serotonin and dopamine [10]. With that being said, it's very early, and there are no human studies that infer similar benefits.
A lack of GABA in the brain has also been linked with depression, especially menopausal women. The stimulating effects of passionflower on GABA receptors may be able to counteract this [11].
Common Supplements that Contain Passionflower
Passionflower is found in various supplements marketed for stress, anxiety, and sleep issues.
As a single herb, pills with dry passionflower extract are the most popular, but tea bags and tinctures are also prevalent.
rhodiola_rosea_wikiIt's often found in herb mixtures, combined with valerian root, lion's mane mushroom and rhodiola due to their relaxation inducing properties.
Side Effects of Passionflower Supplementation
There are little to no known side effects to passionflower supplementation for healthy adults when consumed in moderate amounts. It is FDA approved for human consumption, so can be assumed to be relatively safe. In some people, it may cause:
Sleepiness
Dizziness
Confusion
Nausea
In clinical trials, children of different ages took passionflower and experienced no side effects. With that said, it's not recommended for children without medical supervision.
Pregnant women should avoid passionflower by all means as it may stimulate contractions.
Passionflower Dosage
The following doses showed the best results in clinical trials:
Anxiety: 250 – 1,000 mg/day of dry extract
Sleep: 80 mg of the dry extract
Cough: 500 mg of dry extract
The European Medicines Agency (EMA) suggests the following doses of other forms of the drug [12]:
Infusion (tea): 1 – 2 g of dried herb in 150 ml of boiling water, 1 – 4 times daily
Liquid extract (tincture): 2 – 4 ml (40 – 80 drops) daily
References
He M, Min JW, Kong WL, He XH, Li JX, Peng BW. A review on the pharmacological effects of vitexin and isovitexin. Fitoterapia. 2016;115:74-85.
Hamid HA, Ramli AN, Yusoff MM. Indole Alkaloids from Plants as Potential Leads for Antidepressant Drugs: A Mini Review. Front Pharmacol. 2017;8:96. Published 2017 Feb 28.
Akhondzadeh S, Naghavi HR, Vazirian M, Shayeganpour A, Rashidi H, Khani M. Passionflower in the treatment of generalized anxiety: a pilot double-blind randomized controlled trial with oxazepam. J Clin Pharm Ther. 2001;26(5):363-367.
Bourin M, Bougerol T, Guitton B, Broutin E. A combination of plant extracts in the treatment of outpatients with adjustment disorder with anxious mood: controlled study versus placebo. Fundam Clin Pharmacol. 1997;11(2):127-132.
Kaviani N, Tavakoli M, Tabanmehr M, Havaei R. The efficacy of passiflora incarnata linnaeus in reducing dental anxiety in patients undergoing periodontal treatment. J Dent (Shiraz). 2013;14(2):68-72.
Fahami F, Asali Z, Aslani A, Fathizadeh N. A comparative study on the effects of Hypericum Perforatum and passion flower on the menopausal symptoms of women referring to Isfahan city health care centers. Iran J Nurs Midwifery Res. 2010;15(4):202-207.
Maroo N, Hazra A, Das T. Efficacy and safety of a polyherbal sedative-hypnotic formulation NSF-3 in primary insomnia in comparison to zolpidem: a randomized controlled trial. Indian J Pharmacol. 2013;45(1):34-39. doi:10.4103/0253-7613.106432
Toda K, Hitoe S, Takeda S, Shimizu N, Shimoda H. Passionflower Extract Induces High-amplitude Rhythms without Phase Shifts in the Expression of Several Circadian Clock Genes in Vitro and in Vivo. Int J Biomed Sci. 2017;13(2):84-92.
Ayres ASFSJ, Santos WB, Junqueira-Ayres DD, et al. Monoaminergic neurotransmission is mediating the antidepressant-like effects of Passiflora edulis Sims fo. edulis. Neurosci Lett. 2017;660:79-85.
Wang Z, Zhang A, Zhao B, et al. GABA+ levels in postmenopausal women with mild-to-moderate depression: A preliminary study. Medicine (Baltimore). 2016;95(39):e4918.
https://www.ema.europa.eu/en/documents/herbal-monograph/final-community-herbal-monograph-passiflora-incarnata-l-herba_en.pdf