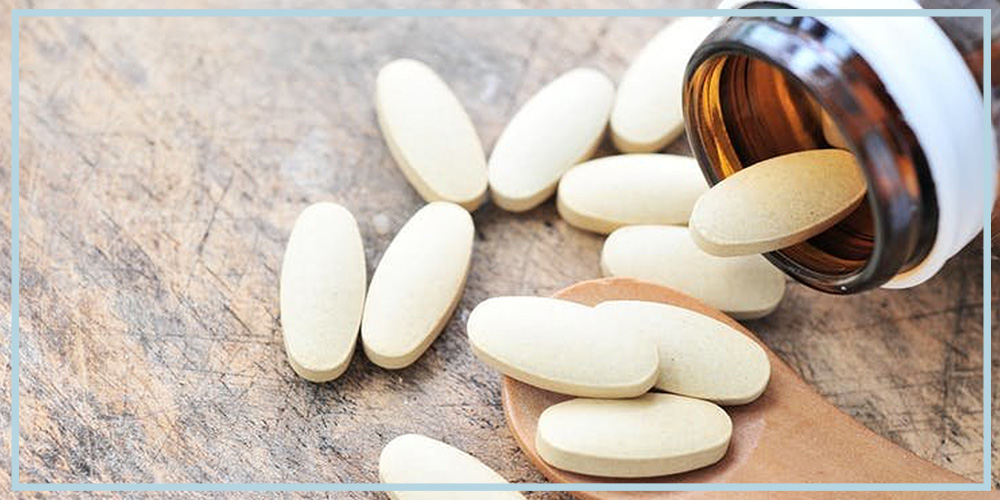 Vitamin B6 is an essential nutrient vital for protein, fat and carbohydrate metabolism and the creation of red blood cells and neurotransmitters. The body cannot generate this by itself, so it's important we ensure we are getting enough from our diet, and if not, by supplementing.
Also known as pyridoxine, it is found to some degree in most foods, namely meat, poultry, whole grains and bananas. For most adults, the recommended daily intake is around 1.5mg, and hitting this can benefit your body and mind in impressive ways. 
From boosting brain function, to improving mood and aiding haemoglobin function, it's crucial that you are getting enough vitamin b6.
Reported Effects of Vitamin B6
1. Promotes Eye Health
Vitamin B6 may play a role in preventing various eye diseases and promoting general eye health. Studies have high blood levels of circulating homocysteine with an increased risk of age-related macular degeneration (AMD). It also helps to reduce elevated blood levels of homocysteine, so it could be hypothesised that getting enough B6 may lower your risk of the disease.
A seven-year study with over 5,400 particpants found that a daily supplement of vitamin B6, vitamin B12 and folic acid (B9) significantly reduced AMD risk by 35–40%, compared to a placebo [1]. As B6 was taken as part of a combined effort, it's hard to infer how much of the reduction was due to B6.
2. Improve Mood
Vitamin B6 plays a vital role in mood regulation. This may be due to its role in creating neurotransmitters that regulate emotions, including serotonin, dopamine and gamma-aminobutyric acid. Several studies have shown that depressive symptoms are associated with low blood levels and intakes of vitamin B6, especially in older adults who are at high risk for B vitamin deficiency [2].
One study in 250 older adults found that deficient blood levels of vitamin B6 doubled the likelihood of depression [3]. However, as yet, vitamin B6 has not been shown to treat the disorder.
3. Aid Haemoglobin Production
Due to its role in haemoglobin production, vitamin B6 may be helpful in preventing and treating anaemia caused by deficiency.
Haemoglobin is a protein that delivers oxygen to your cells. When you have low haemoglobin, your cells don't get enough oxygen. As a result, you may feel weak or tired. Studies consistently link low levels of B6 with anaemia, predominantly in pregnant women [4].  Taking 75mg daily during pregnancy decreased symptoms of anaemia in 56 pregnant women who were unresponsive to treatment with iron [4].
With that being said, vitamin B6 deficiency is fairly rare in most adults, so there is limited research available.
Common Supplements that Contain Vitamin B6
Vitamin B6 can be found in various supplements. Most commonly, it's found as a stand-alone supplement in capsule form.
It's also found in most multi-vitamins, albeit at a much smaller dosage.
Side Effects of Vitamin B6 Supplementation
In general, it is is well tolerated and safe for healthy people. Common mild side effects experienced are:
nausea
vomiting
diarrhea
headaches
Vitamin B6 toxicity is very unlikely to occur from food sources: it is almost impossible to consume anywhere near the upper level from diet alone. At the upper limit, supplemental B6 may cause nerve damage or numbness in the hands and feet.
Vitamin B6 Dosage
The recommended daily amount (RDA) for B6 is 1.3–1.7 mg for adults over 19. Most healthy adults can get this amount through a balanced diet that includes vitamin-B6-rich foods like turkey, chickpeas, tuna and bananas.
Studies that highlight the use of B6 to prevent and treat health issues tend to focus on supplementation rather than food sources. Doses of 30–250 mg per day have been used in research on PMS, morning sickness and heart disease. 
Taking more than 1,000 mg of supplemental B6 a day may cause nerve damage and pain or numbness in the hands or feet. Some of these side effects have even been documented after just 100–300 mg per day.
For these reasons, the tolerable upper limit is 100 mg per day for adults [5]
References
1. Christen WG, Glynn RJ, Chew EY, Albert CM, Manson JE. Folic acid, pyridoxine, and cyanocobalamin combination treatment and age-related macular degeneration in women: the Women's Antioxidant and Folic Acid Cardiovascular Study. Arch Intern Med. 2009;169(4):335‐341.
2. Hvas AM, Juul S, Bech P, Nexø E. B6 level is associated with symptoms of depression. Psychother Psychosom. 2004;73(6):340‐343. 
3. Merete C, Falcon LM, Tucker KL. Vitamin B-6 is associated with depressive symptomatology in Massachusetts elders. J Am Coll Nutr. 2008;27(3):421‐427. 
4. Hisano M, Suzuki R, Sago H, Murashima A, Yamaguchi K. VitaminB6 deficiency and anemia in pregnancy. Eur J Clin Nutr. 2010;64(2):221‐223. 
5. Katan MB. Hoeveel B6 is toxisch? [How much B6 is toxic?]. Ned Tijdschr Geneeskd. 2005;149(46):2545‐2546.