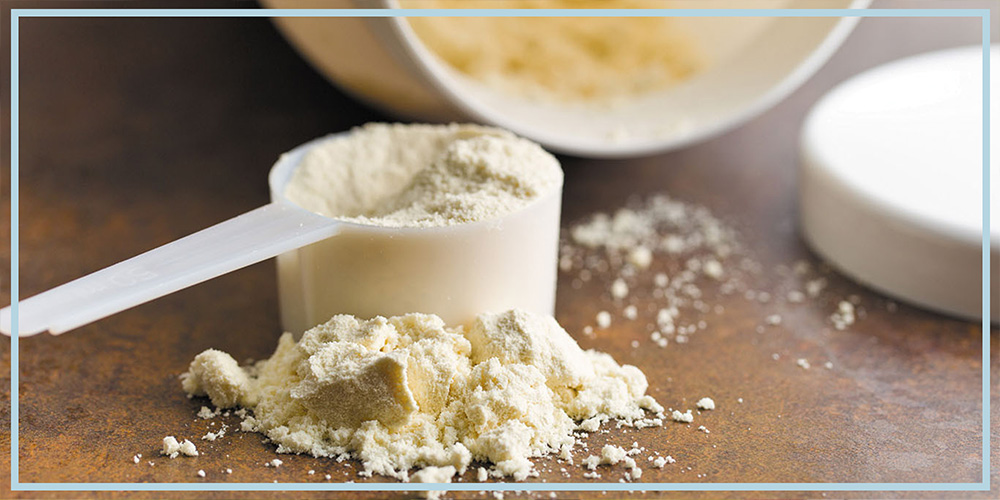 Contrary to popular belief, not all protein is created equal. In a market saturated with options, it's difficult to know what works, and what doesn't. Put simply, whey protein is one of the better options.
More than just a source of protein, it is loaded with a range of essential amino acids and nutrients with numerous health benefits.
Whey is a mixture of proteins isolated from whey; the liquid part of milk that separates during cheese production. After separation, it's processed to become what is globally recognised as your whey protein – a powder added to shakes, meal replacements and protein bars.
Widely regarded as one of the best nutrition supplements for muscle repair and building, it's widespread use is supported by research showing a strong amino acid profile and fast absorption in the body. It's been shown to help individuals increase strength, gain muscle and lose significant amounts of bodyfat [1].
Reported Effects of Whey Protein
1. Promote Muscle Mass and Strength Gain
The single most common benefit of whey protein is its ability to help promote muscle mass and increase strength. It's for this reason that it's become a cult classic among athletes, body builders and the average joe in the gym. It does so in three main ways:
Building blocks: whey provides protein and amino acids, which serve as the building blocks for muscle in the body. Without these, muscle wouldn't exist.
Hormones: it increases the release of insulin, an anabolic hormone that can stimulate muscle growth.
Branched Chain Amino Acids: it is loaded with leucine, a branched chain amino acid known to stimulate muscle protein synthesis.
This theory is consistently supported by research showing that whey protein is effective at increasing muscle growth, particularly when consumed before, during or after a workout.
Consuming whey protein after exercise helps to increase muscle protein synthesis and glucose uptake for glycogen synthesis in the muscles [2]. Glycogen is the muscles' form of energy storage, so by ensuring adequate glycogen stores, it can allow for better performance and prevent early fatigue.
2. Promote Body Fat Reduction
There is no denying that protein can aid weight loss: it's by far the most satiating macronutrient, ensuring that you stay fuller, for longer. It has been to aid weight loss by boosting metabolism: protein can boost energy expenditure by 80-100 calories per day and has been proven to reduce overall calorie intake [3][4].
By supplementing with whey protein, individuals can increase their protein intake in a convenient and cost effective away, while repeating the health benefits. Studies have shown that replacing other calorie sources with whey protein can cause significant weight loss while increasing lean muscle mass [5].
As mentioned, all protein is not created equal. Whey protein was shown to be even more beneficial than casein proteins for satiety in overweight and obese individuals. Worth noting, whey protein does not induce fat loss when diet is not controlled. Whey is not a one-fix solution; whey protein supplementation enhances fat loss and preserves lean mass only when combined with a healthy diet and exercise regime.
Common Supplements that Contain Whey Protein
Whey is most commonly found as a stand-alone powder.
Generally, it's widely available in three forms:
Concentrate is essentially what remains after the whey is neutralised and filtered. It contains the lowest percentage of protein of the three, as it undergoes the least amount of processing. It's normally the most cost-effective option.
Whey isolate is produced when concentrate is purified. Further water, fat and lactose content are removed, meaning the protein will be purer, containing fewer calories and with a higher percentage of protein.
The most processed of the three, whey hydrolysate is further broken down into peptides rapidly absorbed in the bloodstream. This is suggested to give a greater increase in muscle protein synthesis but will often come with a higher price tag.
Often, you can find whey protein reinforced with l-leucine, among other amino acids.
Side Effects of Whey Protein Supplementation
In general, whey protein is considered a safe supplement; no toxic effects have been reported when taking the recommended dosage and most people can supplement with it without adverse effects.
Consuming too much whey protein can however potentially cause digestive issues such as:
flatulence
nausea
diarrhea
cramping
Whey Protein Dosage
The amount of protein to supplement largely depends on individual daily protein goals.
The most commonly recommended dosage is 1-2 scoops (~25-50 grams) per day.
It's recommended that you follow the serving instructions, as these will vary from manufacturer to manufacturer, and are largely based on individual needs. Some of the common more specific recommendations are as follows:
If you are an athlete or highly active person attempting to lose body fat while preserving lean muscle mass, a daily intake of 1.5-0.68-1g/lb bodyweight.
If you are an athlete or highly active person, or you are attempting to lose body fat while preserving lean mass, then a daily intake of 0.45-0.68g/lb bodyweight.
If you are sedentary and not looking to change body composition, a daily target of 0.36g/lb bodyweight.
If you are meeting your daily protein targets through diet alone, supplementation is unnecessary. Whey protein simply provides a convenient way to increase the levels of the macronutrient in your diet.
Take Home Message
Protein plays many roles in the body and is essential to keep us functioning optimally. While supplementing with protein is not necessary if getting enough through your diet, whey protein is a convenient way to increase your intake easily. The benefits include increasing muscle mass, preventing muscle loss and increased satiety.
In short, whey protein is a high-quality source of all of the essential amino acids and is a cost-effective, convenient, and efficient way to supplement dietary protein intake.
References
Hulmi JJ, Lockwood CM, Stout JR. Effect of protein/essential amino acids and resistance training on skeletal muscle hypertrophy: A case for whey protein. Nutr Metab (Lond). 2010;7:51.
Ivy JL. Regulation of muscle glycogen repletion, muscle protein synthesis and repair following exercise. J Sports Sci Med. 2004;3(3):131‐138.
Veldhorst MA, Westerterp-Plantenga MS, Westerterp KR. Gluconeogenesis and energy expenditure after a high-protein, carbohydrate-free diet. Am J Clin Nutr. 2009;90(3):519‐526.
Johnston CS, Day CS, Swan PD. Postprandial thermogenesis is increased 100% on a high-protein, low-fat diet versus a high-carbohydrate, low-fat diet in healthy, young women. J Am Coll Nutr. 2002;21(1):55‐61.
Miller PE, Alexander DD, Perez V. Effects of whey protein and resistance exercise on body composition: a meta-analysis of randomized controlled trials. J Am Coll Nutr.