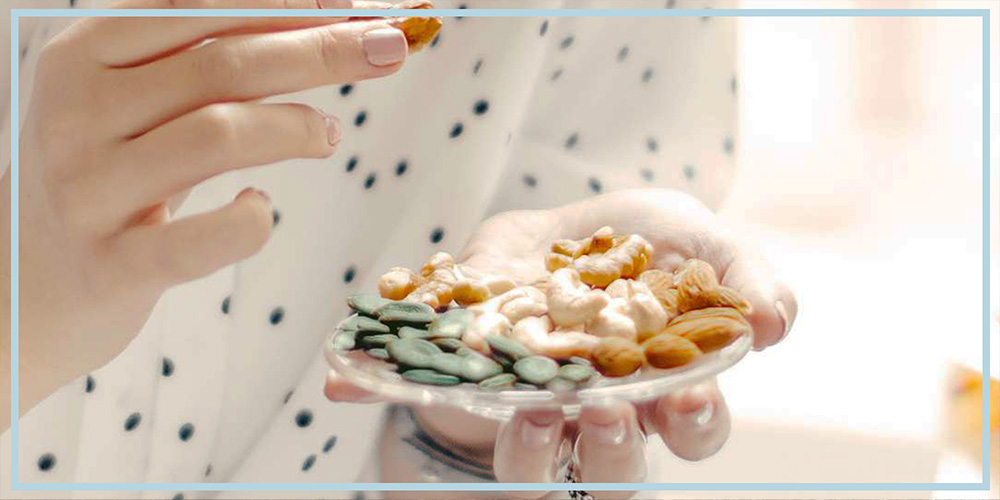 Zinc is a hugely abundant mineral found in the body, second only to iron, it is present in every cell. Naturally found in a wide variety of both plant and animal food, it is necessary for the activity of over 300 enzymes vital for metabolism, digestion and nerve function. It's required for vital processes in the body including:
Gene expression
Immune function
Protein synthesis
Growth and development
The recommended dietary allowance (RDA) for is 8 milligrams a day for women, and 11 milligrams a day for men. This is easily achieved through a well-balanced diet, but similarly to magnesium, most of us fall short. Supplementing with even a small amount of zinc can provide a wealth of benefits. 
Cited to maintain a healthy immune system, promote healthy growth during childhood, and accelerate wound healing, it's a mineral that packs a punch.
Because of its impressive health benefits, foods that don't naturally contain this mineral, such as snack bars and breakfast cereals, are often fortified with synthetic forms. Similarly, because of its key role in immune function, it is likewise added to nasal sprays, lozenges and other natural cold treatments. 
Below, we look at the benefits, the uses, potential side effects and dosage to get you up to speed.
Reported Effects of Zinc
1. Boosts Immune System
Zinc is recognised widely for its ability to help keep the immune system strong. As a key player in immune cell function and cell signalling, a deficiency can lead to a weakened immune response. According to the European Journal of Immunology, the human body needs it to activate T lymphocytes [1]. These lymphocytes:
Control and regulate immune response
Attack infected cells
Without, individuals will experience an increased susceptibility to a variety of pathogens. In layman's terms, less zinc = more colds.
Supplements can stimulate particular immune cells and reduce oxidative stress. Take the common cold for example: a review of several clinical studies demonstrated that just 80–92 mg per day of zinc may reduce the length of the common cold by up to 33% [2].
What's more, they can also significantly reduce the risk of infections and promote immune response in older adults [3].
2. Reduce the Risk of Age-Related Diseases
Zinc has also been suggested to significantly reduce the risk of age-related diseases, such as pneumonia, infection and age-related macular degeneration (AMD).
By boosting the activity of T-cells and natural killer cells, known to help protect the body from infection, it effectively relieves oxidative stress and supports the immune response [3].
Older adults who supplement with zinc experience improved vaccination response and reduced risk of pneumonia. In fact, one study determined that just 45 mg per day may decrease infection rates in older adults by over 65% [4].
Additionally, taking a daily antioxidant supplement and 80 mg of zinc decreased vision loss and reduced the risk of age-related macular degeneration [5]. It's a no-brainer.
3. Accelerate Wound Healing
Zinc is also used in hospitals as a treatment for burns, certain ulcers and other skin injuries. This is due to the critical role the mineral plays in collagen synthesis, immune function and inflammatory response. Call it a magic healer.
Your skin actually holds a fairly high amount of your body's zinc content, around the 5% mark [6]. While a deficiency can slow wound healing, conversely, supplementing with the mineral can speed up the process.
In a 12-week study of people with foot ulcers, those treated with 200 mg per day experienced significant reductions in ulcer size versus a placebo group [7].
Common Supplements that Contain Zinc
Zinc supplements are readily available in various types and forms, each with different effectivity's and absorption rates. There are six different types of zinc you'll see most commonly in the mass market.
Of those six, the three that tend to be reach for most often are:
Gluconate: the most common and affordable form, generally found in cold remedies, lozenges and nasal sprays.
Acetate: this form is commonly used to treat deficiencies and is another used as an over-the-counter remedy for the common cold.
Picolinate: the best-absorbed form, picolinate is the go-to for individuals who have issues with malabsorption.
These types are also available in various forms: supplements used to boost zinc levels are found as pills or liquids, nasal sprays and lozenges are used to treat colds, and topical creams are also made to treat skin issues like acne.
Side Effects of Zinc Supplementation
Zinc has been proven to have many potential health benefits, but just as a deficiency can cause health complications, excessive zinc intake can also be harmful. Adverse effects of severely high intake may include:
nausea
vomiting
loss of appetite
stomach pains
diarrhea
Ingesting too much can also cause deficiencies in other nutrients: excess zinc intake may suppress copper and iron absorption in the body [8].
Zinc Dosage
In order to avoid the harmful side effects induced by toxicity, high-dose zinc supplements should be avoided unless prescribed by a doctor.
As mentioned previously, the recommended daily intake (RDI) is 11 mg for men and 8 mg for women. Pregnant women should consume closer to 11mg per day [9].
Unless an underlying condition is hindering absorption, the recommended daily intake can be reached through diet alone. Meat, shellfish and legumes are excellent sources.
The tolerable upper level is 40 mg per day. However, this does not apply to people with those with zinc deficiencies, who may need to take a significantly higher dose.
References
Kaltenberg J, Plum LM, Ober-Blöbaum JL, Hönscheid A, Rink L, Haase H. Zinc signals promote IL-2-dependent proliferation of T cells. Eur J Immunol. 2010;40(5):1496‐1503. 
Hemilä H. Zinc lozenges and the common cold: a meta-analysis comparing zinc acetate and zinc gluconate, and the role of zinc dosage. JRSM Open. 2017;8(5):2054270417694291. Published 2017 May 2.
Haase H, Rink L. The immune system and the impact of zinc during aging. Immun Ageing. 2009;6:9. Published 2009 Jun 12.
Prasad AS. Discovery of human zinc deficiency: its impact on human health and disease. Adv Nutr. 2013;4(2):176‐190. Published 2013 Mar 1. 
Age-Related Eye Disease Study 2 Research Group. Lutein + zeaxanthin and omega-3 fatty acids for age-related macular degeneration: the Age-Related Eye Disease Study 2 (AREDS2) randomized clinical trial [published correction appears in JAMA. 
Lin PH, Sermersheim M, Li H, Lee PHU, Steinberg SM, Ma J. Zinc in Wound Healing Modulation. Nutrients. 2017;10(1):16. Published 2017 Dec 24.
Momen-Heravi M, Barahimi E, Razzaghi R, Bahmani F, Gilasi HR, Asemi Z. The effects of supplementation on wound healing and metabolic status in patients with diabetic foot ulcer: A randomized, double-blind, placebo-controlled trial. Wound Repair Regen. 2017;25(3):512‐520. 
Villagomez A, Ramtekkar U. Iron, Magnesium, Vitamin D, and Zinc Deficiencies in Children Presenting with Symptoms of Attention-Deficit/Hyperactivity Disorder. Children (Basel). 2014;1(3):261‐279. Published 2014 Sep 29. doi:10.3390/children1030261
 Institute of Medicine (US) Panel on Micronutrients. Dietary Reference Intakes for Vitamin A, Vitamin K, Arsenic, Boron, Chromium, Copper, Iodine, Iron, Manganese, Molybdenum, Nickel, Silicon, Vanadium, and Zinc. Washington (DC): National Academies Press (US); 2001. 12, Zinc.