Creatine is one of the most used and popular supplements for body development. It has seen massive use for many years amongst athletes, bodybuilders, and anyone looking to squeeze a little more out of their time at the gym.
It's one of the world's most well known supplements, and has become an essential part of the exercise and body development routine for many people.
However, the question of how long it takes for creatine to kick in is one you might not be sure of the answer to! Luckily, you can find the information you need right here!
What Is Creatine?
Creatine is actually something you have in your body right now, whether you've taken supplements or not! It's a naturally occurring substance that the body itself creates.
It's also found in our food – red meat and fish can be great natural sources of creatine! If you were to go digging deep into your muscle cells, you'd actually find creatine there, assuming you had a microscope good enough to see it.
Around 95% of the creatine in the human body is actually stored in muscle cells. You'll find the other 5% in your kidneys, liver, and your brain – but then again, we all like to think of our brain as the most important muscle in the body, so maybe that's not a surprise!
As far as your muscles are concerned, creatine is great stuff! It helps to make energy for your muscles.
Whenever you're pushing yourself, doing intense exercise, lifting something heavy – in general, whenever you're getting your sweat and burn on – creatine is one of the key substances inside you that's making that happen.
If the body makes it then, why should I worry about taking supplements? Well, you shouldn't really – nothing is going to beat hard work, no matter how many supplements you take!
But, your body can use more creatine than it produces, and taking supplements is a great way to get more creatine into your system, which in turn will help your muscles increase their energy output and help you get more out of your workout – and see better results!
How Does It Work?
There are many ways that creatine can be a benefit to your athletic performance. Primarily, creatine helps your body produce ATP (adenosine triphosphate), which is the key energy source when we're thinking about intense exercise and heavy lifting!
Simply put, when taken safely, an increase in creatine can result in an increase of ATP, which leads to an increase in gains!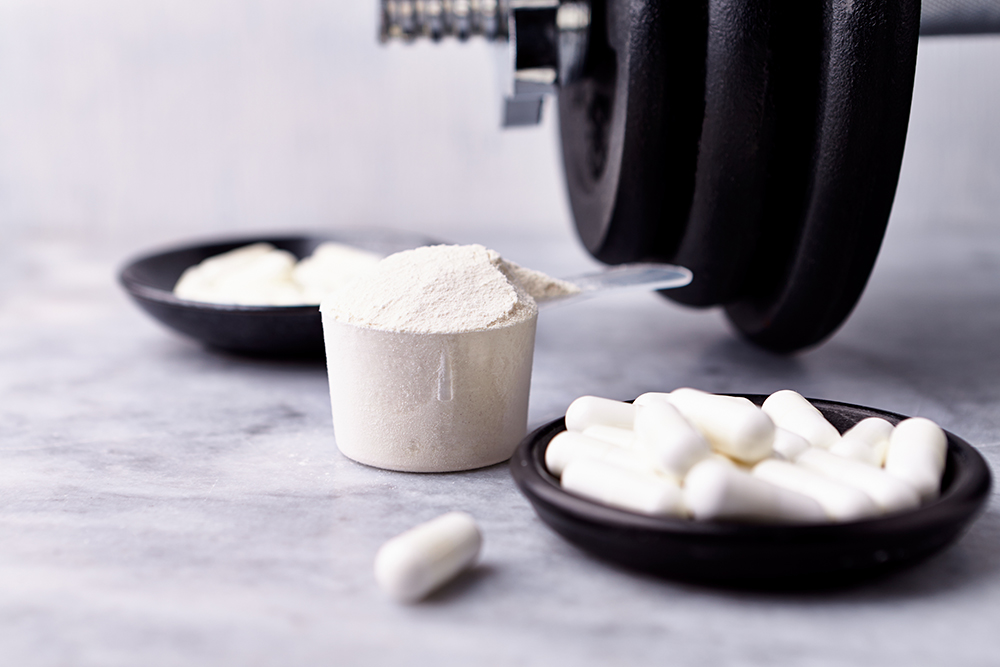 Normally, your body's ATP will be depleted after a few seconds. That doesn't sound like much, but think about how long you can do the single most intense lift you're capable of – all of a sudden, a few seconds starts to seem like an eternity!
Creatine won't give you superhuman strength, but it can help your body produce a more ATP – which, in turn, can give you a few more seconds of that high-intensity energy output!
This isn't a magic bullet – you'll still have to put the work in – but it will help you get to where you want to be quicker!
In short, when used properly, creatine can be extremely effective at helping you exercise, and in promoting muscle growth.
How Can I Take Creatine?
Creatine, as mentioned before, occurs naturally in the body's muscle cells. This means that eating red meat can be a good source of creatine – after all, we're not the only animals with muscles!
Red meat is all muscle tissue, and anybody who's ever seen the size of a cow should realise how much muscle they have to have to be able to carry all that weight!
However, you can't just eat a whole cow before a workout! While eating is a great source of all the various chemicals that your body needs to function, it can be difficult to push yourself to eat as much as you need.
Instead, supplements can help you get the amount of creatine you're seeking into your body, but without the requirement to eat in such colossal amounts!
What Is Creatine Loading?
Creatine loading is, essentially, loading your body with creatine! Simple, eh?
What this means in practice is that your body can't immediately make use of the creatine you take. So, if you're new to this, bear this in mind – you can't expect to take some creatine for the first time right before a workout and expect it to have much effect!
Instead, you need to build up stores of creatine in your body beforehand. This starts with what's called a loading period – where you take a set amount of creatine for a period of time. This will be a larger dose of creatine than you'd use normally.
A loading phase of creatine can mean taking anywhere between 5 and 20 grams of creatine per day, for around a week. It's probably best to split this up into smaller, regular doses throughout the day.
This initial large dosage of creatine is to get stores of it inside your body. After that week, take a smaller amount per day – 3-5 grams per day maximum. Always make sure to stay hydrated, as creatine will pull water into your muscle cells!
Just so you know – your body produces around 2g of creatine per day. So, you can see just how large a 20 gram loading dose of creatine can be in comparison to what your body would normally get!
How Long Does It Take To Work?
You're not going to notice an instant jump in energy levels immediately after taking your first dose.
However, with a loading phase, and then normal maintenance doses, you should expect to start seeing the subtle, but very real effects of creatine supplements within 2 weeks to a month of beginning to use it!
Conclusion
When used properly, creatine can be safe and extremely effective way of boosting your energy output, and therefore getting better workouts and better results in the long run! Remember, though – play it safe! If you have any doubts or questions at all, you're always, ALWAYS, going to be better off asking a medical or health professional!