Every gym-goer has had those days when they need an extra boost to get through their workout. Luckily, we have pre-workout, a fantastic way of increasing energy and keeping you focused as you train.
Pre-workout supplements may be great, but many people underestimate the number of stimulants that they contain. It's important to take pre-workout at a time that won't interfere with your sleeping schedule.
To work out this time, you'll need to know how long your supplement will stay in your system. So, how long does pre-workout last? Keep reading to find the answer in this article. We'll also cover the signs that tell you if your supplement has started working.
What Is Pre-Workout?
Referred to as 'pre-workout, pre-workout supplements are formulas that are made to raise workout performance.
They normally come in a powdered form that you can mix with water, though several users save time by swallowing the powder then and there. It's called 'pre' workout as you consume these substances before you begin exercise.
There are many pre-workout supplements available, which all have different ingredients depending on your goals.
The most popular ingredients include creatine, beta-alanine, BCAA's, and caffeine. They can help to increase concentration and focus, reduce tiredness after exercise, improve blood circulation, and prevent muscle from breaking down.
How To Know If Pre-Workout Is Working
If you take pre-workout regularly, it's easy to know when the supplement has started kicking in. However, this can be confusing if you have never taken these supplements before. Here are the possible effects that you may feel after taking pre-workout.
Itchy Or Tingling Feeling
This is one of the first effects that you may start feeling. It may feel like an itch under the skin or tingling within your muscles. This can be disconcerting if you've never experienced this sensation before, but don't worry.
This is completely normal. Some even look forward to the itchy feeling, as it shows that your pre-workout has started kicking in!
Pre-workout makes you itch due to the beta-alanine within. This ingredient makes you itch, but it also escalates your exercise capacity and makes your muscles less tired after a workout.
Itching is a common side effect, but it shouldn't last longer than 1-2 hours. If this lasts for a while, or if you're experiencing an allergic reaction, check for any allergies you may have and seek medical attention.
Increased Concentration & Motivation
The main advantage of pre-workout is that it helps you focus your mind. You'll be able to concentrate on each stage of your workout, which is great if you've only got an hour at the gym.
Pre-workout supplements can contain other stimulants, but the increase in focus is usually due to caffeine.
If you're taking pre-workout, make sure that you drink less coffee and energy drinks that day. Taking in too much caffeine can make you sick, increase anxiety, and can cause chest pains. If you can't give up your coffee, try switching to decaf.
On the other hand, if you don't like caffeine at all, there are pre-workout supplements that are free from stimulants. These won't provide a mental boost, but they can have other benefits which can improve your fitness performance.
Boost In Muscle Energy
If you've taken your pre-workout at the right time, (20-30 minutes before) then you should feel more energetic as you begin your warm-up.
The supplement should keep working as you move into the harder parts of your workout. You'll be able to perform difficult exercises that use larger muscles better, like squats and deadlifts. Some brands may even keep your muscles energized for isolation movements.
Time For Pre-Workout To Start Working
In most cases, pre-workout needs around half an hour to start working, but this depends on your body size, metabolism, and ingredients within the supplement. The majority of people should take it at home before they head to the gym.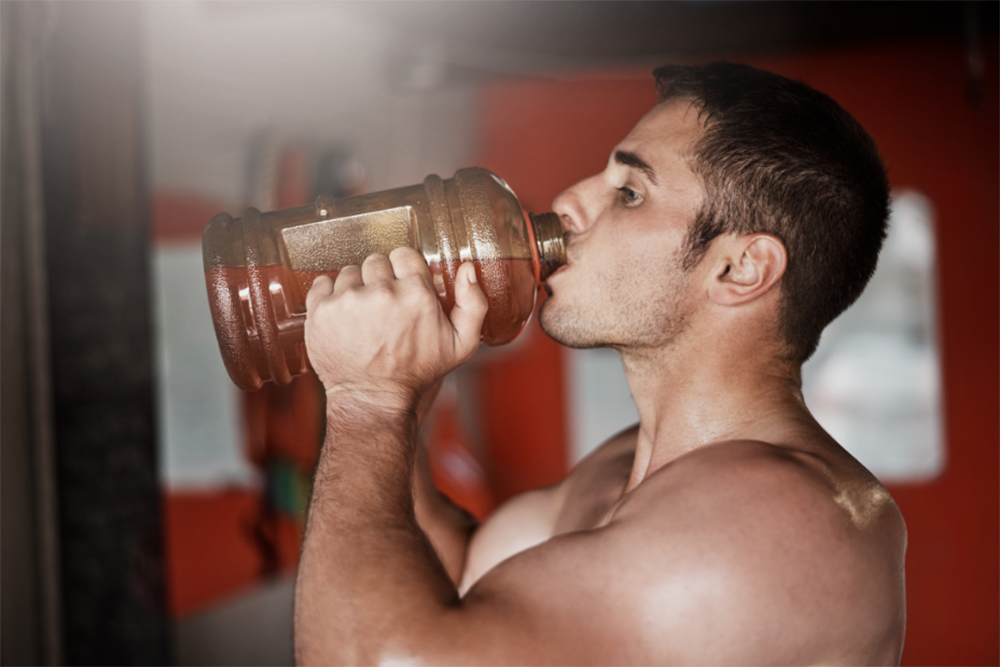 Before you begin your warmup, see if you feel any of the effects listed above. If they start too early or too late, adjust your timing by 5-10 minutes.
How Long Does Pre-Workout Stay In Your Body?
Generally speaking, pre-workout ingredients will stay in your body for up to 6 hours. Other ingredients, like caffeine, will remain in your body, but provide their maximum effect after an hour. Here's a list estimating how long popular pre-workout ingredients will take to wear off.
Caffeine
Caffeine can stay in your body for up to 5 hours, but its main effects occur after less time.
The main stimulant effect starts to subside from an hour upwards. This doesn't change depending on the form of pre-workout you take. Caffeine from coffee, pills, or pre-workout all wears off in the same manner.
Beta-Alanine
One of the main symptoms of pre-workout is an itchy feeling. Beta-Alanine is responsible for this. The tingly feeling won't last more than an hour. The increase in energy also subsides after the same amount of time.
L-Carnitine
As the body makes this substance naturally, there isn't any clear science that knows how long L-Carnitine takes to wear off. Nevertheless, its effects kick in after 30 minutes, so we can assume that it starts to break down within an hour.
CLA
CLA (Conjugated Linoleic Acid) has no stimulating effect, but it helps the body use stored fat, boost energy levels, and improves satiety. CLA starts to wear off between 60-90 minutes.
Factors Affecting How Long Pre-Workout Lasts
Two main factors affect how long your pre-workout lasts in your system.
The first is your diet. The amount of food and when you eat affects how your body processes pre-workout ingredients.
If you already drink a lot of coffee, the caffeine from pre-workout can add to your intake. This can make it difficult for your body to remove the caffeine, which can make it harder for you to fall asleep.
Furthermore, fasting has become popular among many fitness enthusiasts. Supplements taken when fasting can pass quickly through your system. If you're fasting, you may want to take your supplements closer to your workout time.
The second factor is overusing supplements. It's easy to go overboard and take more supplements than are necessary. Overusing fat burners, BCAA's, and pre-workout can increase their stimulating effects.
Taking supplements too often can make pre-workout ingredients take longer to pass through your system. While professional athletes may need to take more performance-enhancing substances, regular people can harm themselves by doing so.
Bottom Line
Pre-workout supplements are fantastic tools that can help you reach your training goals. These are normally safe to take, but you must try and estimate how long these will last within your system. Look at your lifestyle to see if these are suitable for you.
Always begin with a small dose and see how your body reacts. Check for any possible allergens and if necessary, adjust your caffeine intake to ensure you're staying within reasonable levels.