Here's our Military Muscle supplement Review.
Military Muscle is brought to us by Mil-Tech Pharma Ltd. This is a state-of-the-art formula that was developed over a period of three years in 'real-world' scenarios among military personnel and athletes in various sports.
The founder of the brand is actually in the army, plays rugby and is currently studying a postgraduate in Sports and Exercise Nutrition. 
Overview
The product was created to improve performance, especially in these areas:
Recovery – reduction of DOMS and better sleep
Strength – more reps and more weight
Muscle – helps gain lean and functional mass
Immunity – bolsters your bodies defence
Cognition – focus and mental clarity
Each bottle provides a 30-day supply and there is a big daily dose of 6 veggie capsules. This amounts to 3850mg which is among the best on the market.
This looks extremely promising, but is there any real substance to the claims? This article will review the doses and the ingredients to see what benefits it may or may not have.
What is Military Muscle?
As we have mentioned, the guy heading up the company is a soldier and active sports player. He founded Mil-Tech Pharma in 2019 to bring a product to the market that can help improve performance across different parameters.
But why? His story goes that as he got older, he found it more difficult to maintain a high frequency training regime, this was mainly due to recovery – or the lack of it…
Having a great deal of physical training experience under his belt, and a background in sports and exercise nutrition he set about getting a team together to develop a product suitable for gruelling training regimes and environments.
It is well known that recovery is the success behind training. Without it your muscles cannot repair adequately to grow and develop. [1]
Furthermore, the importance of rest, recovery and sleep for our mental state as well overall health is also key. [2]
The bottom line is muscle and mental recovery is the key to success. While your initial thoughts maybe that you require protein for muscle recovery, that is merely part of the jigsaw.
A healthy hormone balance is key for the recovery process after resistance exercise, or exercise in general whereby there is a level of protein and muscle breakdown. [3]
It's not just muscle recovery either, sleep effects hormones levels or vice versa. Cortisol (attributed to stress) release diminishes mental and physical health. [4]
What's in it?
Put simply, a combination of natural vitamins, minerals, and medicinal botanicals.
This combination fills the gap of wide-ranging nutritional deficiencies that effect people from all regions of the globe.
Yet, it is those undergoing arduous training regimes that are most at risk. They need to ensure their body is continually topped up with essential nutrients to perform optimally.
Ingredients
Being developed by a guy in the military, this has a completely clear and transparent nutrient formula. We know exactly what's in it and importantly, how much per dose.
This is key because lots of supplements hide behind proprietary blends that do not disclose what you are paying for.
In addition, each ingredient is cross referenced by the prohibited list of substances issued by the World Anti-Doping Agency to ensure it is safe for military and sports use.
Military Muscle is produced in the USA and the UK to ensure high standards of quality and safety.
Breakdown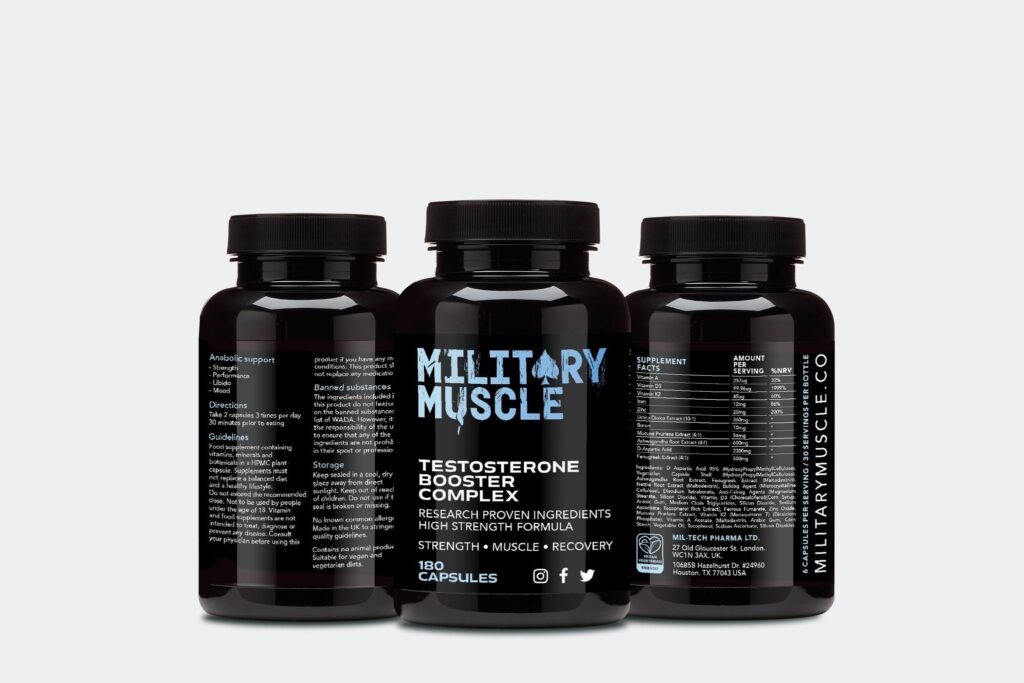 There's a large amount of ingredients here, eleven to be exact, so let's run through them.
As you can see, Military Muscle offers a huge array of benefits. You can learn more on their site, here.
How to use
Take three servings of two capsules per day. The capsules are suitable for vegetarian and vegan diets.
The whole product has been developed to fit within the lifestyles of those with strict plant-based diets.
Price and Value for Money
To buy one bottle of Military Muscle it costs US$69. However, if you buy two bottles there's an automatic discount.
Therefore, the more you buy at once, the cheaper the bottle becomes.
You may think this is tipping the scale for value. But consider the following:
Money back guarantee
Free global shipping
Science backed nutrients
Real world testing
A large daily dose and eleven ingredients
Vegan friendly
Produced in registered facilities in the US & UK – not some back-street factory in the far east.
Where to buy
You can buy direct from Military Muscle, here.
There are no other outlets, this maintains quality and customer satisfaction.
Conclusion
This concludes our review of Military Muscle. Even from this brief round up you can see the benefit this product can have on your physical and mental well-being. Put simply, if you want to perform better, this is the tool for the job.
There are many products on the market that claim to help improve testosterone and strength, but they are often missing transparency, real world testing and scientific research.
Furthermore, this has real credibility behind it, a real person who is a serving soldier. A person that's also involved in sports nutrition and exercise who is using his experience to firstly improve his own performance and the making it available for others.
Let's recap:
The number of capsules may seem a little heavy, but if you want something to work, there are no half-measures. Get it done and get it done properly.
The reason for the large number of capsules is because the doses are science backed. The studies show that these doses are required, if not, it becomes a waste of time and money.
This is completely legal and safe. It is natural and using a variety of vitamins and minerals (that most people are deficient in) but also combining medicinal plant extracts that have western scientific results.
Pros
11 science backed ingredients
Tested among different athletes and disciplines
No banned substances
Fats and free shipping
Allergen free
Helps support immunity
Reduces stress and help sleep
Boosts hormone levels
Produced in registered facilities
Lay-buy option
Free workout & diet plan for larger bottle bundles
Free tee shirt if you buy the 6-bottle package
Cons
Only available from their website
Can only pay with US dollars (although the price conversion is available in your region)
If you are looking for a supplement to support your training regime, we recommend you take a closer look at Military Muscle.
References:
[1] https://blog.nasm.org/the-science-of-recovery
[2] https://www.mentalhealth.org.uk/blog/importance-sleep
[3] https://journals.physiology.org/doi/full/10.1152/japplphysiol.00599.2016