The health and wellbeing market is saturated with probiotic formulas that claim to aid gut health, reduce bloating and discomfort and rebalance digestive systems, so what makes Provitalize different from its competitors, and does it really work?
Let's have a look in a little more detail.
What Is Provitalize?
Provitalize is a brand of natural probiotic capsules designed for women who are suffering from menopausal symptoms, in particular menopausal weight gain. It is made by the Better Body Company and has received over 600,000 positive reviews online, (which is surely a good sign).
However, Provitalize a premium product with a hefty price tag, which has left many wondering if it is worth the extra dollar.
Who Is Provitalize For?
Provitalize is marketed as a menopausal probiotic, specifically designed to tackle the many difficult physical and emotional side effects of going through the menopause. Women tend to go through the menopause between the age of 45-55, however 1 in 100 women will experience the menopause before they turn 40, so it really is an individual thing.
The probiotic blend tackles mood swings, low energy levels, inflammation, hot flashes and bloating, as well as treating the general health of the gut and digestive tract, but its main USP is its weight loss claim.
Menopausal weight gain can be a really frustrating and difficult experience for many women. Those who have struggled to maintain a healthy weight before often find the issue is exacerbated by the onset of the menopause, and those who have never had a problem with their weight can feel very thrown when they suddenly find that they now do.
So, the weight loss benefit of this product is highly important to customers. However, the results can be varying in this key area.
What Ingredients Are In Provitalize?
The ingredients in the Provitalize capsules are all high quality and 100% natural, which is exactly what you want from something that you are going to be taking every day. They are GMO free and hormone free, meaning that they are a great alternative for those women who are not able to be on Hormone Replacement Therapy.
In fact, these capsules are free from lots of things including gluten, caffeine and stimulants, meaning that you can take them if you are on a vegan diet, a keto-diet or a paleo-diet and you will not be compromising your dietary goals. Let's have a look at each of them in a little more detail.
Ingredients
L.Gasseri (SBT2050) – This probiotic strain helps with weight loss and the reduction of belly fat
B.Breve (IDCC4401) – This probiotic strain reduces fat accumulation by improving metabolism
B.Lactis (R 101-8) – This probiotic strain controls BMI, weight gain, LDL, Cholesterol and inflammation
Turmeric Root Extract – Also known as curcumin, this natural ingredient is anti-inflammatory and its concentration level and quality is optimum
Morning Leaf Extract – Also called 'Miracle tree' this natural extract is full of vitamins and minerals that keep hot flashes at bay
Curry Leaf Extract – This natural herb is packed with nutrients such as iron, phosphorus and vitamins A, B, C and E to help with healthy cholesterol, blood sugar levels, and digestion
Bioperine – This is a form of piperine that enhances curcumin absorption by 2000%
Sunflower Lecithin Booster – This is a natural emulsifier that enhances absorption of all ingredients
What Is Special About The Provitalize Formula?
As there are so many similar products on the market, containing many similar ingredients, you might wonder what makes Provitalize special enough to justify its premium price tag. There are three key areas that set this product apart and they are:
The thermogenic probiotic strains
The blend of natural vitamins and minerals
The absorption boosting nutrients
The thermogenic probiotic strains used in these capsules are of premium quality and have been developed by scientists to maximize their gut neutralizing and hormone balancing qualities. The natural blend of vitamins and minerals in the capsules are generously portioned to work as anti-inflammatory and reenergizing components.
But the real difference is made by the absorption boosters, which enable your body to take on more of the goodness provided by the other ingredients.
Another great asset are the delayed-release capsules themselves. With cheaper probiotics, much of the goodness is lost during digestion, however the special coating on these DRcaps actually protects the ingredients against stomach acids so that the formula reaches the gut without having been corrupted.
They are 100% vegetarian, and allow you to get the maximum benefit out of each dose.
What Is The Dosage Of Provitalize?
The bottle recommends that you should take two capsules, once a day to get your full dose of Provitalize probiotics.
One bottle contains 60 capsules, which is 30 doses; that is enough for a month's supply. As many women don't see benefits until 3 months, the number of capsules per bottle has been criticized.
What Are The Health Benefits Of Provitalize?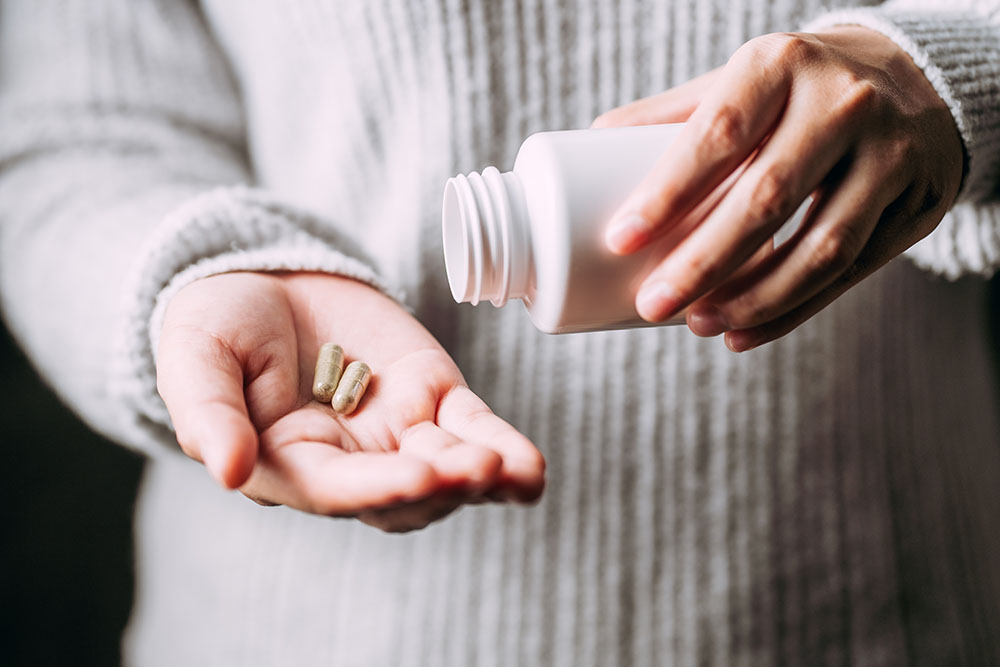 Managing Menopausal Weight Gain
With menopausal weight gain, diets and exercise can have little effect as the issue is hormone induced. Provitalize boosts your calorie-burn rate and speeds up your metabolism so that your body can break down fats more quickly.
Many women have noticed a significant reduction in cravings for sugary foods and carbs, and those who have seen weight loss have done so after at least 3 months of taking the capsules.
Hot Flashes And Night Sweats
It can be awful worrying that you might suddenly turn red when chatting to friends, and very tiring having to change your bedsheet at night due to nightsweats. Lots of women have seen great improvement in this area after taking Provitalize for just a few weeks. Although the symptoms don't go away entirely, they are greatly reduced.
Gut Health And Bloating
Menopausal bloating can be very frustrating and uncomfortable. Provitalize capsules actually colonise your gut bacteria and strengthen it against bad bacteria. Many women have seen a noticeable flattening in the mid area and a lessening of bloated sensations.
Inflammation
The blend of herbs in Provitalize naturally lower inflammation levels all around the body. Lots of women have noted a lessening of swelling and water retention in ankles and face. These nutrients also help if you suffer from joint pain.
Mood swings
Drop in estrogen that occurs during the menopause, paired with a disruption to levels of gut flora, result in reduced serotonin which is the hormone that makes you feel happy. After taking these capsules for 2 weeks women have reported feeling much less snappy, paranoid, irritated, short tempered, jealous and despondent.
Boosted Energy Levels
So frustrating when you want to combat weight gain and low mood by getting up and having a productive day, but your energy levels are really diminished. If you have not got the energy to be yourself the effects of menopausal weight gain are exasperated.
Luckily, the probiotic blend in provitalize gets the gut working in a healthy and balanced way again, so you get the most out of your digestive system, take on fuel and energy sufficiently to get out and enjoy your day as you wish to.
Sleeping
Although not a sleeping aid, one of the most talked about benefits for women who have tried Provitalize is that their sleep is improved. When abdominal discomfort and and night sweats are eliminated, the ability to sleep soundly through the night returns, and this has the knock on effect of increasing your energy levels.
Does Provitalize Work?
With 600,000+ rave reviews, it is clear that Provitalize lives up to expectations for many, many customers. Almost all customers found that the effect on the general symptoms of the menopause were alleviated once they began taking their capsules, however the weight loss benefit was felt less often.
Those who have lost weight have done so after at least 3 months of taking Provitalize, so the overriding message is that you have to stick with it if you want to see the full benefits.
Is Provitalize Worth The Money?
This product is certainly one of the more expensive probiotic products on the market and the price point has been a cause of concern for some customers. The main reason why the cost of Provitalize has created an issue is that one bottle is not enough to see the full effects, therefore many customers feel cheated.
To have to buy a second bottle without yet having seen or felt the key benefit of weight loss has understandably meant that lots of women do not continue with their programme.
However, those who do have said that the benefits really do become apparent if you persist, making the price of the bottle seem less of an issue.
However, there are cheaper alternatives out there, like Lean Bean for example, which seem to achieve very similar results for less money. So the Provitalize price point might be difficult to justify for some customers.
The Better Body Company do offer some discounts for those who sign up to subscriptions rather than making a one time purchase. Better still, the subscription has an auto shipping system so you do not need to keep reordering, nor risk missing out on capsules between orders.
This is a really popular system as you don't need to keep track of how many capsules you have left. It is just one less thing on your mind and that is always a welcome break.