'Burn Evolved' is the revamped version of 'Burn', a fat-burning supplement manufactured by Texas-based sports nutrition brand, Sculpt Nation.
Sculpt Nation claim that Burn Evolved will:
Torch body fat.
Increase your energy levels.
Suppress your appetite naturally.
Skyrocket your metabolism.
Burn excess calories.
Incinerate your fat cells.
Improve your waist to hip ratio.
So let's find out a bit more about it, shall we?
Review in Short: Burn Evolved is a lacking fat burner from a company that seemingly auto ships and charges customers cards without asking. The ingredients are ok, but not as good as our top rated fat burner Fighters Core. Save your money and invest in a better fat burner from a more trusted company.
Ingredients
Here's the ingredient profile for Sculpt Nation Burn Evolved: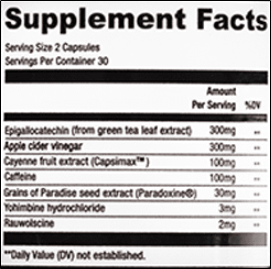 Epigallocatechin (from green tea leaf extract)
Epigallocatechin gallate, also called EGCG, belongs to the family of plant-based compounds called catechins. Catechins are powerful antioxidants that can protect your cells against free radical damage.
EGCG may also protect you from certain cancers, diabetes and heart disease, and also helps to reduce inflammation. It occurs naturally in some plants, particularly the green tea plant.
EGCG can also help you to lose fat. It works particularly well when combined with caffeine, which also occurs naturally in green tea.
Importantly, clinical researchers undertaking long-term studies discovered that participants who drank at least two cups of green tea per day experienced significant losses of weight and body fat. (1)
Further clinical trials also found that when subjects took 100 – 460mg of EGCG combined with 80 – 300mg of caffeine for 12 weeks they experienced a substantial reduction in their levels of body fat. (2)
Apple Cider Vinegar
Apple cider vinegar can help to keep your calorie intake down by increasing your feelings of fullness.
Clinical researchers found that when they conducted a study on 11 people, the participants who consumed apple cider vinegar with a high-carbohydrate meal demonstrated a 55% lower blood sugar response one hour after eating than those who didn't. They also consumed approximately 200–275 fewer calories during the day. (3)
Additionally, studies have shown that apple cider vinegar helps to slow the rate at which food exits your stomach.
Further research showed that subjects who took apple cider vinegar with a high-carbohydrate diet experienced increased feelings of fullness and lowered their blood sugar and insulin levels. (4)
Cayenne Fruit Extract
Cayenne pepper contains capsaicin which increases your insulin sensitivity. This helps improve the way you store carbohydrates, potentially by up to 24%.
Cayenne also possesses powerful thermogenic properties and helps you burn fat by increasing your metabolism. Additionally, it optimises your oxidation of fats and also steps up your energy consumption.
Caffeine
Caffeine works by stimulating your nervous system which it does by inhibiting your adenosine receptors. It also increases your energy, especially when you're eating less.
Additionally, caffeine increases your brain function and focus, helping you to become more alert.
Clinical research showed that caffeine can also suppress pain from gym workouts by approximately 50%, and even directly boost fat loss by elevating your fat oxidation and insulin sensitivity.
Grains of Paradise Seed Extract
Grains of Paradise seed extract helps you to convert white adipose tissue (WAT) into brown adipose tissue (BAT). The WAT is where your energy is stored (it's the fat that makes you look fat), whilst BAT regulates thermogenesis, which helps to control your body fat content. This means that BAT can help you burn fat.
Yohimbine Hydrochloride
Yohimbine is extracted from the bark of an evergreen African tree called Pausinystalia Johimbe.
It's sold as a herbal treatment for erectile dysfunction as well as to aid weight loss.
Experts believe that yohimbine works by blocking your alpha-2 adrenergic receptors, which can cause erectile dysfunction. (5)
Yohimbine may also promote blood flow to the genitals by boosting the release of nitric oxide, which dilates your blood vessels.
Rauwolscine
Rauwolscine is similar to yohimbine in both its composition and actions. And it can help you burn up your fat stores for energy.
Unfortunately, rauwolscine has aggressive stimulant properties. It can also cause side effects, such as dizziness and anxiety. The long-term effects are still a mystery because not enough research has been carried out.
This may be the reason why raulwolscine is banned in several countries.
How Does Burn Evolved Work?
Sculpt Nation make the kind of claims for Burn Evolved that are pretty much standard for most fat burners. That is to:
Help you burn fat.
Control your appetite.
Boost your energy.
Increase your metabolism.
In this case, Sculpt Nation have packed Burn Evolved with ingredients that are designed to boost your levels of adrenaline and cortisol. This is intended to help you burn more calories by putting your body in a heightened 'fight-or-flight' state.
Side-Effects of Sculpt Nation Burn Evolved
Burn Evolved is quite a stimulant-heavy supplement so if you're intolerant to stimulants you may experience some unwelcome side-effects.
High doses of caffeine may carry the risk of side-effects such as energy crashes, jitters and insomnia so it's best that you stick to the recommended dosage. Also, it's wise to check your total caffeine consumption or completely avoid it if you're sensitive to caffeine.
Yohimbine can cause some alarming and really quite dangerous side-effects such as seizures, elevated heartbeat and high blood pressure. Even though cases are not that common, we would not advise that you use products containing yohimbine.
Rauwolscine is similar to yohimbine and, consequently, causes some of the same side-effects. There's also a lack of clinical knowledge regarding the effects of rauwolscine.
How To Take Sculpt Nation Burn Evolved
Sculpt Nation recommend that you take one capsule of Burn Evolved twice a day with a meal. As a bottle contains 60 capsules, this should last you for about a month.
However, we believe that stimulant-based fat burners tend to work better when you take them three times a day at regular intervals. If you take one with breakfast, one with lunch and one with dinner this should help to keep your metabolism consistently elevated.
Where To Buy Sculpt Nation Burn Evolved
You can buy Burn Evolved from Sculpt Nation's website. It will set you back $49.00 (about £35.00)
You can also get it on other websites such as Amazon, eBay and Kelkoo.
Conclusion
Pros and Cons of Sculpt Nation Burn Evolved
Here's a quick summary of the positive and negative aspects of Burn Evolved:
Pros
Transparent formula with no proprietary blends.
Contains green tea – a great fat burner.
The energizing ingredients enable it to be used as a pre-workout.
Cayenne pepper is another great fat burner.
Cons
Expensive.
Doesn't include glucomannan, which is an excellent appetite suppressant.
Yohimbine and raulwolscine are widely banned because of their unwelcome side-effects.
Contains too many stimulants.
Unfortunately, we don't really consider that Sculpt Nation's Burn Evolved is good value for money. For the price, Burn Evolved isn't really effective enough. It may also be potentially unsafe due to containing yohimbine and rauwolscine.
Burn Evolved does have some better ingredients than Sculpt Nation's original Burn. However, the dosages and safety are dubious and, as such, you may want to look elsewhere for your ideal fat burner.
All in all, we're a bit disappointed by Sculpt Nation's Burn Evolved. Cayenne pepper and green tea are great ingredients, but it doesn't contain a robust appetite suppressant. Also, in our opinion, the risky ingredients yohimbine and rauwolscine would put us off this particular fat burner.
See our current favourite fat burner Fighters Core.
References
'Green Tea Catechins and Sport Performance'. Ewa Jówko.
'Effects of green tea and its epigallocatechin (EGCG) content on body weight and fat mass in humans: a systematic review'. Lucía Cristina Vázquez Cisneros , Patricia López-Uriarte, Antonio López-Espinoza, Mónica Navarro Meza, Ana Cristina Espinoza-Gallardo, Martha Beatriz Guzmán Aburto
'Vinegar and peanut products as complementary foods to reduce postprandial glycemia'. Carol S Johnston, Amanda J Buller
'Delayed gastric emptying rate may explain improved glycaemia in healthy subjects to a starchy meal with added vinegar'. H Liljeberg, I Björck
'Sexual enhancement products for sale online: raising awareness of the psychoactive effects of yohimbine, maca, horny goat weed, and Ginkgo biloba'. Ornella Corazza, Giovanni Martinotti, Rita Santacroce, Eleonora Chillemi, Massimo Di Giannantonio, Fabrizio Schifano, Selim Cellek
---