Men's Health DAA+ is a new testosterone boosting supplement from California-based fitness specialists, SD Pharmaceuticals.
'DAA' is short for D-aspartic acid, which is the main ingredient in this supplement, but it also features several B vitamins, vitamin D3, rhodiola and resveratrol.
SD Pharmaceuticals also maintain that Men's Health DAA+ is the world's strongest D-aspartic acid testosterone booster. They also claim that it blocks both cortisol and oestrogen.
Ingredients
Here's the ingredient profile for Men's Health DAA+: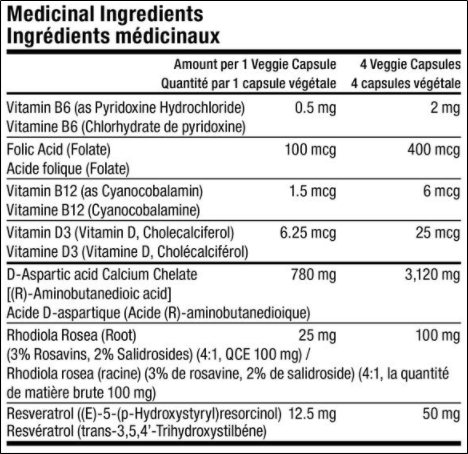 Vitamin B6
Vitamin B6 supports the methylation pathway that helps the liver remove oestrogen from your body.
The methylation pathway enables methyl groups to pass through your liver and out of your body safely. This helps you to get rid of oestrogen as well as dopamine, heavy metals and histamines.
Folic Acid
Folic acid is a synthetic version of vitamin B9. You can't make vitamin B9, so you need to include it in your diet.
A clinical study involving two groups of both fertile and infertile men made them take 5 mg of folic acid and 66 mg of zinc a day for 6 months. The infertile group experienced an increase of 74% in their sperm count. (1)
However, a trial involving 2,370 infertile men found that when they took 5mg and 30mg of zinc they did not experience improved quality of semen or improved chances of conception.
Vitamin B12
Vitamin B12 (also called cobalamin) helps you use fat and protein during exercise. This helps to prevent fat gain.
If you're lacking vitamin B12, your levels of testosterone can drop substantially. Vitamin B12 is also vital for testicular health and sperm quality.
Vitamin D3
Your body produces vitamin D when you're exposed to sunlight. People who don't get enough sun may have low vitamin D levels.
Experts believe that vitamin D also acts as a steroid hormone that's vital for male sexual function.
Consequently, increasing vitamin D may boost your testosterone and also enhance sperm quality. (2)
In one study, researchers found that subjects who spent more time in the sun experienced elevated vitamin D and testosterone levels.
D-Aspartic Acid
D-aspartic acid is an amino acid that helps you produce testosterone. However, studies on its testosterone-boosting properties are mixed.
A clinical trial in men aged 27–37 gave them D-aspartic acid supplements for 12 days.
At the end of the trial, all but three participants experienced higher testosterone levels. The average increase was 42%. Their testosterone levels were still higher by an average of 22% three days after they stopped taking D-aspartic acid.
Another trial, this time involving overweight and obese men gave subjects D-aspartic acid for 28 days. The results were mixed. Some subjects experienced no increase in testosterone. Subjects with lower testosterone, however, experienced testosterone increases of more than 20%.
A study in physically active individuals concluded that young men who weight trained experienced no increase in their testosterone levels when they took D-aspartic acid for 28 days. (3)
Rhodiola Rosea
Rhodiola is an adaptogen, which means that it can help your body adapt to stress.
In one clinical trial, people experiencing stress were given 400mg of rhodiola extract per day for four weeks. (4)
The subjects experienced substantially alleviated stress symptoms, such as anxiety, exhaustion and fatigue, after three days. They continued to show improvement throughout the trial.
Another trial showed that rhodiola alleviated symptoms of stress-related burnout, in a group of 118 people.
Resveratrol
Resveratrol is a naturally occurring phenol. It may help to block oestrogen, burn fat, and increase nitric oxide.
It occurs naturally in grape skins, peanuts, mulberries, and in cocoa.
How Does SD Pharmaceuticals Men's Health DAA+ Work?
The key ingredient in Men's Health DAA+ is D-aspartic acid. D-aspartic acid accumulates in your pituitary gland and testes. It stimulates production of luteinizing hormone (LH) and natural testosterone.
It also contains ingredients that are supposed to block the production of cortisol and oestrogen, both of which inhibit testosterone production.
Side-Effects of SD Pharmaceuticals Men's Health DAA+
If you take D-aspartic acid for a long period it can lead to a hormonal imbalance. This may cause side-effects including acne and increased hair growth.
D-aspartic acid may also provoke severe headaches and sudden mood swings.
The B-vitamins in Men's Health DAA+ may also cause gastrointestinal problems if you take them at higher doses.
How To Take SD Pharmaceuticals Men's Health DAA+
SD Pharmaceuticals recommend that you take four capsules of Men's Health DAA+ in the morning before breakfast. Alternatively, you can take two capsules in the morning and two capsules in the afternoon.
As a bottle contains 120 capsules, this should last you for about a month.
Where To Buy SD Pharmaceuticals Men's Health DAA+
You can buy Men's Health DAA+ from several websites, including svncanada.com (Supplements, Vitamins, Minerals Canada). It will usually set you back about $39.00 (about £29.10).
Conclusion
Pros and Cons of SD Pharmaceuticals Men's Health DAA+
Here's a quick summary of the positives and negatives of Men's Health DAA+:
Pros
Decent dose of D-aspartic acid.
Easy to take on a daily basis.
Cons
Lacks scientific evidence for its effectiveness.
May take time to provide any benefits.
Could become ineffective after some time.
May cause some side-effects.
Quite expensive
Some evidence does show that D-aspartic acid may increase your production of testosterone and growth hormone. But you probably won't experience a huge increase in strength. The benefits are generally not that significant and they may even disappear as your body gets used to the increase in D-aspartic acid.
Some clinical trials show that D-aspartic acid may help if you have low testosterone levels. However, if your testosterone levels are normal and you're undertaking regular training, supplementing with D-aspartic acid is unlikely to make a difference.
Additionally, if you use D-aspartic acid for long periods it may cause a number of unwelcome side-effects.
The B-vitamins in Men's Health DAA+ don't generally help. If you have a balanced diet, you shouldn't need to take B-vitamin supplements. If you take too much vitamin B6 it may over-stimulate your thyroid gland, potentially causing a hormone imbalance. Also, a large dose of vitamin B12 may precipitate weight gain by over-stimulating your appetite.
However, vitamin D is a great ingredient for a testosterone booster. But there's sketchy evidence for the oestrogen-blocking properties of resveratrol.
Men's Health DAA+ is also rather on the pricey side compared to many other testosterone boosters on the market.
References
'Effects of folic acid and zinc sulfate on male factor subfertility: a double-blind, randomized, placebo-controlled trial'. Wai Yee Wong 1, Hans M W M Merkus, Chris M G Thomas, Roelof Menkveld, Gerhard A Zielhuis, Régine P M Steegers-Theunissen
'Association of vitamin D status with serum androgen levels in men'. E Wehr 1, S Pilz, B O Boehm, W März, B Obermayer-Pietsch
'D-aspartic acid supplementation combined with 28 days of heavy resistance training has no effect on body composition, muscle strength, and serum hormones associated with the hypothalamo-pituitary-gonadal axis in resistance-trained men'. Darryn S Willoughby 1, Brian Leutholtz
'Therapeutic effects and safety of Rhodiola rosea extract WS® 1375 in subjects with life-stress symptoms–results of an open-label study'. D Edwards 1, A Heufelder, A Zimmermann