Stress reducing supplements are booming. It might be due to the recent lockdowns and pandemic or could be because as a society, we're more work focused and constantly plugged in. Either way, people are stressed and looking for an answer.
Enter SRS – The Stress Reduction Supplement. This is a product that, well does exactly what it says on the tin. Reduces stress. Using a blend of natural ingredients in a 90 day supply, SRS is a supplement for anyone looking to calm their mind and experience less stress.
Brand Overview
SRS is a product that started with a company called PFX Labs, and not looks to be have been taken over by SRS Nutra. The brand itself is reputable, and has a long history of producing high end supplements.
Coupled with this, SRS is also supported by a few experts, who appear on the products 'experts' page. According to the SRS website, the product was created by the owner for his own use. To help him manage his own stress and anxiety, something which he has battled with for life!
What is SRS – The Stress Reduction Supplement?
SRS is a supplement that comes in a 90 vegetable capsule supply. It's comprised of both herbs, vitamins and minerals. Making it a totally natural product that can be supplemented through the day.
SRS is a product that is taken orally every day and each 90 capsules last the user a one month period. It's only available directly from www.stressreductionsupplement.com. The manufacturer states this is to ensure the formula and stock sold are always up to date.
Ingredients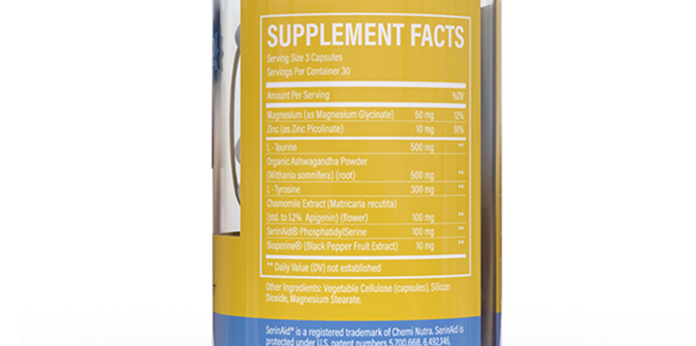 The formula that goes into SRS is extremely well balanced. When compared with relevant scientific research you can see that the supplement has a very strong chance of providing a good set of anti anxiety and anti stress effects. In order to better understand these effects, here's a breakdown of the ingredients that make up every 3 capsule serving of SRS.
300mg of L-Tyrosine
L-Tyrosine is an amino acid that can affect and increase the level of some crucial chemicals in the human brain, namely; dopamine, adrenaline, and norepinephrine. The chemicals have a major bearing on the levels of stress, happiness and anxiety you can feel. As well as improve levels of focus and alertness.
There aren't any major drawbacks with L-Tyrosine supplementation and 300mg is a dose that marries up with research and optimum effects.
100mg of Chamomile Extract
Chamomile is made famous by its use in herbal teas that promote relaxation and calm. The use of this flower is long supported and has been recently supported with evidence in research for it's use. SRS uses chamomile as a way to further reduce feelings of anxiety and stress within it's formula.
500mg of Ashwagandha
Ashwagandha is a herb that has amazing properties on both mental and physical health. This is due to the fact that it's an adaptogen, which can change to help the body cope with it's response to both physical and mental stress. One major way it does this is through it's ability to lower the levels of the bodies stress hormone cortisol, helping the brain remain calm and focused.
Studies support the use of ashwaghanda and 500mg is an ideal dose to help allieviate the effects of stress and anxiety as well as help with the production of key hormones.
100mg of Phosphatidyserine (Serinaide)
Serinaide is a brand of phosphatidyserine, which is an essential part of cells across the body. However plays a particularly important role in brain function. The fact it supports healthy cell membranes in then brain means it can help repair and protect key cells to do with mental health. Affecting learning, memory and even athletic performance.
Studies do heavily support the use and safety of phosphatidyserine for stress reduction and mental health, however these studies may have used an animal derivative as opposed to a plant based product like most products use today.
500mg of Taurine
Generally associated with energy drinks taurine is an amino acid used in many different forms due to it's ability to improve mental focus and overall alertness. This is similar to caffeine, however taurine differs in that it won't cause jitters and anxiety and has surprisingly been found to show some promise with lowering stress levels.
This is because taurine can stimilate the release of some key anti stress hormones in the brain. As well as provide the focus and alertness some people require, without it impacting sleep and causing further negative effects.
150mg of Magnesium Glycinate
Magnesium Glycinate is a form of magnesium that is designed to be easily absorbed by the body. Magnesium is a mineral that aids relaxation through it's effects on the parasympathetic nervous system, which is a part of the human body designed to 'normalise' the body after experiencing a high stress event. This also includes finding it easier and getting a better quality sleep.
Coupled with the fact magnesium also looks after a vast number of key physiological processes means that supplementation can also improve immunity and general well being.
10mg of Zinc
Zinc is another mineral that plays a huge number of roles in the body. In relation to stress reduction zinc impacts the central nervous system and also crucially, the bodies stress response. Zinc also plays a role in the production of key hormones and can help with the feelings associated with them.
SRS Breakdown and Conclusion
We have to say we're overall impress with SRS and it certainly stands up or excels when compared with other stress reduction products on the market. It's got an extremely well thought our formula and backs up it's claims with evidence, then verifies this evidence with experts.
There are a couple of minor flaws, like the type of Phosphatidyserine used being vegetable based means it may not be as effective, but this is more an unknown as opposed to a negative.
Overall, we'd recommend SRS – The Stress Reduction Supplement to anyone looking to reduce stress and anxiety.
Pros:
Naturally occurring ingredients that have a high chance of reducing stress and anxiety
Scientifically backed dosages in 90 capsules per bottle
Free Shipping
A website checked over by experts
Cons: