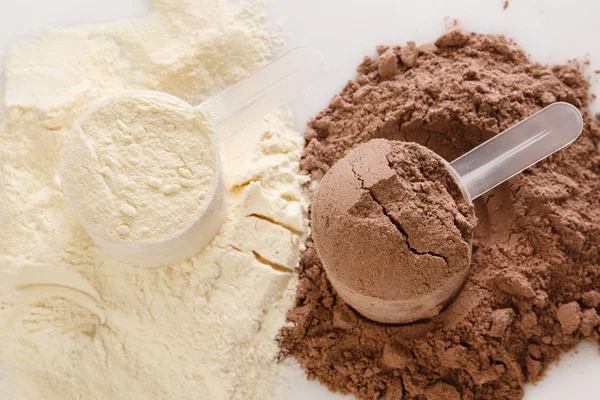 Being a widely known supplement, Whey has been used for decades by fitness enthusiasts of varying levels. Beginners, advanced athletes, and all those in-between have dabbled in whey supplementation. After all, it is known to build muscle, boost weight loss, and improve satiety. But what exactly is Whey, and how does its supplementation help?
Whey is a type of protein that contains a range of high-quality amino acids. Typically, it is a by-product of cheese making–as the fatty parts separate from its liquid. The liquid is, subsequently, processed into a powdered form. It is rich in vitamins, minerals, and amino acids needed by our bodies for healthy muscle growth.
Types of Whey
Whey Concentrate: Most whey proteins are concentrates, which contain 25-89% protein and are complemented with other substances such as Creatine. It is slow digesting and includes a decent amount of fat. Additionally, it is the cheapest available option.
Whey Isolate: Isolate exists on the other side of the spectrum. It is the most potent form, with a protein content of 90-95%. It cuts out the fat and is comparatively quickly absorbed.
Hydrolyzed: A pre-digested form of Whey. It is quickly broken down by our body; however, its potency varies and is generally lower than Isolate.
Whey concentrate is not suitable for lactose-intolerant individuals. Isolate has significantly lower lactose as it is a pure form of protein; therefore, it may be a suitable replacement. Additionally, numerous vegan and non-dairy-based Whey proteins are available on the market.
On the whole, whey protein is a convenient way to supplement protein to meet your daily requirements. It may provide an additional boost through combination with other substances; however, it is important to read labels. Some products may have additives such as refined sugar, which reduce or negate any benefits you may derive.
Given its use and application, whey protein is one of the most widely researched supplements. This allows us to accurately gauge the benefits we can derive from supplementing it.
Reported Effects of L-Carnitine
Improves Athletic Performance
Augmenting training with whey protein shows significant improvements in performance. One study put trained lifters on a whey protein or casein supplement for 10 weeks. Participants from the Whey group had significantly greater strength improvements (1). The performance boost it provides makes it a go-to product for weight-lifters and bodybuilders.
However, the benefits are not limited to resistance training. In another study, 18-endurance trained runners ingested protein drinks before and after their run. Supplementation not only improved their overall performance over each session but reduced muscle damage (2).
Therefore as an athletic supplement for performance, whey protein has significant advantages to provide. It is not a replacement for food sources of protein but can bridge the gap to improve overall capabilities.
Weight Loss
The consensus for whey protein as a weight loss supplement is positive but requires nuance. Whey on its own cannot lead to a reduction in fat. A caloric deficit is still necessary for fat loss. That said, there are some encouraging studies in regards to weight loss.
In a 12-week study, participants lost around 6.1% body fat from a 500-calorie deficit and whey protein supplementation (3). This is likely due to an individual's nutritional needs being met even within a low-calorie diet. Subjects were essentially able to diet to their diet and maintain steady energy levels to lose body fat.
Muscle Growth
The best-known purpose of Whey includes increasing muscle mass. Amino acids are the essential building blocks of any muscle fiber. Our bodies do not produce protein on its own; therefore, supplementation is a common way of ensuring optimum levels. Additionally, it increases hormones, which aid in the anabolic process as well.
A recent meta-analysis studied 43 studies that examined strength and hypertrophy in 1003 participants (4). The results conclusively dictated protein intake had a net positive impact on muscle mass gains. That said, it refuted the notion that protein timing is a significant factor in actualizing growth.
Common Supplements that Contain Whey
Due to its popular demand, Whey is available as a standalone product. It comes in concentrate, isolates or hydrolyzed variants. Although, the latter is not as popular. The former two, however, have wider usage. Aside from protein shakes, many protein snacks and drinks contain supplements to boost their overall protein content.
Additionally, Whey will be a common ingredient in muscle building supplements or meal replacements snacks. Other common supplements include:
Weight Gain Blends
Citrulline Malate Powder
Multivitamins or other health-related supplements
Maltodextrin Carbs
Creatine Supplements
Weight Loss/Diet Blends
Pre-Workouts
Essential BCAAs
Amino Acid Blends
Side Effect of Whey Supplementation
Much like any food-source protein, an excessive amount of supplementation can be damaging to our kidneys in particular. In moderation, however, individuals should not experience any negative side effects. Known reactions of Whey include:
Kidney Stones/Damage
Digestive Discomfort (For lactose-intolerant individuals)
Gout
Nausea
Acne
Whey Dosage
Being a macro-nutrient supplement, its dosage will vary from person-to-person. It largely depends on an individual's diet, lifestyle, and fitness goals. Most brands will portion out dosage according to scoops with detailed guidelines to make supplementation easier.
It is generally recommended to review your protein intake and adjust accordingly. Experts recommend the following:
56-91 grams of protein for men
46-75 grams of protein for women
Your activity level also plays a role in your daily requirement. Building lean muscle mass requires 0.68-1 grams of protein per 1 pound bodyweight. Whereas 0.36 grams is sufficient for most light-to-moderate activity people.
References
Cribb PJ, Williams AD, Carey MF, Hayes A. The effect of whey isolate and resistance training on strength, body composition, and plasma glutamine. Int J Sport Nutr Exerc Metab. 2006;16(5):494-509. doi:10.1123/ijsnem.16.5.494
Hansen M, Bangsbo J, Jensen J, Bibby BM, Madsen K. Effect of whey protein hydrolysate on performance and recovery of top-class orienteering runners. Int J Sport Nutr Exerc Metab. 2015;25(2):97-109. doi:10.1123/ijsnem.2014-0083
Frestedt JL, Zenk JL, Kuskowski MA, Ward LS, Bastian ED. A whey-protein supplement increases fat loss and spares lean muscle in obese subjects: a randomized human clinical study. Nutr Metab (Lond). 2008;5:8. Published 2008 Mar 27. doi:10.1186/1743-7075-5-8
Schoenfeld BJ, Aragon AA, Krieger JW. The effect of protein timing on muscle strength and hypertrophy: a meta-analysis. J Int Soc Sports Nutr. 2013;10(1):53. Published 2013 Dec 3. doi:10.1186/1550-2783-10-53