Bucked up Pre Workout is the best selling supplementary powder by industry experts Das Labs.
Pre workout powders have been growing in popularity over recent years thanks to their ability to help you get the most out of your workout.
Bucked Up has received plenty of hype (particularly in reference to the deer antler velvet extract used in its ingredients).
It is intended to maximize physical strength, endurance and mental focus so that you can achieve your training goals faster.
Bodybuilders, athletes and regular gym rats take it 15-20 minutes before their work out session to get more muscle development and cardio gains.
But how effective is this powder? And are there any negative side effects that you should know about?
Read on for an in depth look at the pros and cons of this pre workout supplement.
Ingredients
Let's start with a look at the ingredients as the formula is sold on Amazon (this excludes the deer antler velvet extract as it is not permitted for sale on Amazon).
Vitamin B12 100 mcg
Citrulline Malate 2:1 6000mg
Beta Alanine 2000 mg
Caffeine Anhydrous 200 mg
AlphaSize Alpha GPC 200 mg
Taurine 100 mg
Himalayan Rock Salt 100 mg
AstraGin 25mg
ActiGin 25 mg
Quality Of Ingredients
All the ingredients are GMP certified, meaning that they can be trusted for quality and safety.
There are no GMO ingredients and all the ingredients are fully disclosed on the labelling, which is good to see and inspires confidence.
We really like that this pre workout is free-from on so many counts.
It means that it can be enjoyed by anyone no matter what diet you may be following.
It is free from dairy, gluten, sugar, stevia, and it is even free from creatine which is used in many, many other supplementary powders.
Creatine makes you gain weight due to water retention, so it is helpful to have a pre workout powder without that ingredient for those who aren't looking to gain pounds dramatically.
Even if you are on a paleo or keto diet, you can still benefit from this formula and not have to compromise on your dietary goals.
Benefit Of Ingredients
All the ingredients in the Bucked Up formula are tried and tested, and when the deer antler velvet extract is taken out of the equation there is little that sets this recipe apart.
However the key is in the ratios, and that is where Bucked Up gets it right.
The 6g of Citrulline Malate is a handsome dose and it helps to dilate the blood vessels and maximize blood flow around the body.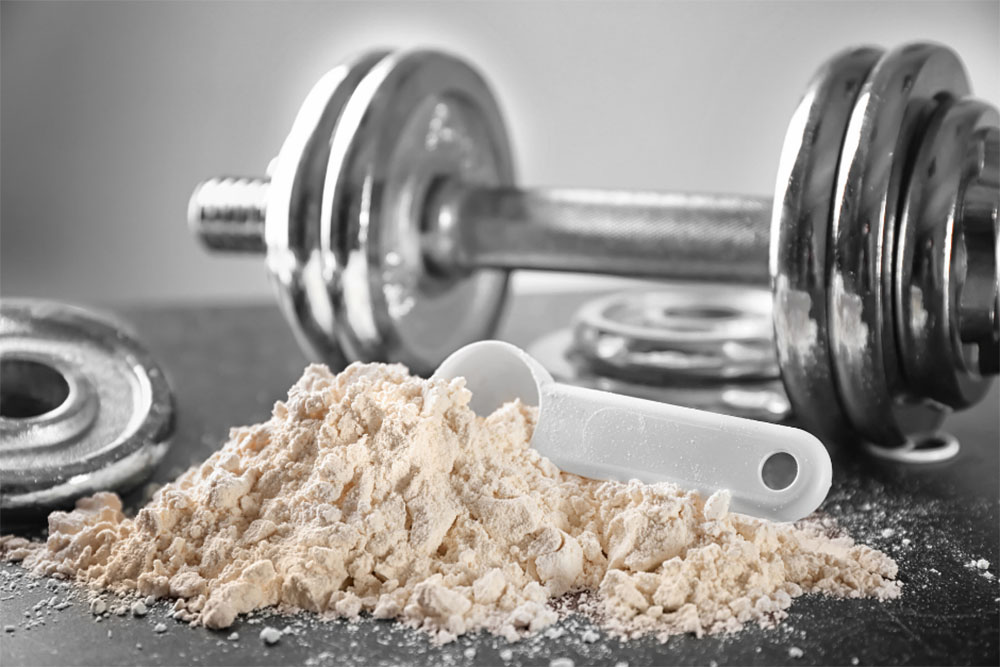 This results in boosted levels of nitric oxide, energy, and performance. Plus, the ActiGin boosts citrulline absorption by 66.7% meaning you get even more out of this mix!
The 2g of Beta Alanine is great for strength, endurance and muscle growth and is a higher amount than in other similar products.
And the addition of AstraGin is a great innovation, as it helps with athletic performance and general health and well being.
The caffeine dosage is not too high in this formula at only 200mg, meaning that you get good stimulation and fat burning properties without the unnecessary heart palpitations.
And the Himalayan Salt is a curveball which we weren't sure about, but it has been proven to contain over 80 trace minerals which balance your electrolytes and prevent cramping after workouts.
Serving Size
The serving suggestion is 1 scoop 9.98g to be taken 15-20 minutes before your workout.
This is a relatively small serving compared to other similar brands, many of whom suggest two scoops.
A tub of Bucked Up contains 30 servings and means that you certainly get less for your money.
However, more isn't always more, and depending on your size a single scoop can be more than enough to get you through an intense workout.
Of course, the serving size will affect different people differently.
This formula can be drunk by both men and women, however, for smaller people and those who aren't used to drinking pre workout powders, half a scoop is recommended.
This will prevent you from feeling overwhelmed, or from the effects lasting well into the night!
This powder is designed to be mixed with water and is therefore not suitable for dry swallowing (as is the trend among many hard-core weightlifters and bodybuilders these days).
Flavor
Although the powder looks pretty lumpy and clumpy in the tub, do not be put-off. When mixed with water the flavor of Bucked Up pre workout has been unanimously praised!
It has scored way higher than other competitors in this area and is a truly delicious product.
This really helps as it means you won't dread having to swallow it before your workout – just don't go back for seconds!
There are a range of different flavors to choose from and they are all equally delicious.
Effectiveness
Bucked Up pre workout does not give an intense a pump in energy and strength as some of its competitors.
Instead, this pre workout powder excels in the area of mental performance and alertness, largely due to its AlphaSize content.
The benefit is that your technique improves due to higher levels of focus, which is great for those who like to work in detail.
However, if you are after a seriously buzzy physical boost then it might not be the best choice for you.
The sensation that this formula delivers is very clean and smooth and builds steadily rather than throwing you into a sudden high.
This is due to the quality of the ingredients and the good balance within the recipe.
There are no jitters or tingles due to the lower caffeine content in this powder.
Many supplementary workout drinks will leave you sweating and buzzing but that is certainly not the case with Bucked Up.
The sensation is pleasurable and empowering and really does allow you to go for longer and harder than you usually would be able to.
Side / After Effects
Although the physical boost is not as intense as that provided by other pre workout drinks, Bucked Up does not have a nasty come down either.
You won't find that you crash into a slump 30 minutes after your gym session with this recipe, but instead it dissipates gently and without too much drama.
Of course, everyone reacts differently and there have been some reports of mild headaches and difficulty sleeping after taking Bucked Up.
However, if this happens the best course of action is to lower your next dose to a half scoop serving and build up slowly to a full scoop as your body gets used to it.
Deer Antler Velvet Extract
We couldn't review this product without mentioning it's notorious magic ingredient.
The original recipe (sold from Das Labs own website) includes deer antler velvet extract, however this ingredient is not permitted in the Amazon products.
The extract is taken from the deers native to New Zealand, and the antlers that grow on male deer just before mating season.
The extract is said to maximize hormone levels which in turn boosts recovery after workouts and increases strength during workouts.
The added effect of encouraging a healthy libido due to elevated blood serum levels is a bonus.
However, there are reports that the collection antler velvet causes deer great pain and trauma and it is therefore not an ethical ingredient with regards to animal welfare.
The ingredient also hasn't been thoroughly tested which is why it is not permitted to be sold on Amazon. And in our opinion it is unnecessary as the supplement works perfectly well without it.
What We Love
Delicious flavor and many flavor options
Free-from ingredients mean anyone can have it
Mental focus and endurance improved greatly
Physical strength and energy increase moderately well too
No nasty come down afterwards
Suitable for men and women
What Could Be Better
Expensive for single scoop serving
Doesn't deliver as intense a physical boost as competitors
Does not need deer antler velvet extract
Final Verdict
So, overall we think that Bucked Up pre workout is a great energy boosting supplement that will really benefit your training goals.
The quality of ingredients is high and this means you can feel confident that you are taking a safe and ethical drink.
What is more, the balance of the ingredients focuses on mental focus and endurance over physical pump.
As a result this pre workout has a clean, smooth effect and does not create the nasty come down that many of its competitors will do.
The single scoop serving is enough to satisfy most medium weight workouts but won't be enough for super heavyweight needs.
It also means that you get less for your money, meaning Bucked Up is not a great value product.
However the flavor is exceptional and the recipe is none the worse for not having the deer antler velvet extract in it.