Melatonin is a hormone that the body naturally produces. It regulates your circadian rhythm, aiding the body into falling asleep at night.
Our melatonin levels decrease naturally as we age. Other than encouraging sleep, melatonin supplements can treat jet lag, anxiety, and IBS. Synthetic melatonin is available over the counter in pills, tablets, and liquids.
In some cases, melatonin can cause issues, like headaches and dizziness. However, the majority of people who take melatonin don't have any side effects.
If you're considering taking a melatonin supplement, you may be wondering just how long it lasts in your system.
It's important to know when these supplements subside, as melatonin can cause daytime sleepiness. We'll cover the answer in this article, as well as whether it's safe to take expired melatonin or not.
What Does Melatonin Do?
Melatonin is made by your brain. Once it gets dark, your eyes start taking in less light, which makes your body sense that it's nighttime. As this happens, the brain's pineal gland turns serotonin into melatonin.
The increase in melatonin drops both your blood pressure and body temperature, making you feel sleepy.
This is why it's important to turn off the lights, stop using screens, and practice a proper routine before bed. If the lights are left on, the body can't produce melatonin as efficiently, so you'll find it harder to fall asleep.
Time Melatonin Takes To Work
If you take a melatonin supplement, these normally start to work between 20 minutes and two hours after they are consumed. Most people find success taking one to three milligrams of melatonin two hours before they go to bed.
The body's natural melatonin levels start to increase two hours before bedtime. Other than supplements, sticking to a bedtime routine will help your body know when to start producing melatonin.
If you want to start taking melatonin, try taking a supplement every other night, or a few days a week. If you want to take melatonin supplements more regularly, do see a doctor to discuss whether this is suitable for you.
How Long Does Melatonin Take To Wear Off?
The term 'half-life' means the amount of time it takes for a substance to decrease by half.
Melatonin's half-life is around 20-40 minutes. Your body will process half of the melatonin supplement within 40 minutes, while the other half will be used for the remainder of the night.
Factors Affecting Melatonin's Lifespan
Melatonin tends to stay within your body anywhere from four to eight hours, but this varies due to several factors. These include: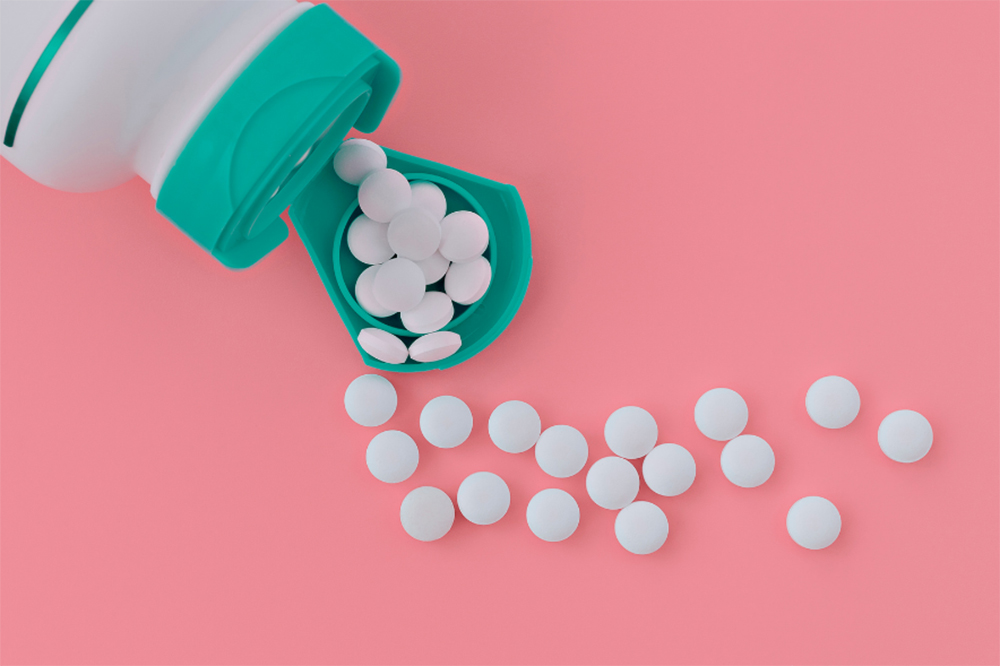 Age
As we get older, our metabolism slows down. This means that our body can process melatonin quicker when we're younger, but takes more time to do so when we're older.
Caffeine
Caffeine is a stimulant that is present in coffee, soda, and chocolate. Studies have shown that caffeine can interfere with melatonin production, preventing any supplements from working as effectively.
Light
Light can prevent the body from knowing when it's nighttime. Both bright light and blue light from electronics can stop melatonin from working.
Body
Your height and weight will affect the rate at which you take in melatonin. Generally speaking, supplements take more time to enter taller or larger people's systems. Conversely, supplements will pass through shorter or thinner individuals quicker.
Nicotine Intake
Cigarettes and tobacco products increase one's nicotine intake. Research has shown that nicotine interferes with melatonin working successfully in the body.
Medication
Many medications shouldn't be taken with melatonin. Blood thinners, stimulants, and antidepressants can all interfere with melatonin uptake.
Time It Takes For Melatonin To Subside
Generally speaking, melatonin wears off within four to eight hours. However, this amount of time depends on the quantity of melatonin consumed.
If you want to start taking melatonin, begin with a lower dose, then see if it makes a difference. A lower dose will prevent the likelihood of any side effects, as the melatonin will subside quicker.
Melatonin Side Effects
The FDA (Food and Drug Administration) doesn't class melatonin as a prescription. Instead, it is classed as a dietary supplement. This means that there aren't any regulations for taking melatonin, so it's important to know about any possible side effects.
Accustomed side effects of melatonin are headaches, nausea, drowsiness, and dizziness. Other uncommon side effects are rare, but they include anxiety, depression, sleep loss, joint or abdominal pain, and seizures.
To avoid side effects, always start at a low dose. If you get any side effects, stop taking the supplement and see a medical professional.
When Does Melatonin Expire?
No matter what you take, every type of medication and supplement will have an expiration date. However, expiry dates don't always mean that the substance has gone bad.
The date refers to when you can no longer know whether the medication is at full strength. Some tablets have even been found to be 90% effective five years after the expiry date.
Your melatonin supplement will have a use-by date on its label, but it doesn't necessarily mean that it will stop working after the date. Keeping them in a cool, dark, and dry place may help increase their lifespan.
Melatonin can be safe to take after the expiry date, but this isn't true for all medications. Always read and follow the guidelines on the label.
Is It Dangerous To Take Expired Melatonin?
Medication and supplement producers print expiration dates on their products. These dates indicate that your tablets will be at full strength, as long as you take them before the use-by date.
These companies tend to be cautious when choosing these dates, so your melatonin supplement may have a longer shelf life than the expiry date suggests.
Melatonin is known as a safe supplement, so taking expired melatonin may not be dangerous. However, expired melatonin isn't at full potency. You might not feel as tired or sleepy compared to when taking unexpired melatonin.
If this is the case, opt for a new, in-date supplement. Don't take more of the same supplement, as this may cause side effects.
In Short
Most people will find that melatonin works from half an hour onwards. Depending on the amount taken, over-the-counter supplements can stay in your system from 4-10 hours. Several factors can affect how long melatonin lasts, including age, caffeine intake, and medication.
To avoid changing your sleeping cycle, don't take melatonin right before or after your planned bedtime. Developing a good sleep hygiene routine can help you fall and stay asleep quicker. If you want to start taking a larger dose, do see a medical professional to see if this is right for you.