Established by co-founders Vadim Mordovin and John Hilton in 2013, 1UP Nutrition has grown rapidly to become one of the world's most popular supplement brands.
The company was founded with the aim to help men and women across the globe reach their fitness goals and achieve solid results with healthy nutrition and regular exercise.
Nowadays, the brand has grown its supplement line-up considerably to cater for a variety of fitness goals. Whether you're looking to lose weight, build muscle, or otherwise, 1UP Nutrition has you covered.
1UP Nutrition Popular Products
Covering all major categories, 1UP Nutrition has a wide range of products to choose from including pre-workouts, protein powders, aminos, and much more.
1UP's line-up includes a variety of options for those looking to take their fitness journey to the next level. Here is an overview of some of the brand's most popular products.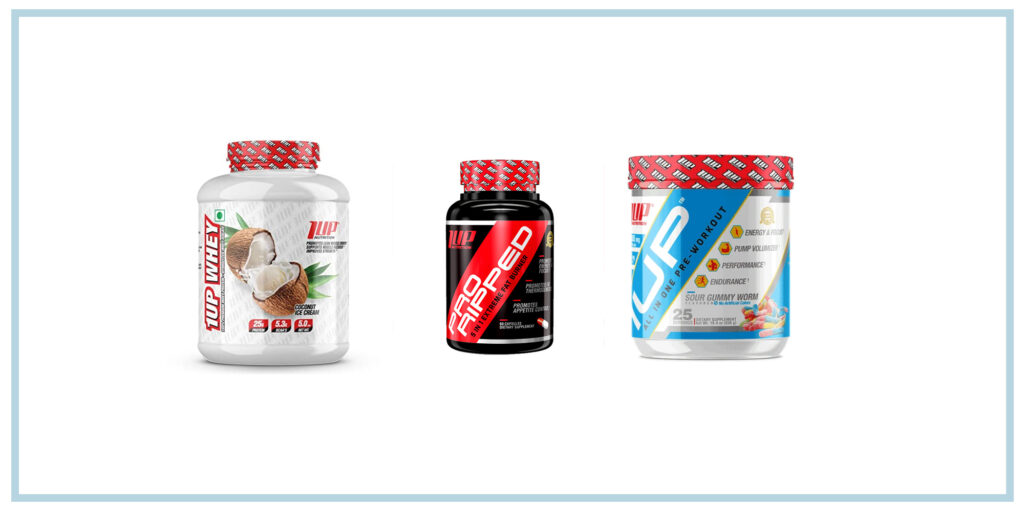 1UP WHEY Protein
Ingredients
Cross-flow Ultra & Nano-filtered, Cold Processed & Instantized Whey Protein Concentrate & Hydrolyzed Whey Protein Isolate, Lecithin, Sucralose, Xanthan Gum, Natural & Artificial Flavors.
Why Choose 1UP WHEY Protein?
If you're looking to accelerate your post-workout recovery, promote lean muscle growth, and increase your strength, 1UP WHEY Protein is a great option.
With a transparently-dosed formula, no artificial colors, and testing by a third-party lab, this supplement can help you reach your daily protein goals safely and conveniently.
For best results, drink immediately after your workout to help kickstart the recovery process. 1 serving equates to 138 calories, with 0g of sugar, 2g of fat, 5g carbohydrates, and 25g of high-quality protein.
1UP WHEY Protein is available directly from the manufacturer's website. You can choose from a variety of delicious flavors such as:
Mint Cookies and Cream
Coconut Ice Cream
Blueberry Muffin
Caramel Toffee Macchiato
Pumpkin Spice Cake
1UP ISO Protein
Ingredients
Whey Protein Isolate, Natural Cocoa Flavor, Non-GMO Sunflower Lecithin, Sucralose & Stevia Leaf Extract.
Why Choose 1UP ISO Protein?
Comprising of 100% premium whey isolate protein, ISO Protein from 1UP Nutrition is an ideal choice for anyone looking to accelerate their muscle growth and enjoy an improved rate of recovery.
1 scoop is just 109 calories, meaning it is highly macro-friendly, especially when consumed with water. It also contains no sugar, and delivers 25g of high-quality protein per serving.
A selection of flavors is available to choose from, which includes vanilla ice cream, chocolate milkshake, and honey graham cereal. Buy either directly from the 1UP Nutrition website or from an authorised reseller online or in-store.
1UP Nutrition Pre-Workout
Ingredients
– Vitamin B3 (Niacin) 3000mg
PUMP VOLUMISER & ENDURANCE COMPLEX 11100mg:
– Citrulline 6000mg
– GlycerPump™ (65% Glycer Powder) 3000mg
– Beta-Alanine (CarnoSyn®) 2000mg
– L-Norvaline 100mg
ENERGY & FOCUS COMPLEX 655mg
– Caffeine Anhydrous 250mg
– Theobromine 250mg
– Infinergy® 150mg
– Bioperine® (piper Longumand Piper Nigrum Extract 95% Piperine) 5mg
Other Ingredients:
– Citric Acid
– Malic Acid
– Natural & Artificial Flavours
– Sucralose
– Acesulfame Potassium
– Silicon Dioxide
– FD&C.
Why Choose 1UP Pre-Workout?
If you're searching for an all-in-one pre-workout supplement that maximises your energy, focus, pumps, and endurance, 1UP Pre-Workout might just fit the bill.
Its list of ingredients is transparently dosed, meaning you'll know exactly what you're putting in your body.
Plus, the inclusion of science-backed ingredients including caffeine and l-citrulline ensures that you'll be able to get better pumps and power through even the toughest of workouts.
You can purchase this product directly from the 1UP Nutrition website or from an authorised reseller.
1UP Nutrition Sponsored Athletes
Heidi Somers
• Born: March 14, 1989
• Home Country: United States
• Profession: Bodybuilder, Fitness Model, Personal Trainer
Also known as 'Buff Bunny', Heidi Somers is a world-famous fitness model born and raised in a small town in North Pole, Alaska. But after suffering from numerous personal issues, Heidi decided to relocate to San Antonio, Texas.
Eventually, Heidi was able to overcome her demons and totally reinvent herself in the process. This was all made possible from the moment she discovered fitness. Ever since then, she's never looked back.
After making the transition from CrossFit to NCP, Heidi went on to earn a phenomenal physique and earn plaudits on the bodybuilding stage – in stark contrast to the troubles she encountered throughout her youth.
In the present day, Heidi helps others to earn the same success she has enjoyed so far in her fitness career.
Randi Kennedy
• Born: April 2, 1992
• Home Country: Canada
• Profession: Fitness Model, Personal Trainer, Bikini Competitor
Given Randi Kennedy's incredible physique, you might think that she's always been this way. But during her youth, Randi struggled to put on weight, which left her with a slim frame that she was unhappy with.
But, by the time she reached 18, Randi decided things needed to change. It was at this point, she introduced weight training into her routine in an attempt to get in shape.
After a while, Randi was able to turn things around with her new-found love for training and increased knowledge of nutrition. As a result, she soon made a name for herself in the fitness industry and continues to inspire others to follow in her footsteps.
Sadik Hadzovic
• Born: June 8, 1987
• Home Country: Bosnia
• Profession: Bodybuilder, Fitness Model
Growing up, life wasn't an easy ride for Sadik Hadzovic. Growing up in a war-torn country, he was forced to flee his homeland with his family who were looking to make a better life for themselves.
Not long after, Sadik and his family sought refuge in America and attempted to start fresh by working hard, which instilled an incredible work ethic in Sadik from a young age.
However, Sadik's poor understanding of nutrition meant that he struggled to make progress initially. Thankfully, he soon realised the error of his ways and set his sights on improving his training and nutrition knowledge to get results.
By the time he reached the age of 24, Sadik was able to earn the incredible physique he's now renowned for. In more recent years, he's gone on to make a name for himself on the bodybuilding stage – earning his Pro Card by the age of 25.
Other Notable 1UP Nutrition Athletes: