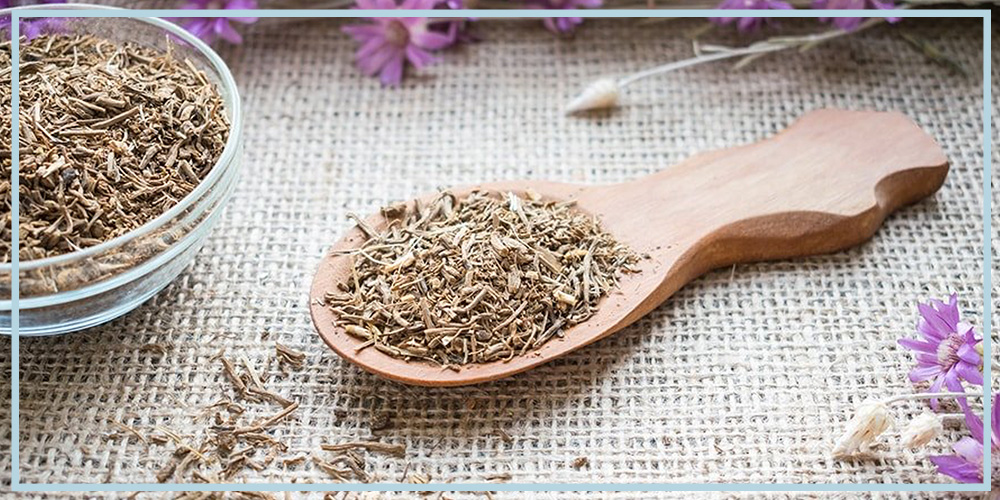 Valerian root has been used as a supplement for thousands of years to reduce stress and anxiety and promote a better night's sleep. With the increased availability of herbal medicines and natural products for self-treatment, we've seen an increased interest in valerian and other natural remedies for some of our most prolific conditions like stress, anxiety, and insomnia. 
While there's been plenty of anecdotal evidence surrounding valerian's effectiveness for reducing anxiety and combatting insomnia, we're getting more and more research-backed data highlighting this exact area. The benefits of valerian root supplementation seem to occur in how it interacts with certain receptors in our brain which affect the body's serotonin levels. 
Valerian root is a naturally occurring herb and has very few adverse side effects. It isn't addictive and, unlike many prescription drugs for stress or insomnia, there are no withdrawal symptoms.
Reported Effects of Valerian Root
1. Reducing Insomnia
There has been plenty of research into the effects of valerian root on sleep, and it's probably the benefit with the most proof.
One particularly promising study found that valerian root improves sleep structure and helps fight insomnia in healthy patients [1]. The study also points out that valerian is also free from traditional sedative side effects.
The study focused on the way valerenic acid, the active ingredient of the root, interacts with serotonin transporters and receptors in part of the brain implicated in the sleep-wake cycle. The results indicate that valerian and valerenic acid not only affect the particular receptor but also the body's circadian timekeeping system, which helps regulate sleep and wakefulness.
There is still more research to be done, though. One study into the possibility of using valerian supplements to improve sleep in patients undergoing cancer treatment found insufficient data to support the hypothesis [2]. 
However, the study goes on to reveal exploratory analyses which suggest potential benefits on secondary outcomes like fatigue and recommends further investigation into the effects of valerian in cancer treatment symptom management, especially insomnia.
One systematic review and meta-analysis of the research around valerian to induce sleep and improve sleep quality found that the available evidence suggests that valerian might improve sleep quality without producing side effects [3]. The review also goes on to recommend further studies as the doses and preparation of valerian root vary widely between the individual studies.
2. Help to Combat Stress
While valerian root is most commonly known for its sedative effects, there has been more research lately into the possibility of using valerian supplements to combat stress.
One study looked into the specific way valerian root affects functional brain connectivity to understand the potential benefits of valerian extract on stress [4]. A 4-week clinical trial conducted with 64 volunteers suffering psychological stress found that the group who took valerian exhibited significantly altered functional brain connectivity in relation to anxiety. 
Due to the way it seems to affect the frontal brain region, there's hope that it can help people combat one of the most common conditions in modern life: stress. 
3. Reducing Anxiety
Valerian root has been a popular herbal medicine for treating anxiety for hundreds, if not thousands of years.
While there isn't much data yet to back up the anecdotes, one systematic review published in Nutrition Journal focused on the potential to use valerian and other nutritional and herbal supplements to treat anxiety [5]. By investigating 24 individual studies, the review concludes that it appears herbal supplementation is an effective method for treating anxiety, though this is possibly due to a placebo effect. 
While there are plenty of stories out there, we still need more research into the specific anxiolytic effects of valerian to determine whether or not it's an effective treatment for anxiety.
Common Supplements that Contain Valerian Root
Valerian root or valerian root extract is a popular dietary supplement and is readily available in capsule and liquid form. It's also found as an active ingredient in many sleep aids, often combined with Mucuna Pruriens, Vitamin B6 and theanine, all known to naturally improve sleep quality.
You can also use dried valerian root to make your own tea. Many herbal teas promoting relaxation and a good night's sleep contain the extract.
Side Effects of Valerian Root Supplementation
The vast majority of healthy adults who take valerian supplements experience no negative side effects. Because many sleep-enhancing drugs and supplements cause drowsiness, nausea, and other adverse side effects, valerian root is always one of the most popular supplements for promoting a good night's sleep.
There's also very little chance of becoming dependent on valerian root, another common adverse side effect of many prescribed sleeping pills. Furthermore, valerian root doesn't seem to show any withdrawal symptoms if you stop taking it.
Because valerian root is used to promote sleep and relaxation, it's not recommended to take valerian root before operating vehicles or machinery as it affects your ability to concentrate and remain alert.
For most people, valerian root doesn't cause any adverse side effects. However, a small minority of people report:
Dizziness
Headache
Stomach pain
Insomnia (very rare)
We don't have enough data concerning pregnant or breastfeeding women supplementing valerian root. Like most nutritional supplements, it's best to err on the side of caution and avoid them while pregnant or breastfeeding.
Valerian Root Dosage
Most of the studies on the effects of valerian root use somewhere between 400 and 900mg doses, though some studies go up to over 1500mg [6].
Valerian root's benefits appear to become more apparent after regular prolonged dosage, and often you won't start seeing effects until two weeks or more of taking it.
References
Dietz BM, Mahady GB, Pauli GF, Farnsworth NR. Valerian extract and valerenic acid are partial agonists of the 5-HT5a receptor in vitro. Brain Res Mol Brain Res. 2005;138(2):191-197.
Barton DL, Atherton PJ, Bauer BA, et al. The use of Valeriana officinalis (Valerian) in improving sleep in patients who are undergoing treatment for cancer: a phase III randomized, placebo-controlled, double-blind study (NCCTG Trial, N01C5). J Support Oncol. 2011;9(1):24-31.
Bent S, Padula A, Moore D, Patterson M, Mehling W. Valerian for sleep: a systematic review and meta-analysis. Am J Med. 2006;119(12):1005-1012.
Roh D, Jung JH, Yoon KH, et al. Valerian extract alters functional brain connectivity: A randomized double-blind placebo-controlled trial. Phytother Res. 2019;33(4):939-948.
Becker A, Felgentreff F, Schröder H, Meier B, Brattström A. The anxiolytic effects of a Valerian extract is based on valerenic acid. BMC Complement Altern Med. 2014;14:267. Published 2014 Jul 28.
Thomas K, Canedo J, Perry PJ, et al. Effects of valerian on subjective sedation, field sobriety testing and driving simulator performance. Accid Anal Prev. 2016;92:240-244.