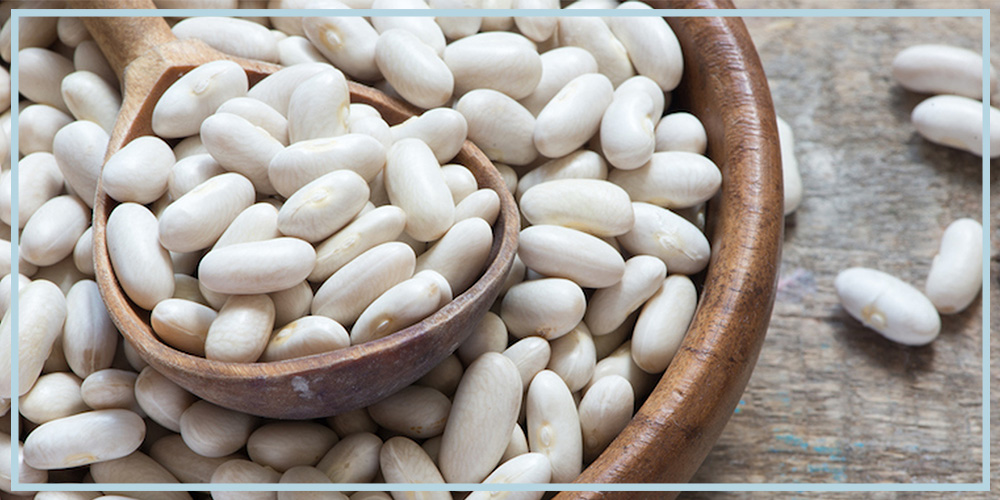 White kidney beans have gathered popularity as a common weight loss aid following support from Dr. Oz, the mastermind behind raspberry ketones for fat loss. Marketed as 'carbohydrate blockers' the beans are often touted for their unique ability to reduce the levels of sugar and fatty molecules in the blood.
Proponents claim that extract from white kidney bean, also known as phaseolus vulgaris, can inhibit alpha amylase, an enzyme involved in breaking down carbohydrates into sugar. By slowing this activity, white bean extract is thought to prevent the body from turning excess sugar into fat. Less fat metabolism, more weight loss, in theory.
In addition to facilitating this weight loss, white bean extract is also purported to directly target and reduce abdominal fat, fight insulin resistance, ease symptoms of arthritis, and reduce the risk of colon cancer. It's safe to say that some of these claims are better supported than others.
To date, there is limited evidence as to the benefit of white kidney beans in the above listed conditions. Of these, weight loss remains the primary focus of research. Below, we take an unbiased look at the potential benefits.
Reported Effects of White Kidney Bean
1. Aids Weight Loss
One of the main active compounds found in white kidney bean extract is α-amylase blocker, also known as phaseolamin. This carbohydrate blocker binds to the α-amylase enzyme and prevents the access of starch. As a result, starch cannot be degraded and fewer carbohydrates are absorbed into the body.
This theory is supported by research, daily intake of the extract significantly reduced weight, body mass index, fat mass, fatty tissue thickness, and waist, hip, and thigh sizes in overweight people [1]. Similarly, white kidney bean extract is suggested to be helpful in weight maintenance. Following a weight loss phase, 73% of subjects were able to maintain their weight loss with a non-restrictive diet while supplementing with white kidney bean extract [2].
In studies with both healthy and obese rats, the white kidney beans were able to reduce body fat without reducing lean body weight [3].
With that being said, although the results are positive, they need to be taken with a pinch of salt.
The benefits of white kidney bean extract for weight loss are supported by limited, low-quality evidence. Clinical trials are generally small and funded by the companies selling the products. While the studies suggest a notable benefit, it's most likely not as significant as they claim.
2. Reducing Appetite
White kidney bean has also garnered popularity as a fat-loss supplement because of its potential to suppress appetite. While it may not be able to directly reduce bodyfat, the claim that it can assist with satiety and reduce overall consumption has the same appeal.
This suppression is theorised to be due to phytohemagglutinin, an active compound present in white kidney beans. It binds to the inner surface of the small intestine and triggers the release of the hormones that promote satiety, while prevents the production of ghrelin, the hormone that causes hunger.
When taking a dose of kidney bean extract with a meal after a 12 hour fast, subjects experienced a reduction in appetite, ghrelin production, and glucose and insulin rises in the blood [4]. Similarly, over 12 weeks, it was able to reduce appetite, body weight, waist size, and oxidative damage in a clinical trial on overweight subjects [5].
These findings were mirrored in animal studies, where white kidney bean extract consistently reduced food consumption [6].
As with weight loss, the evidence is limited and based on a small, low studies, all funded by the manufacturer. There is likely bias.
3. Blood Sugar and Insulin Reduction
White kidney bean extract may have a place in helping people with diabetes control their blood sugar.
A small study reported that a 3,000-mg dose of Phaseolus vulgaris powder achieved a 34 percent reduction of blood sugar levels following a high glycaemic meal [7]. Lower doses are largely ineffective.
Despite the potential benefits, most manufacturers advise against using more than 2,000mg per day, so supplementing with a dose high enough to elicit blood sugar benefits may come with unwanted side effects.
4. Prevent Colon Cancer
Early animal-stage studies have shown promising results.
The theory is that non-digested starch may act similarly to fiber in the large intestine and thus help to prevent colon cancer [8]. Rats given a cancer-causing compound had lower incidences of colon cancer and fed a diet containing white kidney beans compared to controls [9].
A purified white kidney bean lectin was also found to prevent the growth and increased the death of skin and liver cancer cells [10].
While promising, this animal-stage study is preliminary. Further studies have yet to determine if white kidney bean extract is a useful aid in colon cancer prevention.
Common Supplements that Contain White Kidney Bean
Widely available on the mass market, white bean extract can be found in many supplement forms.
They usually come in tablet or capsule formulations but are also available as powders which you can easily mix into food.
The main white kidney bean supplements are:
Phase 2 (also known as Phaseolamin 2250, Phase 2 Starch Neutralizer, and Starch Lite), an α-amylase blocker
Beanblock, a combination of an α-amylase blocker and phytohemagglutinin
Side Effects of White Kidney Bean Supplementation
White kidney bean is considered safe when consumed in moderate amounts. It is worth noting that the extract is not intended for long-term or ongoing use and may trigger mild side effects such as:
Nausea
Bloating
Gas
Diarrhea
White kidney beans can also be harmful to those who are lectin-sensitive. Approximately 15% of the beans proteins are lectins, so lectin-sensitive individuals may experience:
Leaky gut
Increased food sensitivity
Autoimmune diseases
Those who are diabetic, or who have kidney or liver disease should consult their doctor before introducing the supplement. It should not be taken by women who are pregnant or breastfeeding.
White Kidney Bean Dosage
There is no recommended dosage, but clinical studies cite effective dosages ranging from 445 mg per day to 1500 mg per day [11].
References
Celleno L, Tolaini MV, D'Amore A, Perricone NV, Preuss HG. A Dietary supplement containing standardized Phaseolus vulgaris extract influences body composition of overweight men and women. Int J Med Sci. 2007;4(1):45-52. Published 2007 Jan 24.
Grube B, Chong WF, Chong PW, Riede L. Weight reduction and maintenance with IQP-PV-101: a 12-week randomized controlled study with a 24-week open label period [published correction appears in Obesity (Silver Spring). 2014 Oct;22(10):2274-5]. Obesity (Silver Spring). 2014;22(3):645-651.
Pusztai A, Grant G, Buchan WC, Bardocz S, de Carvalho AF, Ewen SW. Lipid accumulation in obese Zucker rats is reduced by inclusion of raw kidney bean (Phaseolus vulgaris) in the diet. Br J Nutr. 1998;79(2):213-221.
Spadafranca A, Rinelli S, Riva A, et al. Phaseolus vulgaris extract affects glycometabolic and appetite control in healthy human subjects. Br J Nutr. 2013;109(10):1789-1795.
Luzzi R, Belcaro G, Hu S, et al. Beanblock® (standardized dry extract of Phaseolus vulgaris) in mildly overweight subjects: a pilot study. Eur Rev Med Pharmacol Sci. 2014;18(20):3120-3125.
Fantini N, Cabras C, Lobina C, et al. Reducing effect of a Phaseolus vulgaris dry extract on food intake, body weight, and glycemia in rats. J Agric Food Chem. 2009;57(19):9316-9323.
Udani, J.K., Singh, B.B., Barrett, M.L. et al. Lowering the glycemic index of white bread using a white bean extract. Nutr J 8, 52 (2009).
Song Y, Liu M, Yang FG, Cui LH, Lu XY, Chen C. Dietary fibre and the risk of colorectal cancer: a case- control study. Asian Pac J Cancer Prev. 2015;16(9):3747-3752.
Hangen L, Bennink MR. Consumption of black beans and navy beans (Phaseolus vulgaris) reduced azoxymethane-induced colon cancer in rats. Nutr Cancer. 2002;44(1):60-65.
Chan YS, Xia L, Ng TB. White kidney bean lectin exerts anti-proliferative and apoptotic effects on cancer cells. Int J Biol Macromol. 2016;85:335-345.
Onakpoya, I., Aldaas, S., Terry, R., & Ernst, E. (2011). The efficacy of Phaseolus vulgaris as a weight-loss supplement: A systematic review and meta-analysis of randomised clinical trials. British Journal of Nutrition, 106(2), 196-202.