Staunch Nation is a sports nutrition and fitness company founded by Australian professional bodybuilder and 3-time Mr. Universe winner Calum Von Moger. Its current range includes a pre-workout, whey isolate, a BCAA + Hydration supplement, alongside many others.
As well as its supplements, Staunch also offers a selection of in-depth fitness plans which aim to help people build their ideal physique with a robust diet and training regime. Although a relative newcomer to the world of supplements, Staunch continues to grow its line-up and increase its presence year after year.
Number of Staff – N/A
Founded – 2017
Company Founder – Calum Von Moger
Head Office – Utah, United States
Website – www.staunchnation.com
Staunch Nation Popular Products
With over 20 supplements, a series of training & diet plans, along with a clothing and apparel range, Staunch Nation offers a vast array of products to suit fitness fans looking to enjoy specific health and training benefits.
Staunch's range includes a pre-workout, intra-workout, alongside a series of supplements that are designed to aid in the recovery process.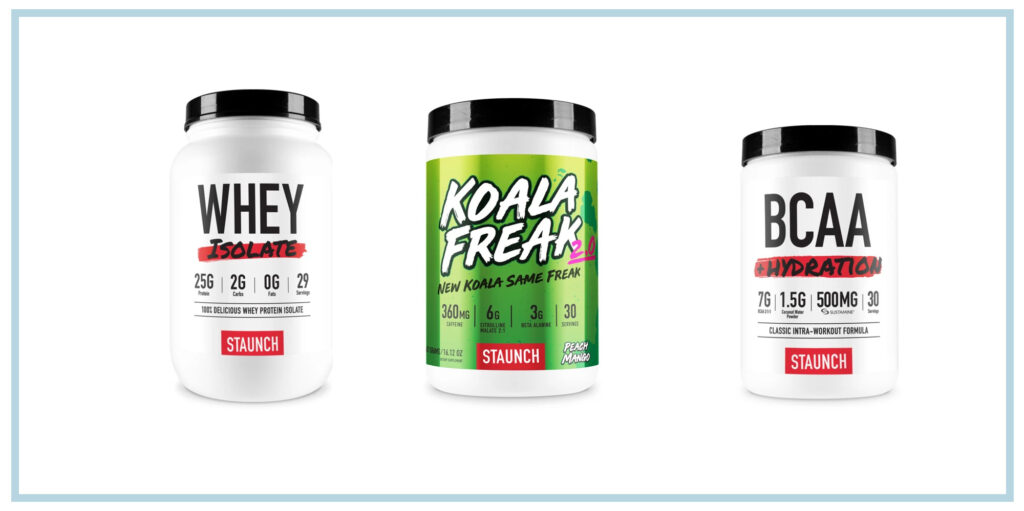 Koala Freak Pre Workout 2.0
Ingredients
B Vitamins, Citrulline Malate, Beta-Alanine, Betapure Betaine Anhydrous,
Agmatine Sulfate, Arginine AKG, Choline Bitartrate, Caffeine Anhydrous, L-Theanine, Methylliberine, Theobromine, Huperzine A
Why Choose Koala Freak Pre Workout 2.0?
Many pre-workouts on the market cause users to experience unwanted side-effects such as jitters. Staunch Pre Koala Freak 2.0 aims to combat this issue by providing users with benefits such as jitter-free clean energy and improved pumps.
Formulated using a series of proven ingredients, this supplement is designed to deliver maximum performance so that you can power on through tough workouts with enhanced mental focus.
One of the most popular products in the Staunch Nation range, Pre Koala Freak 2.0 is available in 5 different flavors including Peach Mango, Strawberry Pina Koala, Aussie Apple, Blue Baz Berry, Tropical Mojito, as well as a Mystery Flavor.
Koala Freak Pre Workout 2.0 is arguably the most popular product in the Staunch line-up, with users continuing to rate this particular supplement highly. You can purchase Koala Freak 2.0 directly from the manufacturer's official website.
Staunch Whey Isolate
Ingredients
Caramel Mocha Flavor – Whey Protein Isolate, Natural & Artificial Flavors, Cocoa Powder, Digestive Enzyme Complex (Protease, Bromelain, Lipase 8, Lactase, Papain), Sodium Chloride, Sucralose
Vanilla Flavor – Whey Protein Isolate, Digestive Enzyme Complex (Protease, Bromelain, Lipase 8, Lactase, Papain), Natural and Artificial Flavors, Sodium Chloride, Organic Vanilla Sugar, Sucralose
Chocolate Flavor – Whey Protein Isolate, Cocoa Powder, Natural & Artificial Flavors, Digestive Enzyme Complex (Protease, Bromelain, Lipase 8, Lactase, Papain), Sodium Chloride, Sucralose
Why Choose Staunch Whey Isolate?
The issue with whey isolate protein powders is that many of them use inferior forms of protein. Plus, some use proprietary blends which hides the dose of each ingredient in the product. Staunch Supplements' Whey Isolate ensures this isn't a problem thanks to its 24 grams of quality protein per 100 calorie scoop and transparently-listed ingredients.
Affordable and pure, this protein powder also includes digestive enzymes. These work in combination to strengthen muscles, nourish your body, and allow you to recover more effectively from your workouts. Staunch Whey Isolate comes in 5 unique flavors listed below, ensuring that there's something to cater for all tastes:
Caramel Von Mocha
Vanilla Ice Cream
Mums Pumpkin Pie
Hot Chokkie
Midnight Cereal
Like all the other products in the Staunch range, Whey Isolate is available to buy via the Staunch Nation website.
BCAA + Hydration
Ingredients
BCAA 2:1:1, Sustamine, Coconut Water
Why Choose BCAA + Hydration?
Staying optimally hydrated throughout your workouts and recovering effectively afterwards is of paramount importance. Even more so if you're looking to get the best results in terms of improving your health and fitness. This is where Staunch BCAA + Hydration steps in – with 7 grams of BCAA within each serving of the product.
Helping you to beat muscle fatigue, this particular supplement also includes an advanced hydration complex. This features 500 mg of Sustamine alongside 1.5 grams of coconut water powder to re-hydrate you effectively during your workouts. A delicious range of flavors also ensures that users will be able to unlock their true potential in the gym.
The flavors that are available to choose from include Peach Mango, White Grape, Honeydew, Pineapple, Watermelon Gummy, or Strawberry Coconut. You can purchase any one of these flavors directly from the official Staunch Supplements online store.
Other Popular Staunch Products
ZMA
L-Glutamine
Creatine
Weight-Gainer
CLA
Krill Oil
L-Glutamine
D-Aspartic Acid
Vegan Protein
Master Physique 8 Week Program
8 Weeks to Shred Program
Hourglass Masterclass Program
Staunch Nation Athletes
Staunch Nation hasn't been around for as long as its many of its well-established competitors, but it is backed and inspired by one of the most well-respected bodybuilders in the world today – Calum Von Moger. As a result, the brand continues to grow across the globe.
Calum Von Moger
Born: 9 June 1990
Home Country: Australia
Profession: Bodybuilder, Actor, Fitness Model, Brand Ambassador
Born and raised in Geelong, Australia, Calum Von Moger began his fitness journey from the age of 14 – lifting weights with his older brother who invited him to train at the local gym. It was at this point, Calum realised his passion for fitness after he grew tired with being the skinny kid throughout his youth.
Taking inspiration from legendary bodybuilders such as Steve Reeves and Frank Zane, Calum laid the foundations for a career in fitness from an early age. And through sheer hard work and determination, he was able to make a name for himself as a bodybuilder, earning a physique that is comparable with some of the sports' biggest names.
By 2010, Calum was able to win his first competition in Australia before finishing in first place in the Junior Mr Universe. It's through achievements such as this that Calum was able to further his fitness career and become one of the most widely-known bodybuilders in the world.
Eventually, Calum acquired the nickname 'Arnold 2.0', and even went on to star in the 2018 film Bigger, playing the role of one of his biggest idols – Arnold Schwarzenegger. By this point, Calum had established his own supplement brand Staunch Nation, which now offers a range of supplements, programs, and apparel for fitness fans around the world.