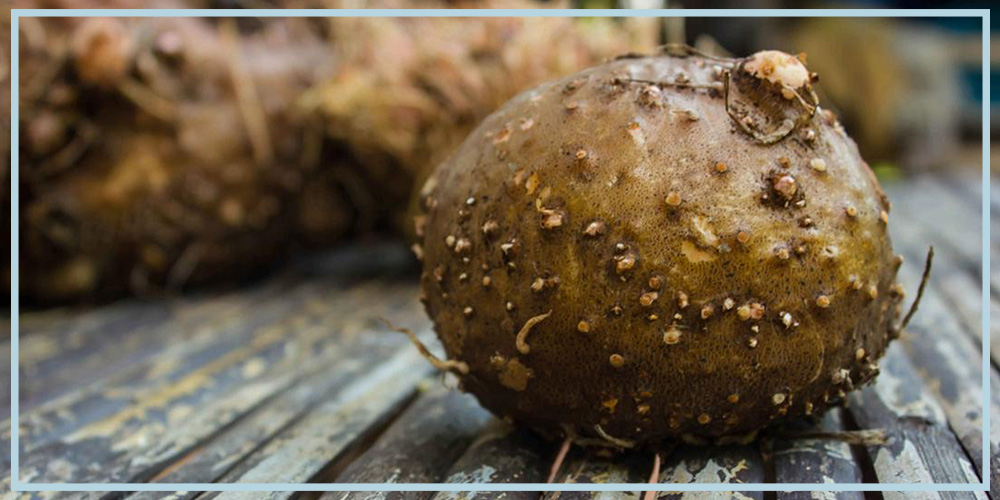 Konjac, also known as "konnyaku" is a tuberous root vegetable. Extremely rich in dietary fiber, its known for its starchy corm, a tuber-like part of the stem that grows underground. You may not have heard of konjac before, but there's a good chance you will have come across it in the world of weight management. Zero calorie noodles? Konjac.
The root of the konjac plant has been long used in Asian cultures to formulate low calorie food options because of its glucomannan content. Glucomannan comprises 40% of the dry weight of the plant, originally from Asia. It is a soluble fiber with an unmatched ability to absorb water and swell into a gel that, ford many potential health-promoting benefits. Research indicates that soluble fibres may help lower blood cholesterol, slow glucose absorption, lower the glycemic index and promote regular bowel movements.
It's not uncommon to see supplements containing glucomannan marketed as magic weight loss tools. From skinny teas, to hunger buster capsules and slim spaghetti, glucomannan has long been cited as the missing ingredient we all need to lose weight. Low in calories, an unmatched ability to promote satiety and a natural laxative – the theory is promising, but the evidence is lacking.
As with most supplements touted for their weight-loss promoting abilities, glucomannan is not a quick-fix. It does however have some properties beneficial for health when used in conjunction with a balanced diet and exercise regime.
Reported Effects of Konjac Root
1. Aid Weight Loss
The glucomannan within the konjac root is believed to promote weight loss in several ways [1]:
Extremely low in calories
Promotes satiety by taking up space in your stomach
Delays stomach emptying
Reduces the absorption of protein and fat
The water soluble fiber absorbs water and swells into a gel that can line the stomach, improving satiety and in theory, keeping you fuller, for longer. It breaks down carbohydrates more slowly, stabilising post-meal blood sugar levels, which can also contribute to reducing those premature hunger pangs.
When regularly ingested before meals, glucomannan has been shown to modest weight loss in overweight individuals.
It's also been shown to increase the rate of weight loss while undertaking a calorie restrictive diet. Over a period of five weeks, adding a glucomannan fiber supplement to a balanced, 1,200-calorie diet caused more weight loss than the same diet without the supplement [2].
With that being said, take these findings with a pinch of salt. A 2013 study in the Journal of Obesity found that glucomannan had no effect on weight, and many of the studies with positive results have a method that incorporates an extreme calorie deficit [3].
2. Support Gut Health
As a viscous dietary fiber, glucomannan is a food favourite for friendly bacteria in the gut. It encourage healthy levels of gut bacteria such as Bifidobacterium, probiotics that help the body perform essential functions such as digestion [4].
Like all fibres, glucomannan can also reduce constipation by speeding up the food transit time in the colon. Considered a bulk-forming natural laxative, adding glucomannan to a low-fiber diet can not only increase both the amount of probiotic bacteria found in feces, but also bowel movement, by up to 30 percent [5].
3. Improve Cholesterol Levels
Glucomannan may be able to decrease absorption of cholesterol in the gut by sponging up water in the digestive tract, which reduces the absorption of cholesterol by the body.
Research has also suggested that glucomannan may alter the way cholesterol is produced in the liver, and how fats are used for energy.
A systemic analysis of 14 glucomannan studies revealed that the use of glucomannan had significantly beneficial effects on total cholesterol, LDL cholesterol, triglycerides, as well as body weight and fasting blood glucose [6].
4. Contribute to Skin Health
Relatively early in research, konjac root has also been said to have properties beneficial to the skin. The glucomannan content is said to help the skin absorb and retain high levels of moisture, keeping the epidermis hydrated and healthy.
It's also reported to have natural antibacterial properties which help to combat oily skin and reduce acne, but these have yet to be supported with scientific research. One to watch.
Common Supplements that Contain Konjac Root
Konjac root is rare to find in supplement form. More often, you'll find it marketed as glucomannan, the dietary fiber made from the root itself.
Glucomannan can be bought in stand-alone powder, capsule and tablet form. These are generally marketed as a pro-biotic or a weight-loss tool.
Glucomannan is also found in a whole host of dietary products touted for their weight loss promoting abilities. Often found on the same shelf as Green Tea Extract and Raspberry Ketones, konjac root noodles, carbs and snack bars have gained popularity in diet culture.
Side Effects of Konjac Root Supplementation
Konjac root is generally well tolerated by healthy adults and considered safe. Some people may experience mild digestive side effects such as:
Bloating
Flatulence
Diarrhea
Generally speaking, these side effects are uncommon when taken in moderation.
It is worth noting that if glucomannan expands before reaching the stomach, it may cause choking or blockage of the throat and esophagus. To prevent this, it should always be consumed with liquid.
Konjac Root Dosage
A dose of 2-4g per day has been safely used in studies, but dosage will vary based on manufacturer and form.
Unlike most other supplements, with water, glucomannan expands and can absorb up to 50 times its weight. Therefore, the recommended dosage of glucomannan is lower than most other supplements on the market.
Take Home Message
Judging by the evidence, konjac root can be an effective aid for weight loss tool when used in conjunction with a calorie deficit. As with any weight-loss strategy, it doesn't work in isolation, and may elicit unwanted side effects when used excessively.
Early research does show promise for aiding weight management, gut health and improving cholesterol levels, but more research is required on healthy subjects to really dig deep into the benefits.
References
Britt Burton-Freeman, Dietary Fiber and Energy Regulation, The Journal of Nutrition, Volume 130, Issue 2, February 2000, Pages 272S–275S
Birketvedt GS, Shimshi M, Erling T, Florholmen J. Experiences with three different fiber supplements in weight reduction. Med Sci Monit. 2005;11(1):PI5‐PI8.
Keithley JK, Swanson B, Mikolaitis SL, et al. Safety and efficacy of glucomannan for weight loss in overweight and moderately obese adults. J Obes. 2013;2013:610908.
Connolly, Michael & Lovegrove, Julie & Tuohy, Kieran. (2010). Konjac glucomannan hydrolysate beneficially modulates bacterial composition and activity within the faecal microbiota. Journal of Functional Foods. 2. 219-224.
Hsiao-Ling Chen, Han-Chung Cheng, Wen-Tsu Wu, Yann-Jiu Liu & Su-Yuan Liu (2008)Supplementation of Konjac Glucomannan into a Low-Fiber Chinese Diet Promoted Bowel Movement and Improved Colonic Ecology in Constipated Adults: A Placebo-Controlled, Diet-Controlled Trial, Journal of the American College of Nutrition, 27:1, 102-108
Sood N, Baker WL, Coleman CI. Effect of glucomannan on plasma lipid and glucose concentrations, body weight, and blood pressure: systematic review and meta-analysis. Am J Clin Nutr. 2008;88(4):1167‐1175.