Founded by former BMX pro Mike Spinner, Evlution Nutrition, often abbreviated as EVL, are a popular American supplements brand.
Ever since being founded in 2013, the brand has consistently grown to offer a wide range of high-quality supplements that aim to help fitness enthusiasts reach their goals.
The brand's mission is to enhance the lives of its customers with top-level customer service as well as offering a wide selection of products from protein powders to BCAAs, and everything in between.
Number of Staff – N/A
Founded – 2013
Parent Company – Lone Star Distribution (Distributor)
Head Office – Sunrise, Florida
Website – https://www.evlnutrition.com/
Evlution Nutrition Popular Products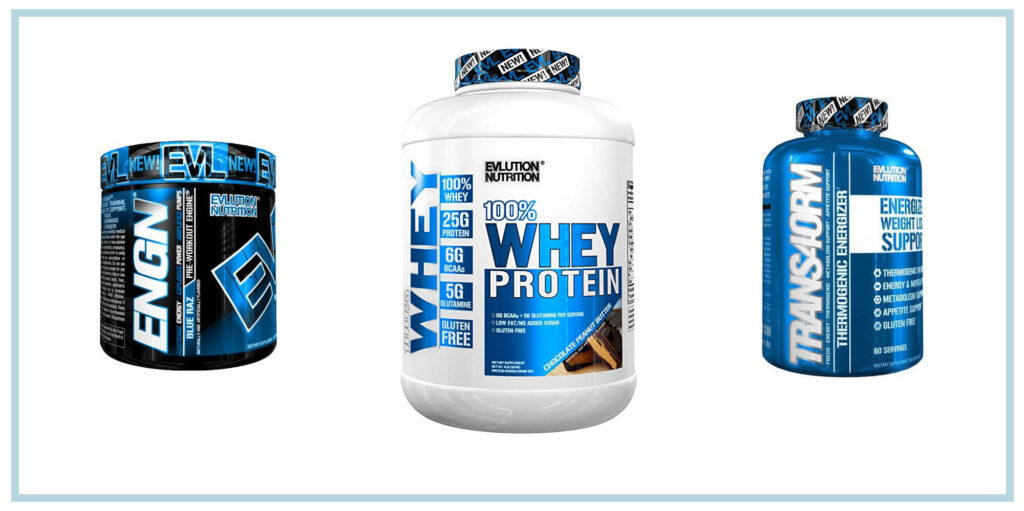 Regardless of your fitness goals, Evlution Nutrition is sure to have a supplement that's ideal for your requirements.
The brand is built on a passion for health, sport, and nutrition, which is clear to see through the brand's vast selection of high-quality supplements.
Popular American entertainer, record producer, and DJ Steve Aoki even has his own protein powder under the Evlution Nutrition brand – entitled Steve Aoki 100% Isolate Protein.
Read on for an overview of some of the brand's best-selling products.
Evlution Nutrition ENGN Shred Pre Workout
Ingredients
CarnoSyn Beta-Alanine – 1600mg
Betaine Anhydrous – 1000mg
Choline Bitartrate – 500mg
L-Tyrosine – 500mg
Conjugated Linoleic Acid Powder – 500mg
L-Carnitine L-Tartrate – 500mg
Natural Caffeine – 250mg
Capsimax Cayenne – 25mg
Olive Leaf Extract – 25mg
Why Choose Evlution Nutrition ENGN Shred Pre Workout?
If you're looking to get better results in the gym as well as accelerate your fat loss progress, ENGN Shred Pre Workout from Evlution Nutrition could be a suitable option.
Combining the benefits of a Pre Workout and Fat Burner in one supplement, ENGN Shred contains a formula that supports maximum energy, power, and focus.
Containing zero sugar, zero carbs, and zero calories, ENGN Shred is ideal for those looking to get lean and fuel themselves throughout tough workouts even while in a caloric deficit.
You can buy Evlution Nutrition ENGN Shred directly from the official website in a 30-serving container. The following flavors are available to choose from:
Blue Raz
Cherry Limeade
Fruit Punch
Grape
Pink Lemonade
Evlution Nutrition LeanMode
Ingredients
Green Coffee Bean Extract (500mg)
Green Tea Extract (250mg)
Acetyl-L-Carnitine (500mg)
CLA (500mg)
Garcinia Cambogia Extract (500mg)
Why Choose Evlution Nutrition LeanMode?
Are you struggling on your quest to get a lean, sculpted physique despite following a healthy diet and exercising regularly?
If so, Evlution Nutrition LeanMode could be an ideal solution. Available in a delicious Fruit Punch flavor, this particular supplement contains a blend of science-backed ingredients such as Green Tea Extract, L-Carnitine, and CLA.
The benefit of LeanMode is that it can be consumed at any time of day as there are no stimulants.
As a result, you'll be able to accelerate your fat loss journey without disturbing your sleep.
LeanMode from Evlution Nutrition is available to buy directly from the manufacturer's website in either a 30 or 50 serving container.
If you're looking for additional convenience, you'll also find that LeanMode is available in capsule form, too.
Whichever option you choose, you can expect LeanMode to help you reach your lean body goals with 5 leading stim-free ingredients.
Evlution Nutrition BCAA Energy
Ingredients
Vitamin C – 90mg
Vitamin B6 – 10mg
Vitamin B12 – 30mcg
2:1:1 BCAA Matrix – 2500mg, 1250mg, 1250mg (L-Leucine, L-Isoleucine, L-Valine)
CarnoSyn® Beta-Alanine – 500mg
L-Alanine – 500mg
Taurine – 500mg
Natural Energizers – 110mg (Natural caffeine from Coffee Bean, Green Tea Extract)
Why Choose Evlution Nutrition BCAA Energy?
If you're searching for an all-in-one supplement that boosts your energy, focus, and muscle building capabilities, BCAA Energy is for you.
Available in either a 30 or 65 serving container via the manufacturer's official website, BCAA Energy comes in a variety of different flavors which includes:
Blue Raz
Lemon Lime
Fruit Punch
Furious Grape
Cherry Limeade
Watermelon
Orange
This particular supplement delivers 5 g of pure BCAAs (Leucine, Isoleucine, and Valine) in a ratio of 2:1:1, BCAA Energy from EVL effectively boosts your performance so you can get better results in the gym.
BCAA Energy also provides a handful of additional benefits, too. This includes optimal hydration, immune system support, enhanced recovery, and boosted endurance.
Evlution Nutrition Notable Figures
Evlution Nutrition has firmly established itself as a force to be reckoned with in the supplements industry.
Below is an overview of some notable figures associated with the brand including the company founder, Mike Spinner.
Mike Spinner
Born: April 1, 1988
Home Country: United States
Profession: Company Founder and CEO of Evlution Nutrition, retired BMX star
Throughout his youth, things weren't always sunshine and rainbows for Mike Spinner. He was just 16 when his beloved mother passed away, which hit Mike hard.
BMX riding is the one thing that kept his mind straight during this difficult time. Staying consistent with this allowed Mike to keep himself occupied doing something he loved.
As a result of his hard work and dedication, it wasn't long before he made a name for himself in the BMX world – even earning a sponsorship with his childhood hero – Dave Mirra.
By 2013, Mike had become fascinated with sports nutrition after using products himself to recover from injuries. It was at this point, he decided to launch Evlution Nutrition and help other athletes reach their goals, just like him.
Ever since, Mike has never looked back, with Evlution Nutrition continuing to grow its supplement line-up and offer several high-quality products to its fans across the world.
Abbey Willis
Home Country: United Kingdom
Profession: Bikini Pro, Online Fitness Coach, Personal Trainer
After spending around two years in the fitness industry, Abbey Willis was proud of how far she had come. She built an incredible physique and established a respectable social media following along the way.
But after reaching her own fitness goals, Abbey then set her sights on helping others follow in her footsteps.
It was at this point, she decided to become an online fitness coach, with the aim of transforming people's lives for the better.
Abbey's mission is to set sustainable long-term goals for her clients. That way, they can achieve greatness on their fitness journey, and not easily fall off track with their progress.