Optimum Nutrition is an industry-leading health supplements company which boasts some of the most well-known products on the market. With a global presence, Optimum Nutrition is considered to be one of the original supplement companies.
Forming part of the Glanbia global nutrition group, Optimum Nutrition has state-of-the-art production facilities in Middlesbrough, UK. Here, the company produces a wide range of products across each major sports nutrition category including protein powders, pre-workouts, fat burners, and much more.
Number of Staff – 740
Founded – 1986
Parent Company – Glanbia
Head Office – Greater Chicago Area, Great Lakes, Midwestern US
Website – www.optimumnutrition.com
Optimum Nutrition Popular Products
Ever since they burst onto the scene over three decades ago, Optimum Nutrition has crafted a diverse range of products that helps athletes to achieve a multitude of goals. They are especially known for their protein products, but also happen to cover pre-workouts, multivitamins, and various single-ingredient supplements.
Optimum Nutrition's Gold Standard range is one of the most popular and is available globally. This range includes a Whey Protein powder alongside a pre-workout. Each of these supplements is comprised of natural ingredients, along with balanced and effective formulas.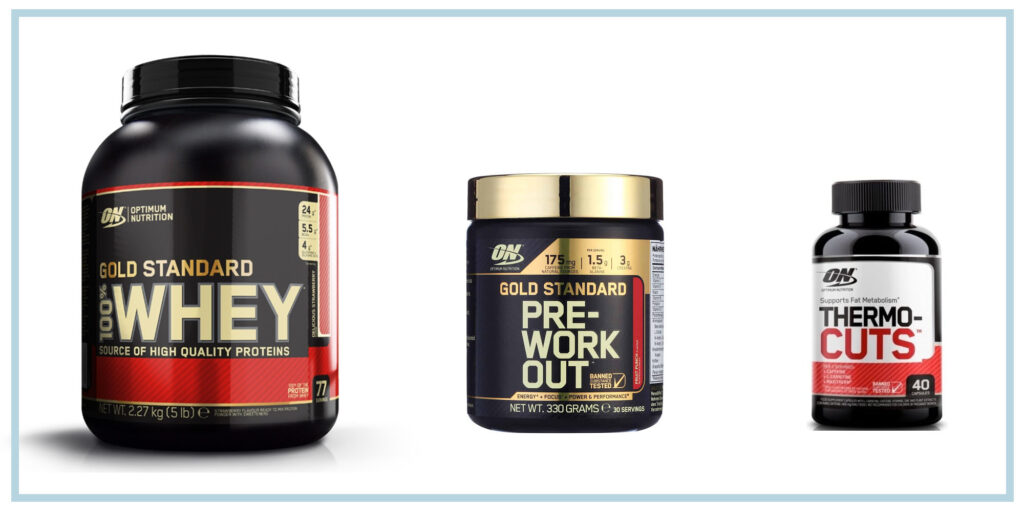 Ingredients
Protein Blend (Whey Protein Isolates, Whey Protein Concentrate, Whey Peptides), Lecithin, Natural And Artificial Flavors, Citric Acid, Sucralose, Red 40 Lake, Lactase.
CONTAINS: MILK AND SOY
Why Choose Optimum Nutrition Gold Standard Whey?
When it comes to protein powders, Gold Standard Whey is certainly right up there with the best on the market. A great way to kickstart your muscle growth, this particular protein powder is suitable for everyone from runners to triathletes, bodybuilders to rugby players, and so much more.
Available in various different flavors and serving sizes, Gold Standard whey plays an important role in the maintenance and growth of muscle mass. With just 120 calories per serving, this low-fat whey protein is ideal for consuming first thing in the morning and either before or after your workouts. Per serving, you get:
24g grams of protein with low levels of fat & sugar
4 grams of glutamine & glutamine acid
5.5 grams of naturally occurring BCAAs
You can purchase Gold Standard whey directly from the manufacturer's website in either a 908g /2 lb container, or a larger 2.27kg / 5lb version (29/74 servings, respectively). Alternatively, you can purchase from various sports nutrition stores across the globe either online or in a physical store.
Ingredients
N-Acetyl L-Carnitine HCl, gelatin capsule, Murraya koenigii leaf extract, filling (microcrystalline cellulose), caffeine, green tea extract (Camellia sinensis, leaf), guarana extract (Paullinia cupana, seed), anti-caking agent (silica magnesium salts of fatty acids), cayenne extract (Capsicum annuum, fruit) as MaxiTherm®, zinc citrate, black pepper extract (Piper nigrum, fruit), pyridoxine hydrochloride, thiamine hydrochloride, riboflavin.
Why Choose Optimum Nutrition Thermo Cuts?
A popular and efficient fat burner, Thermo Cuts is a solid choice for those wanting to accelerate their metabolism and kick start their fat-burning potential. Available in a 100-capsule container, Thermo Cuts can be purchased from countless online and physical nutrition stores around the world.
With many proven ingredients including caffeine, l-carnitine, and green tea extract included, this particular supplement effectively converts fat into energy, suppresses your appetite, and provides users with a burst of energy when it's needed the most.
Optimum Nutrition Gold Standard Pre-Workout
Ingredients
Vitamin D
Thiamin
Niacin
Vitamin B6
Folic Acid
Pantothenic Acid,
Muscle Matrix, containing: Creatine Monohydrate; Astragalus membranaceous Extract; and Panax Notoginseng Extract
Performance Composite, containing: L-Citrulline Malate; and Beta-Alanine
Energy & Focus Complex, containing: N-Acetyl-L-Carnitine Hcl; N-Acetyl-L-Tyrosine; Caffeine; and Citrus Bioflavonoids
Why Choose Optimum Nutrition Gold Standard Pre-Workout?
Available in a choice of 5 flavors, one scoop of Gold Standard Pre-Workout provides numerous benefits including enhanced pumps, increased mental focus, and boosted levels of endurance.
Designed for consumption just before a workout, this supplement's formula will support the user and provide enhanced power and performance for a more effective workout. You can purchase this product directly from the manufacturer's website or from one of many online or physical stores.
Optimum Nutrition Sponsored Athletes
Optimum Nutrition has a global team of sponsored athletes, many of whom are some of the biggest names in the fitness industry. Their team includes personal trainers, triathletes, physiotherapists, and physique competitors, among several other types of athlete.
Shaun Stafford
Born: March 16, 1983
Home Country: United Kingdom
Profession: Model, Fitness Competitor, Personal Trainer
A hard worker in more than one aspect of his life, Shaun Stafford has been able to earn a reputation as one of the most dedicated athletes in the world. Entering the fitness realm as a skilful rugby player in his youth, Shaun eventually took the advice of his coaches to bulk up and build muscle mass.
But after an injury, Shaun was unfortunately forced to give up on his dream of becoming a rugby star. Yet, determined to continue with his passion for fitness, Shaun turned his attention to the Men's Physique stage at the age of 27. Ever since then, Shaun has gone on to win multiple competitions, and become a well-respected fitness writer and international cover model in the process.
Joel Corry
Born: June 10, 1989
Home Country: United Kingdom
Profession: Bodybuilder, Fitness Model, TV Star, DJ
A jack of all trades, Joel Corry's fitness journey has continually reached new heights throughout a hugely successful career. Taking inspiration from his father throughout his childhood, Joel went on to become a well-respected fitness model, physique competitor, professional DJ, and reality TV star.
Eventually, Joel was able to sculpt an incredible physique and earn his Pro Card in the 2016 WBFF Miami Pro competition. Ever since then, Joel has become one of the most popular DJs in the UK. His hit songs including 'Sorry' and 'Lonely' both earned Top 10 spots in the UK Singles Chart – a marker of his commitment to achieving success both within the fitness industry and elsewhere.
Other Notable Optimum Nutrition Athletes:
Lilly Sabri – Physiotherapist
Reece Barclay – Triathlete
Kim Ingleby – Personal Trainer
Henry Slade – Rugby Star
David Lawson – Physique Competitor
Leon Williams – Physique Competitor
Emily Scarratt – Rugby Star
Thomas Barr – Athletics Star
Lourenco Beirao De Veiga – Racing Driver